We use affiliate links. If you buy something through the links on this page, we may earn a commission at no cost to you. Learn more.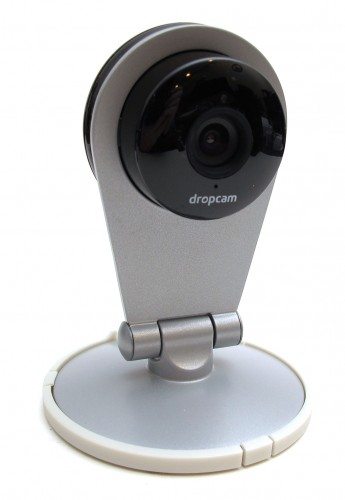 My friends at work used to give me funny looks when I'd announce that the Fedex guy just dropped a package off at my house. At first they thought I had somehow obtained a super power of either ESP or remote viewing. While having a super power would definitely be awesome (and I still think I should have gotten one after all the radiation treatments I had last year), I have to admit that I cheated… I knew that the Fedex guy had been at my house, because my Dropcam told me so. The Dropcam is an easy to setup WiFi camera, that can be accessed from any web browser and a special Android or iOS app. I've reviewed several WiFi cameras over the years, but the Dropcam has continued to be my favorite. When I learned that they were going to update the hardware, I was very excited to see how they might improve an already great product. The Dropcam HD is their latest camera, let's check it out.
Note: Click the images in this review to see a larger view.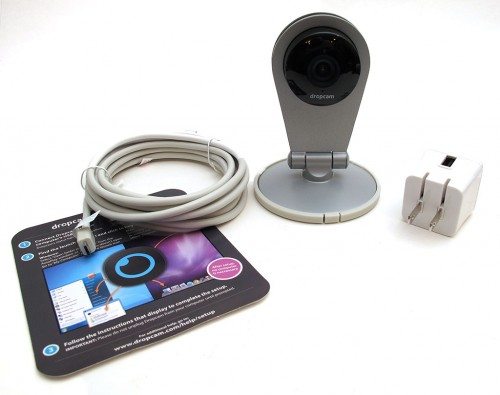 Package Contents
Dropcam HD camera
micro USB cable
AC adapter
Quick Start Guide
Mounting Hardware
Mounting Base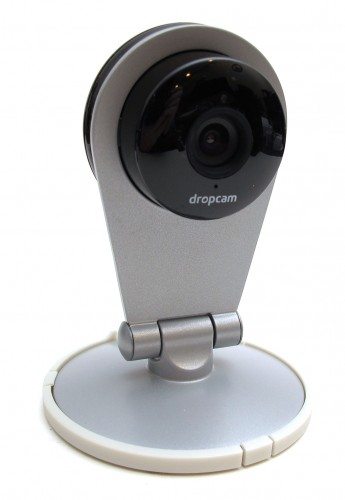 The Dropcam HD is a completely new camera which is attached to a metal base that can pivot forward and backwards so that you can adjust the viewing angle.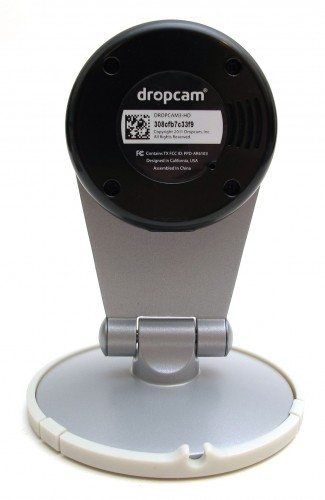 The camera itself is just the Black plastic part.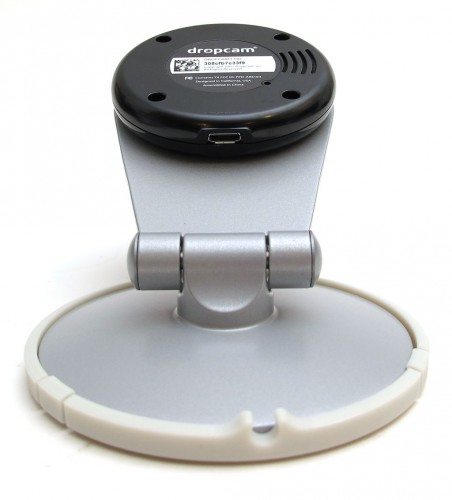 The only connection is a micro USB connector on the base of the camera. This USB connection is used to initially setup the camera and then as the main power port. Unlike Dropcam's original Echo camera, the Dropcam HD can only be used wirelessly (not counting being tethered to a power socket) and has no capability to be hardwired to your network with an Ethernet cable.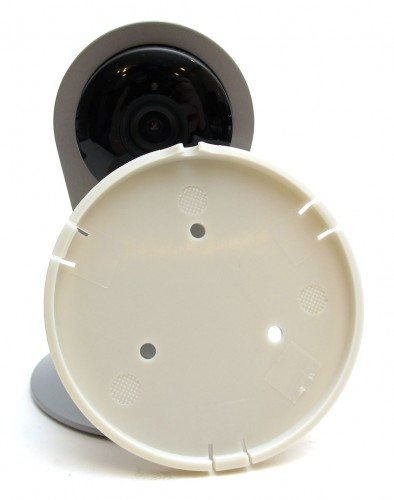 The camera comes with a snap on plastic base that you can use with the included hardware to attach the camera to a wall or flat surface. I don't think the base holds the camera very securely, so if you want to use this method to attach it to a wall, I'd also add some kind of sticky tape to the bottom of the camera for extra insurance.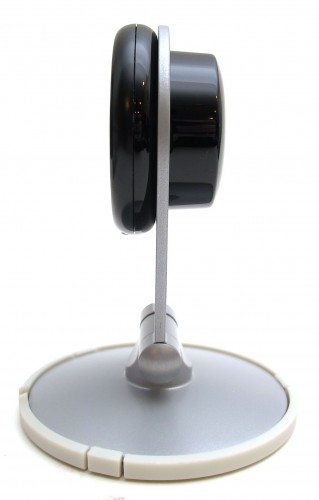 A side view gives you a better idea of just how small the actual camera is.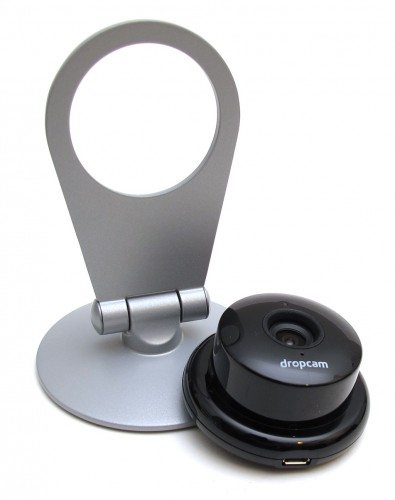 As does this picture with the camera popped out of the base.
Setting up the Dropcam is simple and takes about 5 minutes as long as you have a computer with WiFi already configured at your house or business. Basically you connect the included USB cable to the camera and to your computer. You then go to a special Dropcam setup page through a web browser and follow the prompts. Once activated, you can unplug the camera from your computer and move it to some other location that you want to monitor. Using the same USB cable and the included AC adapter, you can set it up where ever you still have a good WiFi signal.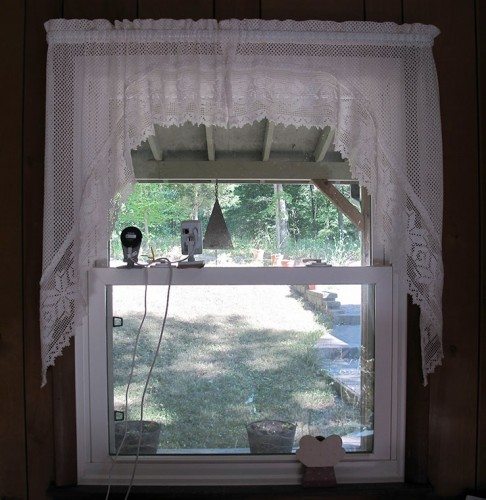 Here we see the Dropcam HD on the Left and original Dropcam Echo on the Right. This is my primary Fedex spy location 🙂
As long as your WiFi router is on and you have a connection to the internet, your camera will be accessible.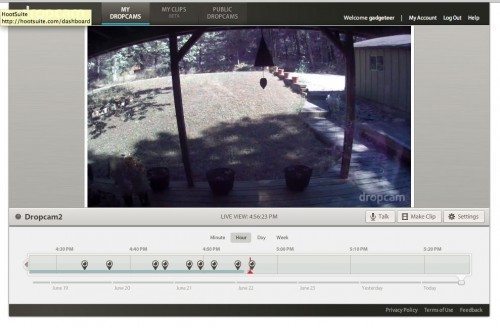 You can see a live view by logging into Dropcam's site with a web browser. From this interface, you can change settings for motion, audio and offline detection alerts that can be emailed or sent to your iOS or Android smartphone/tablet.
In the image above you see a live view of the Dropcam HD.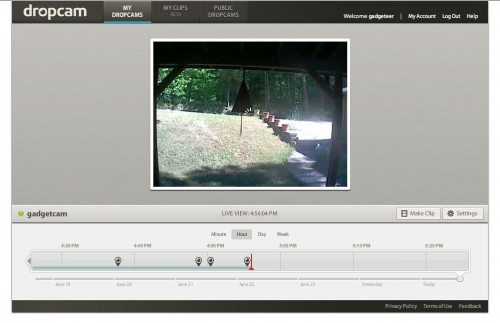 Here's the same view using the original Dropcam Echo. The Dropcam HD features 720p video, which means it has a higher resolution than the Echo. You can see this by comparing the images. The HD camera captures a much wider angle that almost borders on a fisheye look.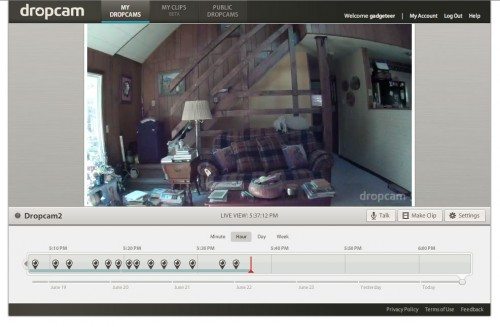 Here's an indoor shot using the Dropcam HD. Please disregard the stacks of magazines on the floor that need to be put away and the suitcase that's sitting on the stairway waiting to be dragged upstairs to be stored. 🙂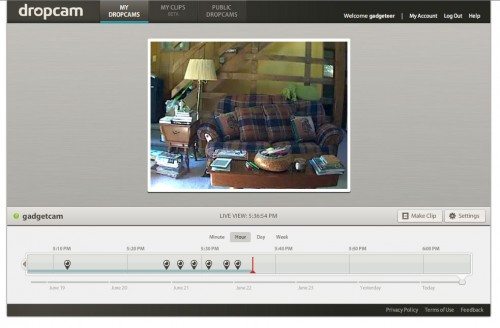 Here's the Dropcam Echo. Again, there's no mistaking that the HD has a wider viewing area. I think you'll also notice that the HD's colors seem very dull when you compare the same shot with the original camera. That's my biggest disappointment with this camera… the fact that the colors are so murky. You would think with a designation of HD, that more attention would have been given to picture quality.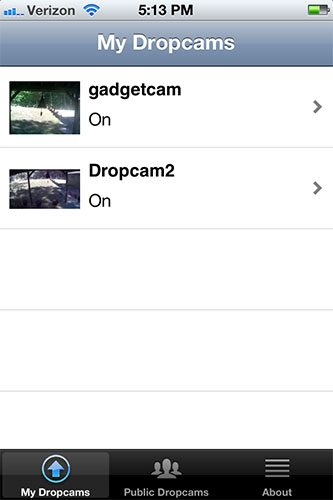 In addition to viewing your camera through a web browser, you can also view it using an iOS device or Android device. These apps are easy to use and also allow you to make settings changes to the functionality of your camera. The main screen shows a thumbnail of the cameras. As you can see, I have 2 cameras setup. The original Echo on top that I've named gadgetcam and the Dropcam HD that I've named Dropcam 2. Clicking the thumbnail takes you to the live view.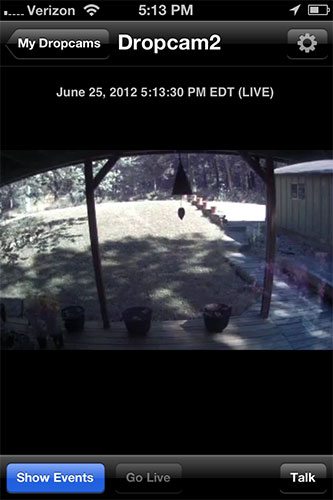 In the live view you are watching whatever your camera is currently capturing in real time. If you rotate the phone, the video will be displayed in full screen landscape orientation.
There's only a 5 second or so delay between what is happening live and what you'll see and hear via the app or web browser.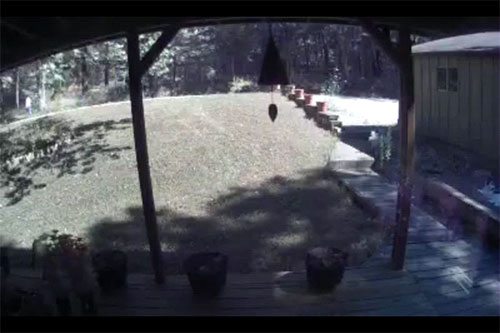 This is a full screen capture from my iPhone using the Dropcam app to view the Dropcam HD camera.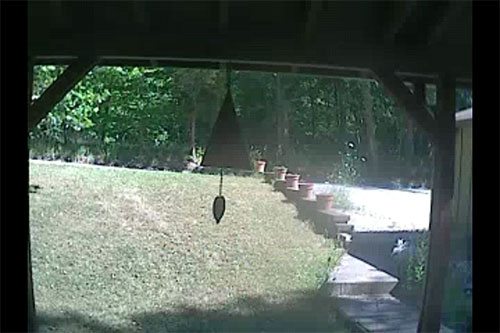 This is a screen capture of the Echo camera just seconds later. Just another demonstration of the narrower field of view and brighter colors using the Echo.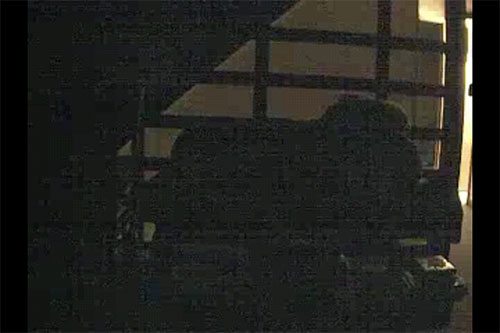 This is what the Echo captures in the dark.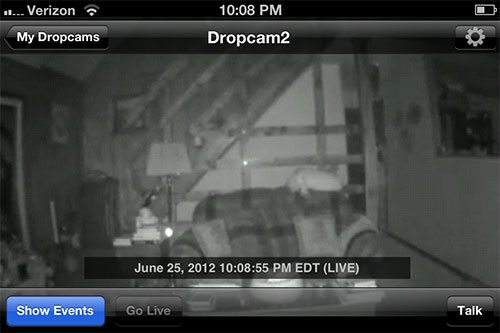 The Dropcam HD has the added benefit of having night vision. This feature can be turned on and off, or set to automatically turn on when needed. Unlike another camera that I reviewed with night vision capability, the Dropcam HD does not make any sounds when switching between modes.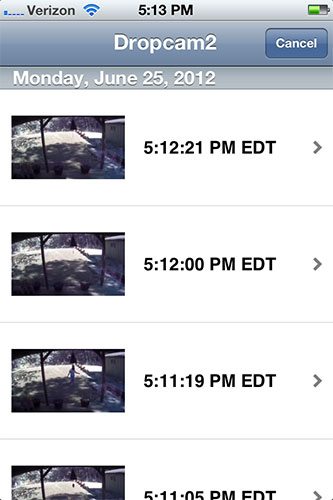 If you opt to upgrade from the free Basic plan to Plus or Pro plan ($9.99 – $29.99/mo) the iOS and Android apps will also let you see events that were captured due to a motion detection or audio detection. Small thumbnails of the captured videos are listed with time stamps. Clicking on them will let you view the captured video clip.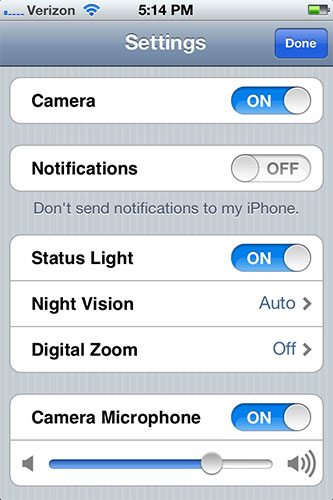 Through the app you can adjust various settings like toggling the front status light, night vision, notifications and the built in microphone.
Like the Echo, the HD has a built in microphone that allows you to listen to what is going on in addition to be able to watch it. But the Dropcam HD goes one step further by providing 2-way voice communication. That means that while watching live video through your smartphone, tablet or computer, you can have a 2 way conversation. Latency is only about 5 seconds, so it works really well. I sometimes have fun spying on my cat Max and telling him to get off the couch. Seeing him wake up and look around at the phantom voice is always worth a chuckle.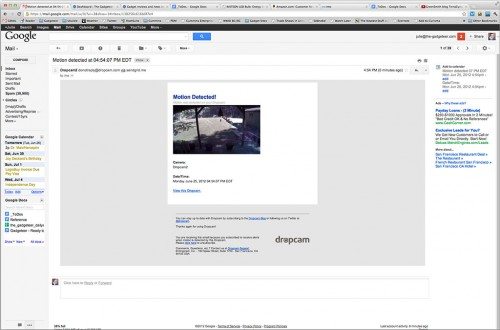 Motion and audio detection alerts can be sent as an email or a popup to your phone. Here's an example email. These alerts are part of the free Basic plan that comes with each camera. If you want to be able to to actually see what was going on when the event was triggered, you'll need one of the upgraded plans, which is a monthly cost. Paying by the year does provide a discount. The Plus plan stores your video for 7 days and the Pro plan stores it for 30 days even when you're not actively watching it. All you have to do is make sure the camera has an active WiFi connection and it will store video in the background to Dropcam's servers. You can go back and watch it whenever you like through a browser and can even export video clips to youtube, facebook or email. Each camera comes with a 2 week trial of this service.
Here are two sample videos clips in .MP4 format that were exported from the Echo and HD cameras. The clips are 2 minutes long and were taken at the same time. Right click and save the video to your computer to view it. Each clip is about 3mb.
DropcamEcho Clip, DropcamHD Clip
Even though I am disappointed with the HD's lack of color, I like the wider view and two way talk feature enough to recommend this WiFi camera. I've been using Dropcam for years now and it's never let me down.

Product Information
Price:
$149.00
Manufacturer:
Dropcam
Requirements:
Pros:

Simple to setup
2 way audio
Night vision

Cons:

Drab colors compared to previous camera model
Video image can look a little warped due to wide angle