We use affiliate links. If you buy something through the links on this page, we may earn a commission at no cost to you. Learn more.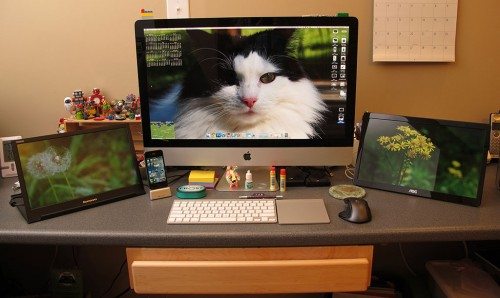 The e1649Fwu is a portable 16″ LED USB monitor from AOC, that will effortlessly add addition screen space to your desktop setup. I reviewed a similar product a few months ago (the Lenovo ThinkVision LT1421 14″ LCD monitor with Plastic Cover), which has been working flawlessly. Let's see if the AOC monitor is just as easy to get along with.
Note: Click the images in this review to see a larger view.
Hardware Specifications
Panel:  TFT Active Matrix LCD, WLED Backlight
Viewable Image Size: 15.6″ (16:9)
Maximum Resolution: 1366 x768 @ 60Hz
Colors Supported: > 16 Million
Digital Input: USB
Brightness (typical): 200 cd/m2
Contrast Ratio: 500:1
Response Time: 16ms
Built-in Stereo Speakers: No
ENERGY STAR Compliant: Yes
Dimensions / weight: 14.8×9.3×1.4   in /  2.3 lbs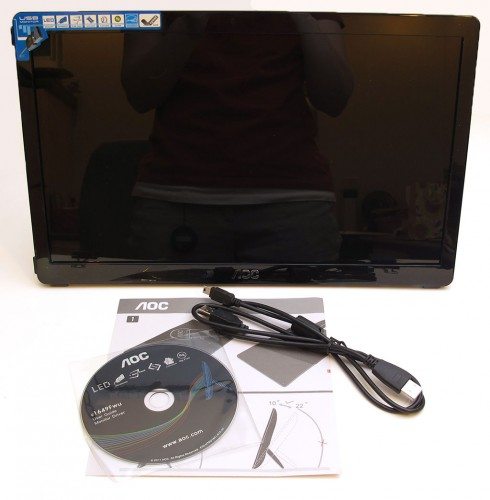 Package Contents
e1649Fwu LED USB 16″ Monitor
USB cable
Quick start guide
Windows driver CD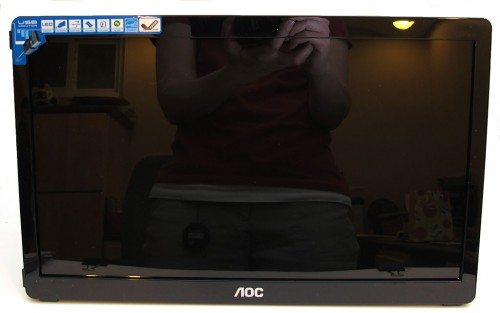 When I received the AOC e1649Fwu and read the information on the box, I was excited because the box said it was plug and play compatible with PCs and Macs. The box also showed a picture of the monitor in portrait orientation. That was one of my complaints with the Lenovo monitor, that it could not be rotated when using it with a Mac.
A quick unboxing revealed a shiny Black monitor with a chromed AOC logo on the front. Although it offers the same maximum resolution as the Lenovo, it has a physically larger footprint and screen size. This monitor has a glossy display, which means you may notice glare and reflection issues depending where you locate it.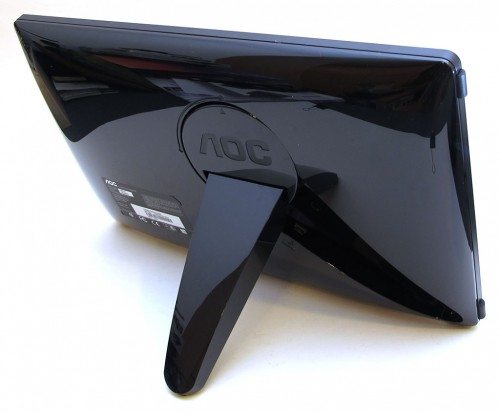 There are no buttons, switches or dials on this device. There is just one mini USB connector under the flip out stand.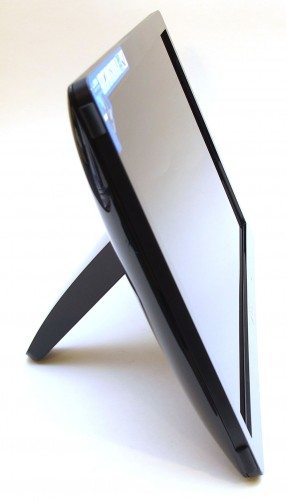 There really isn't much in the way of angle customization that you can do with this display. The stand folds out and then rotates. The angle that it provides is optimal for viewing the best picture. Trying to tilt it up so it's more of a 90 degree angle just washes out the picture. According to the documentation, the viewing angle is Horizontal: 90 Degrees (CR>10), Vertical: 50 Degrees (CR>10).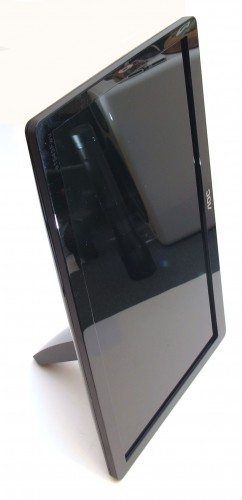 Here we see the monitor in portrait mode. This is the orientation that I was most looking forward to using. Supposedly the monitor will detect that it's been rotated and will automatically turn the image without having to go into the video settings. Cool.
Connecting the monitor to your computer (in my case a 27″ iMac) is a no brainer. All you do is connect one end of the mini USB cable to the connector on the monitor and one of the other ends (it's a Y cable with 2 connectors) to a powered USB port. I suppose that if your computer has lower powered ports that you'll need to use both connectors. There's no power cord and no video cable needed. Just the USB cable.
Because the box said the AOC was plug and play for PCs and Macs, I went straight to my system design prefs and pressed the detect monitors button. Nothing happened. Hmmmm… So I inserted the included driver CD into my iMac and all I found was a Windows driver. Grrrrr… Off to Google for a quick search and soon learned that I had to download and install a DisplayLink driver. So much for plug and play…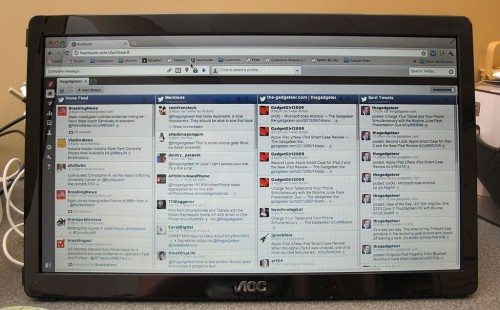 This monitor makes a great side display to park my Hootsuite Twitter client. The picture is bright and clear, with rich colors. Note, there is no way to adjust the brightness. At first I thought this might be a Mac only issue, but apparently you can't adjust the brightness under Windows either. I haven't verified this personally though as I don't have a Windows machine to test.
Text is not quite as sharp and crisp as text on my iMac's display, but it's perfectly clear and readable.
Regarding colors, I noticed that when looking at my website on my iMac and my website on the AOC, that the Blue background shade on AOC looks more Blue than on the iMac. This isn't a big deal to me, but I thought I'd mention it for anyone that might want to use this monitor for Photoshop work.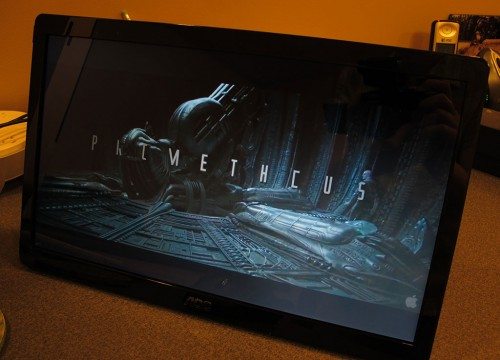 I tried watching some videos with the e1649Fwu to see if I would notice any problems with frame rates. I mainly tried watching various full screen videos through YouTube, like the Promethius trailer you see above. I also watched full screen video via Hulu.com and even .AVI video files. In my opinion, this secondary monitor isn't the best choice if you plan to use it mainly for viewing full screen video. Although the results aren't bad, but they aren't stellar either. I did notice some dropped frames and blocky color splotches here and there. Watching video in a smaller window on the AOC improved video quality.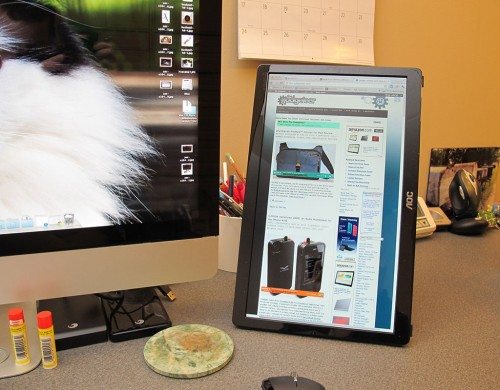 If you remember, I was anxious to take advantage of this monitor's advertised automatic screen rotation feature. Unfortunately, I quickly found out that feature is not available on a Mac. At least not the automatic part. If you notice the image above, you'll see that the monitor is in portrait orientation. Getting it that way was a bit of a technical adventure though. When I first tried to rotate the screen and found that it would not work, I conferred with my best friend Google and found a comment on someone else's review of this product where they said to hold down the Command and Option keys in the Mac's System Preferences and then click Display prefs. When you do that, the Display prefs will show the rotation menu. I was excited and picked the 90 degree rotation feature and presto change-o, the AOC's display turned Black and my iMac's display turned Blue. Oh oh… Unplugging the AOC didn't help. The iMac's display remained Blue and did not show the mouse cursor or anything else. After several minutes of key clicking, I finally managed to get the Display prefs to come up on the Lenovo monitor. Then I was able to click the mirror displays option to get the iMac to turn back on. But plugging the AOC back into the iMac caused the same behavior. Even uninstalling the DisplayLink driver and reinstalling it didn't help. Whenever I would plug in the AOC, the iMac would go Blue. After quite a bit of Google searching and even some email exchanges with AOC's tech support, I finally found the answer on DisplayLink's user forums. I had to uninstall the DisplayLink driver, boot in Safe mode and then reinstall the driver. After I did this, I was back in business with the iMac's display and the AOC's display working normally.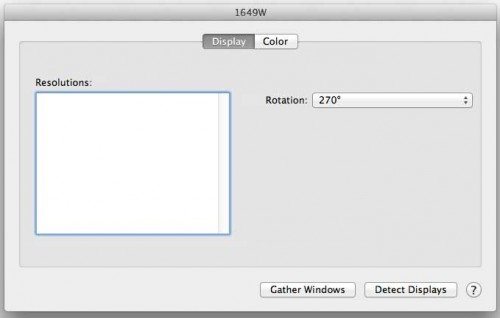 So how did I get the AOC display to rotate? I installed an Alpha version of the DisplayLink driver that is available on DisplayLink's site in the user forum area. I still had to use the Command + Option button press combo to get the rotation menu to show up. But this time it actually worked. So far the alpha driver is working fine except that wallpaper only shows in the top half of the display.
I'd like to see some improvements to this device like a matte display, brightness controls and better control over the rotation feature when used with a Mac. But all in all, I've found the AOC e1649Fwu LED USB 16″ Monitor a great add-on for my Gadgeteer desktop setup. I really like the fact that it only requires one USB connection and no video or power cables.
Do you use multiple displays with your desktop? What do you use the secondary screens for? I keep The Gadgeteer's home page and Hootsuite loaded on the AOC and iMessages loaded on the Lenovo.

Product Information
Price:
$139
Manufacturer:
AOC
Requirements:
Pros:

Simple to setup
Doesn't require a power cord or VGA cable
Uses 1 powered USB port
Portable

Cons:

Will not rotate when connected to a Mac
Glossy screen shows reflections
Mac drivers not included