We use affiliate links. If you buy something through the links on this page, we may earn a commission at no cost to you. Learn more.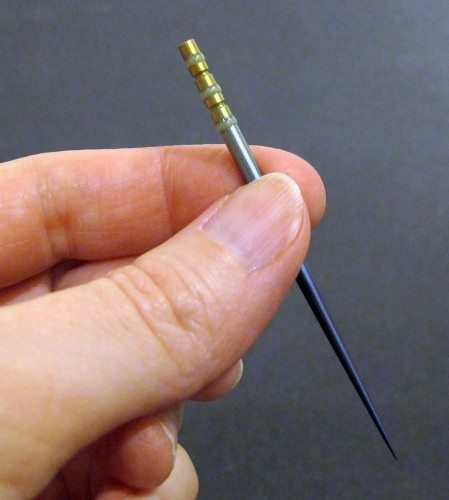 Is a toothpick part of your EDC (Everyday Carry)? Yeah, I know a toothpick isn't a very strong tool. But what if that toothpick were made of Titanium instead of wood? I'll admit that a titanium toothpick is not a tool that I ever thought much about until Jamie Piekkola offered to send me a couple to review. Jamie made his first toothpick 5 years ago and suddenly found them in demand after he posted pictures online. Now he has a Facebook page, where he displays and sells his creations.
Note: Click the images in this review to see a larger view.

Titanium is light weight, very strong, won't take a charge, non-reactive to humans, won't rust and isn't ferrous. Made from grade 5 titanium (Ti-6A1-4V) and available in natural titanium (top) or multicolored anodized (bottom) finishes, these toothpicks are more like works of art than something that you would use to remove a piece of broccoli wedged between your teeth.
The natural finished toothpick is nice, but the anodized version is really cool. The one he made for me has a gradient Blue shaft with a bronze/gold top. Colors can include yellows, blues, pinks, purples and aqua.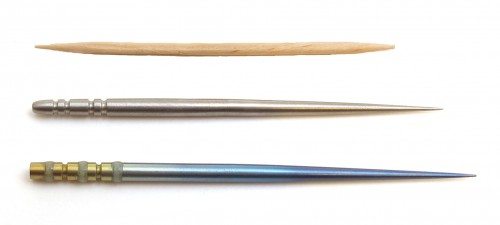 As you can see, Jamie's toothpicks are longer and thicker than a standard wooden toothpick.
Never miss one of our posts again. Sent MON, WED, and FRI with the latest gadget reviews and news!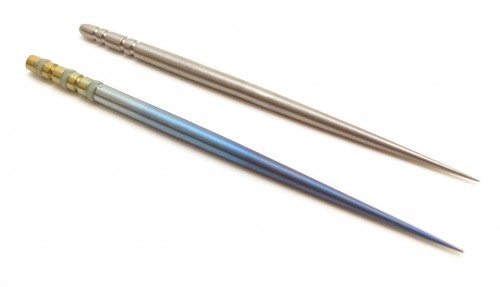 The business end of the toothpicks are very pointy, but they aren't needle sharp. The very end of the tip is blunt, so if you actually do use one to scrape something from your teeth, you won't have to worry (too much) about stabbing your gums and needing a tourniquet around your neck.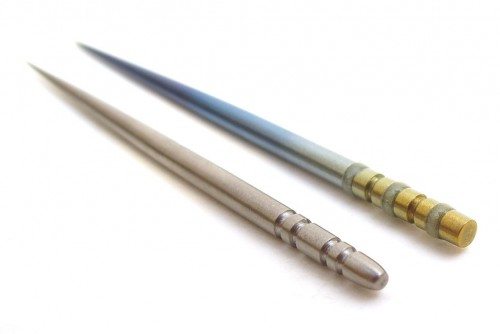 You'll notice the decorative ends that Jamie has created. If you check his Facebook page, you'll find a gallery of all sorts of cool designs that he's managed to come up with.  He'll even add an eyelet in the end if you want to use it as a sewing needle. If you take a closer look at the toothpick on the Right, you'll see that some of the grooves filled. This is an optional feature that Jamie offers called glowrings. Glowrings are essentially a special epoxy mixture saturated with an industrial glow powder, that requires a bright light to charge them to make them glow.  Although not shown here, Jamie also offers tritium inserts which are "self lighting gas vials" that glow on their own without the need of charging from an external light source.  Watch manufacturers like Luminox use tritium in their watches for the hour markers and hour/minute/second hands.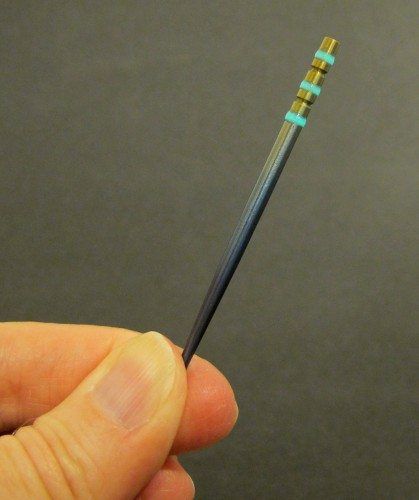 The glowrings are very cool looking when they are charged up, but this bright glow drops off quickly. After about 30 seconds, you won't really see the glow in a well lit room. But if you turn out the lights, you'll still notice a faint glow for hours.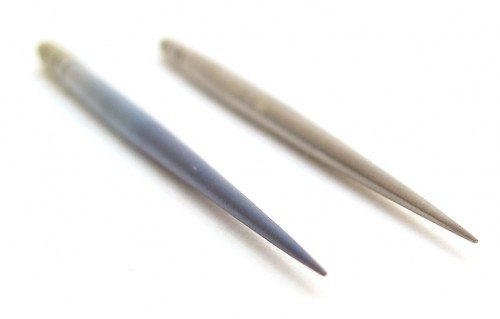 What can you use a titanium toothpick for other than the obvious oral hygiene tasks and looking like James Bond with one speared through an olive in your martini? I was surprised to find that they are useful for all sorts of everyday tasks like pressing the reset buttons on some of my gadgets, picking grains of sand out of grooves of one of my cameras that I took on vacation to Lake Michigan and dropped on the beach, opening the foil seal on a bottle of vitamins, poking holes in a potato before baking and slicing through tape on a package.
Jamie ships the toothpicks in a plastic vial with a rubber stopper. I would like to find something a little nicer to store mine in when they aren't being used. I'm thinking about making a tiny leather sheath at some point. But until then, I'll keep these little pokers in my gear bag because you just never know when you might need to pick, poke or scratch something.
Product Information
Price:
$35 (natural finish), $40 (multi-colored anodized), Glowrings ($5)
Manufacturer:
Titanium Toothpicks
Pros:

Multipurpose tool for poking, scraping, etc.
Useful
Handmade

Cons: