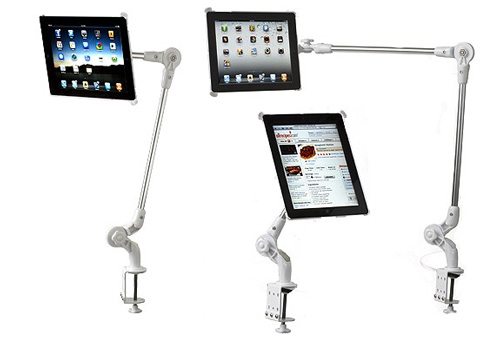 One of the weirdest 'Catch 22's' of portable electronics is where do you put it when you are not holding it? Whether it is because your hands are full, your desk space is limited, or you have troubles holding things, we often crave some way to hold our devices just right exactly there. The SpiderArm iPad Stand System is an interesting option that offers a lot of flexibility for a good price.
I was especially interested in it as it looked like a useful option for clients I work with who have physical challenges, but who would really benefit from having an iPad mounted on their wheelchair or desk.
The SpiderArm is packed in a long, narrow box that opens up to reveal a whole bunch of parts! The package includes:
The 'SecureSnap' mounting plate for the iPad 2 on an 8.25″ arm (note that mounting plates are available for the iPad 1 and 3 as well),
A 18.125″ arm with a 90 degree twist,
A 18.75″ arm with a 2″ offset,
A 'Versa Mount' 3-way base that allows you to use either attach it directly to a vertical surface, set in the Quick Release Mount brackets (mentioned below), or a removable screw-type clamp,
A surface mount base that can be attached directly to a desk or table,
A packet of hardware, Allen keys, and some instructions.
My box also included three Quick Release Mounts that attach to a wall or other surface and allow you to move the SpiderArm easily to various locations. These are sold separately.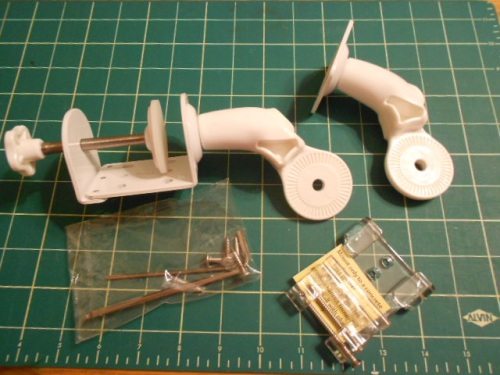 The tubing and connectors are made from good materials – anodized aluminum and polycarbonate. The system is only available in white but has a nice overall look – smooth curves, nice polish. The idea is that you can mix-and-match the arms and mounts to create a variety of options.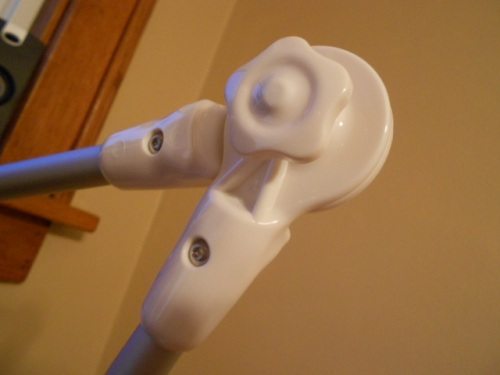 The arms come apart so quickly and easily that it is a piece of cake to reconfigure the whole thing for different purposes. You might have a mount in your car, on your desk at work, by your favorite chair at home, and maybe even by your bed. You can move and rearrange the other components in just a minute or two and carry the system from place to place easily.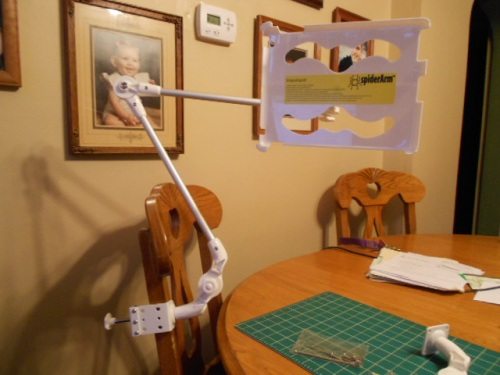 Articulated arms, whether the SpiderArm or your own arm and shoulder, offer you a lot of freedom of movement. You can position the SpiderArm almost anywhere you want within about 45″ of the mount and position the screen at almost any angle you need for the best visibility. However, no articulated arm is perfect – the joints always impose some limitations. Just as your left hand cannot touch your left elbow, there are times you will find that you cannot quite get it go quite where you want without a big long arm sticking out awkwardly. On my desk, I could not quite get it to park exactly where I wanted it without the arms hitting other things. I could overcome most of this by changing where the mounting plate goes, but then the plate itself would have been in the way.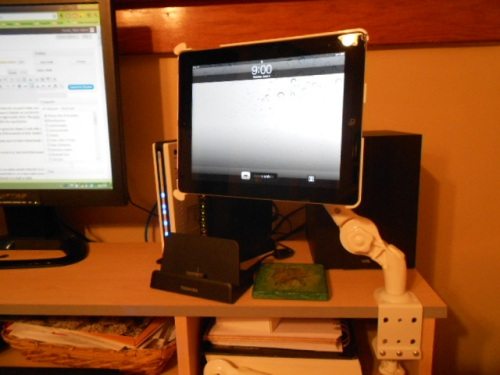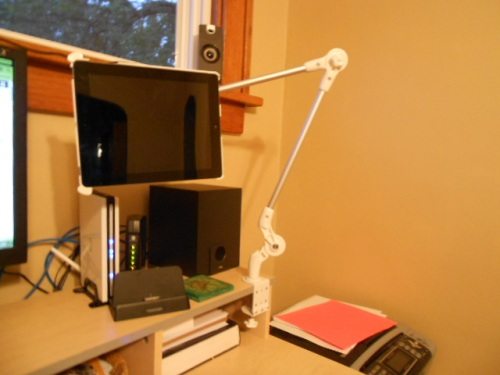 Something else that quickly became apparent was that you generally want your tablet in three relative positions:
Eye-level front for watching or reading stuff.
Chest level for any extended typing or screen interactions.
Off to the side at the level of your monitor when used as a supplemental screen.
It only takes adjusting two to four screws to adjust it from position, but it interferes with the flow of work in ways that a typical 'easel-type' case does not. This is not so much an issue when you are using the iPad for fairly specific things, such as watching movies in bed, or as a GPS in the car, but may be a factor at a workstation.
The long arms also make the mount less rigid when you try to type on it; it shifts and moves to a degree determined by the length and angles of the arms. You may also need to tighten the main bolt and nut between the arms and the mounting bracket so the thing does not pivot when you are touching the screen.
For someone using a wheelchair, etc., the VersaMount fits nicely on a laptray, or you can combine a Quick Release Mount with a clamp that fits some part of the wheelchair frame to get a nice set-up. Remember, however, that if the user cannot easily adjust the angles and position on their own, you'll need to place it so it does not block their view as they drive.
This is a nicely made and well-designed product that will serve a variety of needs. I would suggest that the best match would be with people using their iPad primarily as a viewing device – GPS, e-books, movies, etc. – where you can sit somewhere and park the SpiderArm just so and leave it. Another good match will be someone who needs to position it in a slightly unusual way, such as the cook who wants it off the counter but rigid enough to let her touch it to change pages, or as I already mentioned, someone using a wheelchair that wants the iPad always at the ready.