We use affiliate links. If you buy something through the links on this page, we may earn a commission at no cost to you. Learn more.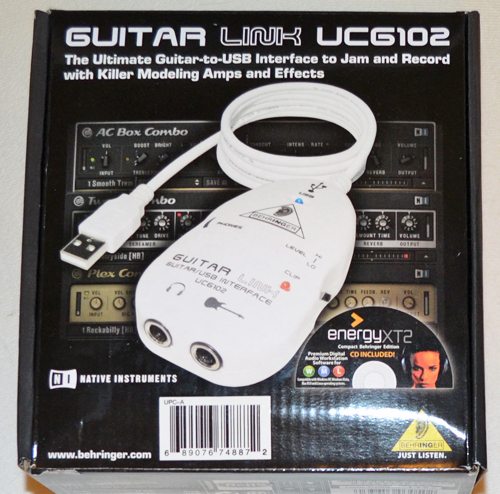 I don't play any instruments, but my husband, Butch plays guitar and piano.  He's always had an interest in recording his music, and over the years has purchased several expensive effects processors and recording devices.  These items are all tucked away because they are clunky to use and take a lot of space to get everything set up.  When Behringer offered one of their Guitar Link UCG102 USB Interfaces to The Gadgeteer, it looked like a compact solution.  I asked Julie if Butch and I could review it.  She was fine with Butch putting it to the test and me writing up the results.
Instead of an army of stomp boxes for effects and room-filling mixing boards, software for computers and tablets allows even amateur musicians to record songs now.  Unless you want to rely on the virtual instruments often supplied with these applications, you need a method of getting the sound from your guitar into your computer.  That's the purpose of Behringer's Guitar Link UCG102.  This USB device serves as the bridge between the analog world of your electric guitar and digital environment of your computer and its sound effects processing and recording software. This device works for a majority of guitars including many Gibson models.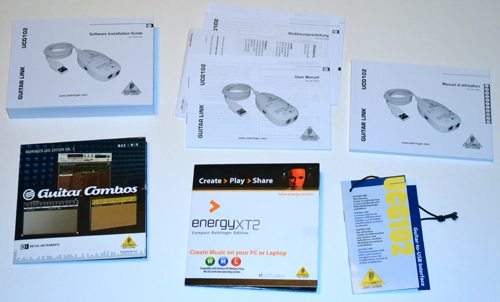 The Guitar Link came with a bunch of documentation.  I don't think I've ever gotten a product with so many booklets.  There was a collection of User's Manuals in a variety of languages, and a thick Software Installation Guide in 15 languages.  It also ships with trial versions of two software packages.  The first is Native Instruments' "Guitar Combos Behringer Edition" software that models guitar amps and rack-mount effects.  The second is the "energyXT2 Compact Behringer Edition" recording/editing/mixing software from xtsoftware.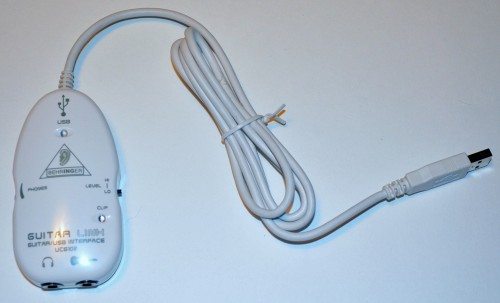 The Guitar Link UCG102 is about the size and shape of a small computer mouse.  It has a 57″ USB cable attached, so you won't have to sit within inches of your computer while you record.  No external power source is necessary, as the Guitar Link receives power directly from the computer's USB port.
The front of the Link has two LEDs.  The one closest to the USB cable is a blue LED that indicates the unit is connected to the computer and is ready.  Another LED, located above the word "LINK" near the bottom of the unit, shows red to indicate your signal is too strong and is being clipped as it transmits to your computer.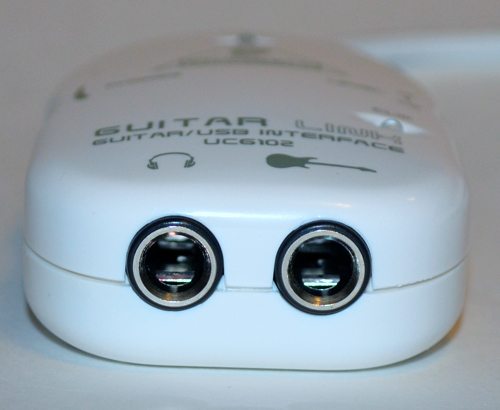 The end has two 1/4″ plugs: one for connecting the guitar, and the other for connecting headphones so you can monitor what you're recording.  I have no headphones, earphones, or receivers that use 1/4″ plugs, so I had to order a 1/4″ male-to-3.5mm female audio adapter to use the Guitar Link.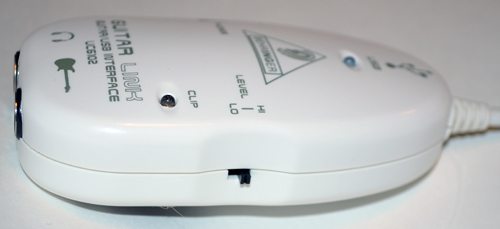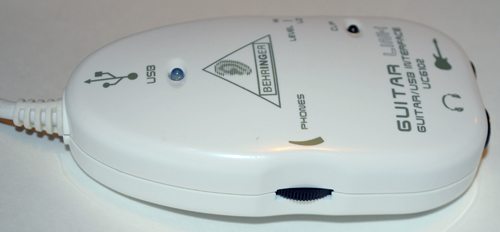 The side nearest the Clip light has a high/low level switch, so you can reduce the signal level coming in from your guitar, if needed.  The other side has a volume adjustment dial for the headphones.
The first step is installing the software, of course.  In addition to the software I've already mentioned, there were "ultra-low latency ASIO" drivers for Windows computers.  We're a Mac-only house, so the drivers weren't needed.  The Mac recognized the Guitar Link the moment it was plugged in to a USB port, and the unit's blue light came on to indicate it was powered and ready.  The rest of the software had both Windows and Mac versions.
The Guitar Combos software included three demo sets of amp and effects modelling.  An included authorization code seemingly could be used to convert one of these sets into a free, fully functioning package.  Installing the Guitar Combos software worked fine, but Butch got an "unrecoverable error" message when he tried to start the software.  Eventually, he deleted the installation, went to Native Instruments' website and downloaded the latest version, now called Guitar Rig.  He was no longer working with the Behringer Edition, and the authorization code wouldn't work, but this was his only recourse.  The downloaded software had some free components and some others that were timed demos, but it worked well enough for this test.
Never miss one of our posts again. Sent MON, WED, and FRI with the latest gadget reviews and news!
The energyXT2 software installed and ran without problems.  When Butch tried recording, the signal would only record on the left channel.  Butch was sure that the software could record both left and right channels simultaneously, but he was more concerned with the functioning of the hardware itself.  He eventually went to xtsoftware's website and downloaded the most recent demo version of the energyXT2 software to see if that would work more easily for him.  It still recorded only the left channel, but Butch decided he'd worry about finding a solution for that later.
Both the Guitar Rig software and the energyXT2 recording software were extremely versatile packages, deserving detailed reviews on their own.  But for the purposes of this review, Butch's primary focus was on the Guitar Link hardware.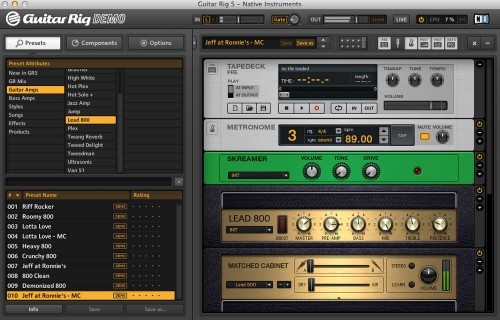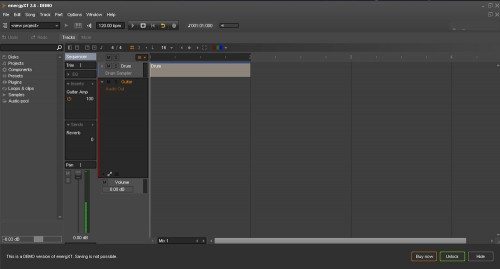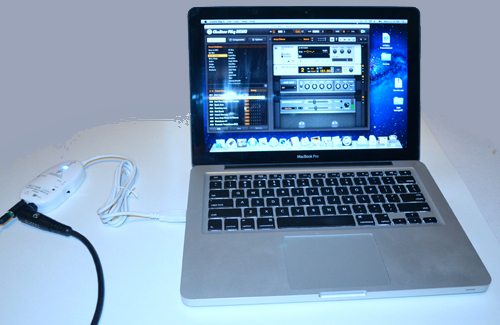 The energyXT2 recording software includes a guitar amp and a few effects, so you could simply connect your guitar to the Guitar Link and record a song.  However, energyXT2 is VST-compatible, meaning it utilizes the universal virtual studio technology protocols that "interface audio synthesizer and effect plugins with audio editors and software recording systems" (according to Wikipedia).  Guitar Rig is VST-enabled, meaning the two can work together to give you a more varied set of amps and effects.
The version of energyXT2 that Butch was working with was a demo, and it didn't allow saving your work as a project.  He was able to use the two packages together to record two tracks (both limited to the left channel only) and export a song as an audio file in a single recording session.
Butch says:  "The Guitar Link interface worked absolutely flawlessly with the software.  There were absolutely no latency issues – no delay between striking the string with the pick and hearing the sound in the headphones.  The experience was no different than using a dedicated guitar amp from that perspective.
The guitar had a 5-position rocker for tone, and the interface device faithfully reproduced the tonal nuances of each combination of pickups.  In general, the sound was warm and full, exactly as expected from the Yamaha Pacifica 721.
Noise from the guitar and interface device was almost non-existent.  As usual, there was some slight noise when using high gain and distorted settings, but the noise gate functionality kept this to a manageable minimum."
Here's a short song that Butch recorded using the Guitar Link with the Guitar Rig and energyXT2 software packages.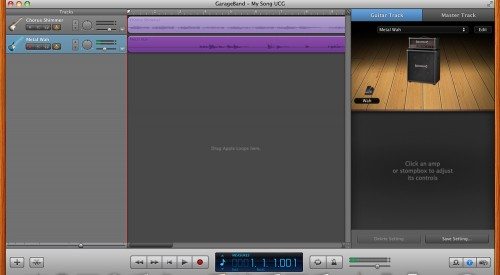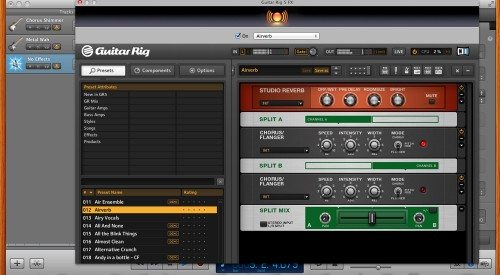 Butch already owned a copy of GarageBand on his MacBook Pro and was hoping the Guitar Link would work with it, too.  GarageBand comes with a variety of guitar amps and effects, so you don't have to use a separate program to provide the processing.  However, it is also VST-compatible, so it can be used with other packages.  Butch was able to use the Guitar Rig program with GarageBand, and he found that that it was much more intuitive to interface Guitar Rig with GarageBand than with energyXT2.
GarageBand recorded both left and right channels for each track with no problem;  it just worked without any effort on Butch's part.  He recorded a short two-track song for us.  He used the amp simulation and effects in GarageBand that were as much like those he used in the other setup as possible.  Although he did work with Guitar Rig and GarageBand together, his sample song was recorded using GarageBand only.
The Guitar Link hardware performed as flawlessly with GarageBand as with the other software.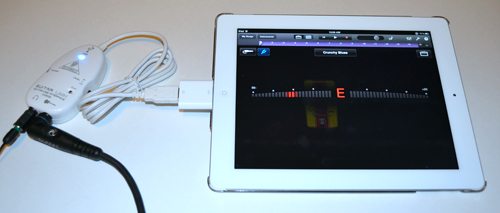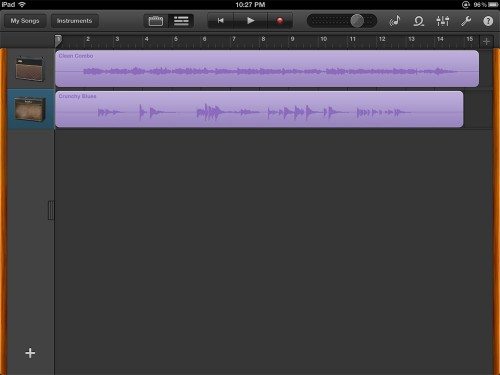 Butch also owns GarageBand for the iPad, and he naturally wanted to try the Guitar Link with his iPad.  Of course, the iPad has no USB port, but I suggested he try the USB adapter from Apple's Camera Connection Kit.  To his surprise, the blue LED on the Guitar Link lit up as soon as he plugged in.   Just like with the MacBook Pro version, the iPad's GarageBand worked flawlessly.  He was able to use all of the amps and effects in GarageBand without problems.  Once again, he heard no noise and had no latency issues.
Here's the song he recorded on the iPad using GarageBand.
Butch highly recommends the Behringer Guitar Link UCG102 Interface for other similar-minded hobbyists.  He has tried in the past to find a method of recording his guitar on his computer.  Interfaces he's tried in the past were difficult to use and introduced a lot of noise.  The Guitar Link has removed the difficulty he experienced with other devices – no noise, and no latency issues.  He thinks the hardware performs flawlessly with a variety of software packages, and he is very pleased he can use it with both his MacBook Pro and his iPad.
Product Information
Price:
List price is about $68, but it can be found for $34 at online retailers
Manufacturer:
Behringer
Pros:

No latency and no noise
Works with GarageBand as well as the included software
Works equally well with an iPad as with the computer
Easy to use - just plug and play

Cons:

Some issues with the included software, but none with the Guitar Link UCG102 itself