We use affiliate links. If you buy something through the links on this page, we may earn a commission at no cost to you. Learn more.
This post brought to you by
ConnectMyDNA.com
. All opinions are 100% mine.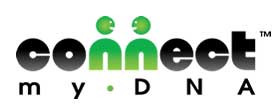 I'm a big fan of the NBC TV show Who Do You Think You Are? and have been interested in tracing my family tree ever since a relative translated letters from my ancestors who came to the US from Germany in the early to mid 1800's. When I was approached to write a sponsored post about
ConnectMyDNA™
, I jumped at the chance. I was 100% certain what the results would show, but was completely taken off guard when I actually received them.
Let me start out by making it clear that ConnectMyDNA does NOT trace your ancestry. There are other services out there that can do that for you. This service uses a population genetics equation known as the Hardy-Weinberg Equation to compare your DNA with a world-wide database of DNA profiles that are grouped into 60 different countries. You are provided with a list of the top 10 countries where your genetic markers are most similar the people who live there now. Here's a more detailed explanation from an FAQ on ConnectMyDNA's site of how the results are tabulated.
Population Genetics is a branch of genetics that focuses on how frequently genes occur in a population and once determined, how frequently combinations of genes (genotypes) should occur. For example, if a gene has two forms (alleles) in a population, they can be referred to as x and y. Allele x is found at a frequency of 10% in the population while allele y is found at a frequency of 90% (total adds up to 100%). A different population may have the same two alleles, but their frequencies may be different. Since each person contains two copies of a gene, one from each biological parent, there are three possible genotypes; x/x, x/y, and y/y. These three genotypes will occur in a frequency proportional to the individual allele frequencies and can be calculated using a standard Population Genetics equation known as the Hardy-Weinberg Equation. In this case the three genotypes are expected to occur at a frequency of: x/x is (0.1 x 0.1) = 1%; x/y is (2 x 0.1 x 0.9) = 18%; y/y = (0.9 x 0.9) = 81%.
ConnectMyDNA™ uses these principles in providing information about the population groups you share the most statistical similarity. Since the markers used to generate your unique DNA profile are weakly affiliated with ancestry, your connection will likely not match your expectations in terms of ancestry.
In addition to receiving the list of the top 10 countries where the people's DNA is most similar to yours, ConnectMyDNA also provides you with a Gene Ring. This is a graphical representation of your DNA. Sort of like your own genetic fingerprint.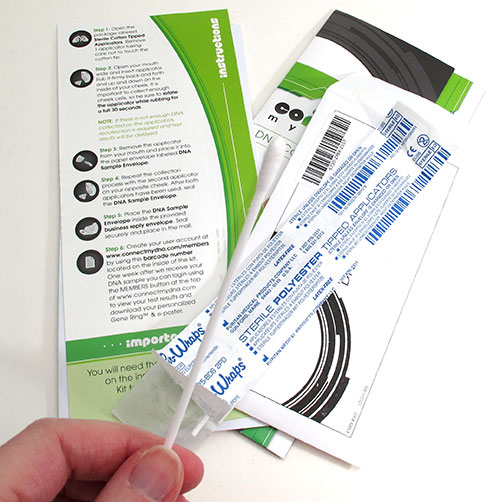 A few days after accepting the task to write about ConnectMyDNA, I received a small DNA collection kit in the mail that contained a self-addressed postage paid envelope, a barcoded sample holder envelope, instructions and two cotton swabs that were sealed in a sterile package. Collecting my DNA was a simple matter of rubbing one swab inside my Left cheek for 30 seconds to collect cells and then doing the same thing with the remaining swab on my Right cheek. The swabs were then sealed in the sample envelope, placed in the postage paid envelope and dropped it in the mail.
You'll notice that I didn't mention anything about filling out forms with my personal details. That's because the information about your DNA is kept private and is only traced through a bar code on the sample envelope. You don't have to divulge your name or address. However you will need a valid email address in order to create an account on the ConnectMyDNA website to view your results.
A few weeks after I mailed the sample, I received my results. They were definitely NOT what I had expected. I had expected Germany to be the #1 country where people have DNA similar to me.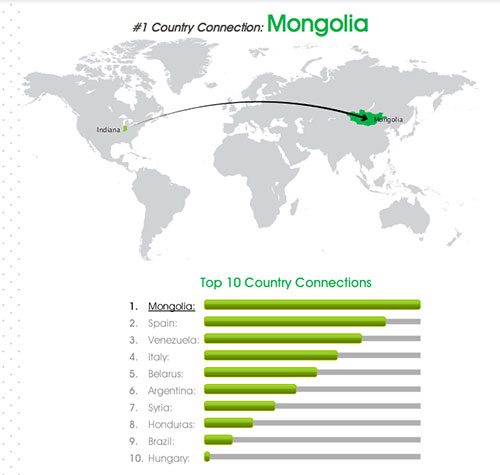 My top country is actually Mongolia! Who knew?! Not me. Germany isn't even on my 10 ten list! I was very surprised by this. It is important to remember that the countries listed have people with the most similarity to my DNA, which is not an indication of my heritage. The only thing that comes to mind is how sad I was when the local Mongolian BBQ place when out of business. Now I know why! 😉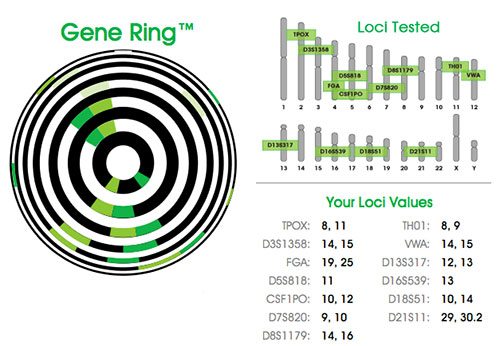 In addition to the top 10 country list, you also get a Gene Ring which is a representation of your 13 DNA markers. What does this graphical ring mean? ConnectMyDNA explains it better than I can:
All of this is accomplished by converting your numeric DNA test results into graphical data and applying it to a circular pattern of 13 rings that represent the 13 CODIS loci; a standard of identifying markers defined by the United States Federal Bureau of Investigation.
Contained in each of the 13 rings are green markers which identify the 2 allelevalues you inherit from your parents (1 from your mother and 1 from your father). The color and position of each marker on a ring represents the numeric values of your DNA profile – much like how the hands on a clock point to the correct time. It is the combined sequence of your green markers that makes the Gene Ring™ a unique pattern to you.
No two Gene Rings™ are alike, but some are more connected than others and discovering those connections is what ConnectMyDNA™ is all about!
Getting this info was fun and interesting and has made me want to go further and have another DNA test. This time to trace my ancestry. I'd also like to have my sister do the ConnectMyDNA test to see if she gets the same results as I did. I'm thinking it should be the same since we have the same mother and father.
Never miss one of our posts again. Sent MON, WED, and FRI with the latest gadget reviews and news!
If you're interested in seeing how your DNA connects you to people around the world, ConnectMyDNA is offering a discount code that will bring the cost of the test down from the normal $89 to only $29.
Discount code: IZEA290512