We use affiliate links. If you buy something through the links on this page, we may earn a commission at no cost to you. Learn more.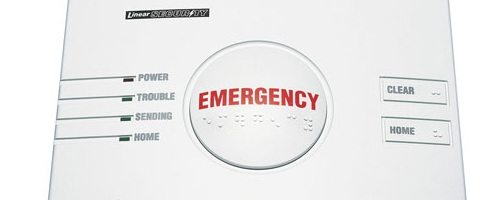 A lot of people worry about getting help if something happens to them away from a phone. Maybe they are aging or becoming confused or forgetful. Perhaps they have limited mobility or a disability. Maybe they are concerned family members worried about their loved ones.
One popular option is an emergency dialing system, like the Bay Alarm Medical Personal Alarm Response System, which allows you to push a button, then be connected to an emergency dispatcher who can determine what sort of help is needed and contact the right people.  Bay Alarm sent one of their systems to The Gadgeteer for review.
Bay Alarm's system is a type of Personal Emergency Response System (PERS), which generally consist of three parts – a button that can be worn in several ways, a base station (the Linear Security PERS-2400), and the response team on the other end of the line.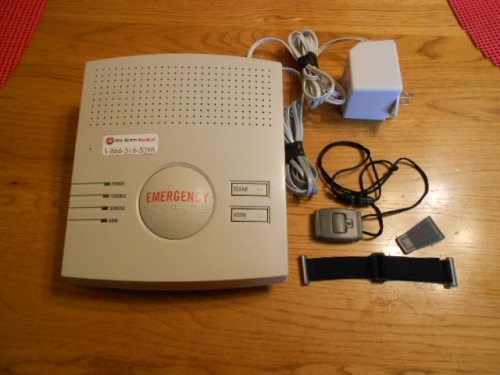 The Bay Alarm system's base station installs just like a cordless phone. You plug one cord from the wall socket to the station and another from the station to the base of your phone. Plug in the power cord (a large wall wart on a nice long cord), turn the unit on, and you are pretty much set to go. I set this up at my mother's house for the test, and like many older homes, the phone outlet and power outlets are not conveniently located near each other. This is just a minor annoyance that we struggled with for answering machines and cordless phones too – no big deal, just something to think about. The service works on regular phone service, or cable, VOIP (with an adapter), etc. If you can use a regular phone, you should be able to use this service.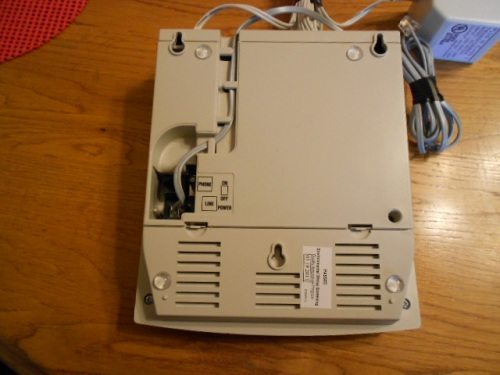 The 8″ long, 7.5″ wide and 2.5″ high station has few buttons or features that might confuse someone in an emergency. The big button labelled 'EMERGENCY' in red is hard to miss – visually or tactility. It even includes Braille on the buttons. Besides that, there is a 'CLEAR' button to cancel an accidental press, and 'HOME'. There are also four status lights – POWER, TROUBLE, SENDING, and HOME. (Note: the HOME button and light are not used in this configuration. There is even a small self-adhesive square to cover the button if you wish.)  The station contains a rechargeable battery that can operate the system for 32 hours (be sure to remove the protective cover from the battery before use.)
The station has a very sensitive mic built-in so it can hear someone talking to it from some distance away. In my tests, the operator heard my mom's soft voice from several rooms away – pretty much if I could hear her as I sat by the station, they could hear her as well. The station has a lot of volume to it, so whenever they could hear my mom, she could easily hear them. You will want to think about where you locate the station – where would it be most likely to hear the victim? In mom's older two-story home, if the station was located to hear her in the upstairs bedroom with the door closed, it would not hear her from the laundry room. One nice touch is that it can be wall-mounted. You don't need to cover the entire house – the operator will call 911 if they do not hear anyone after an activation.
The call button remote is pretty straight forward. It is small, light, unobtrusive, waterproof, and tough. It can be worn as a pendant or watch, or clipped to a belt or pocket. It has a 300′ range, but a 'long-range' version is available that reached 1,000′. As usual, the range is affected by doors, type of wall construction, etc. In my mom's house with wooden construction but lots of doors and walls, it was generally only about 100-150′, and it did not reach from the farthest corner of the basement or the backyard.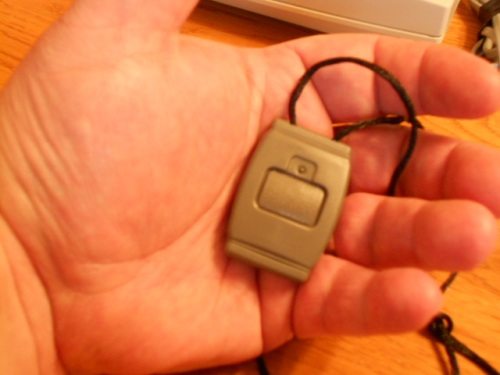 I had no issues with the call button, and appreciate that it is waterproof so it can be used while bathing, as so many accidents happen then. The button is light enough that it is easy to forget you are wearing it, but one could wish the plain grey unit was more attractive if it was going to be worn all the time. (That might be an interesting line of accessories- nice jewelery and accessories that could hide or function as the pendant.)
Never miss one of our posts again. Sent MON, WED, and FRI with the latest gadget reviews and news!
My experiences with the operators were uniformly very good. They were always cheerful and helpful, even when doing test after test. In the real world, what happens is you trigger a signal – either with the big button or the pendant, then the station exclaims 'emergency' for several seconds. This serves as both assurance that the unit 'heard' you, and to let you know when it may have been accidentally triggered. There is a bit of a lag until the operator comes on (very loudly, as noted above), usually about twenty to thirty seconds in my tests. This is about the same lag as the security company at my workplace, but can seem like a really long time in an emergency.
You fill out a contact form as part of the registration process with addresses, emergency contacts, and instructions on accessing your home in an emergency. When the unit triggers, it tells the operator who this is so they can communicate with you by name, and already have the key info handy. They can also update the info easily if you move or change numbers. Not every PERS has the flexibility to call a contact person instead of emergency services, and this comes in handy when you really need help, but not the type 911 offers.
One thing they thought of that you might not is how to gain access to the locked house in an emergency. They offer a lock box (that you can also get from most hardware stores) that securely holds a key somewhere outside and requires a combination to get into. Bay Medical will pass the location of the box and the code to emergency workers.
The station and service are portable – you can take it and use it anywhere you can hook up to a phone line and power. All you need to do is to call in and update the current contact information when you have it set up. It is also worthwhile to note that they will try to help anyone who hits the button – you can even purchase additional call buttons to cover other family members with no additional monthly fees!
If you are thinking about this for your loved ones, the company can bill you directly for it, and can provide a monthly report outlining how it was used.
Bay Alarm has been in business since 1946 and has a very good reputation. The contract is straightforward – the cheapest rate is their annual rate of $239.40, billed as $19.95/month. This gets you the equipment and service with no other fees or costs, or without signing any contracts. You can add fire and CO2 monitoring for an additional fee. The responses are available in 170 languages and they offer discounts to AAA or AARP members.
This is not a fun or sexy gadget, but it is a very valuable one. I had no problems setting the system up, even though I could not find any instructions in my box, and the paperwork (contact form, contract, cancellation form) was all emailed in advance so I could have had it ready even before the system arrived. It is a good system – well-made and well-supported. As my mom pointed out, it cannot cover every contingency, but nothing ever can.
Product Information
Price:
Monthly contracts as low as $19.95
Manufacturer:
Bay Alarm Medical
Requirements:

Land line service and jack(phone company, cable company, or VoIP with adapter)
Power outlet

Pros:

Well-built base unit
Durable call button
Good operators
No additional fees

Cons:

Standard limitations of this type of service - call button signals may not reach everywhere, base may not hear the entire home, etc.