We use affiliate links. If you buy something through the links on this page, we may earn a commission at no cost to you. Learn more.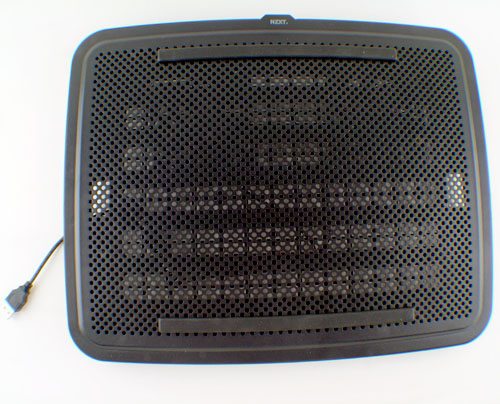 With the availability of iPads, netbooks, tablets, and smartphones nowadays, it doesn't leave much room for our older laptops. Everything has become smaller, thinner, lighter, has better battery life and virtually no heat output. However, if you are like me and still have an older laptop or notebook in your arsenal of electronics then you should know that the older laptops have a tendency to generate that unwelcoming bottom heat. Heat that can get hot enough on your lap that it feels like a piping hot cup of coffee without the protective cardboard sleeve.
This is where the Cryo E40 Laptop Cooler from NZXT comes in to play. The Cryo E40 is a lightweight and solid entry-level laptop cooler. But where it has a leg up over other coolers is its ability to place its two fans anywhere on the metal mesh cover giving your laptop the maximum cooling air flow it needs.
Heat is a killer for hard drives, causing them to become sluggish or unstable.  It's just not good  for the overall laptop, since heat can destroy vital components nestled within, such as the motherboard, memory, processor, circuits, etc. This is where adding something as simple as a laptop cooler can help alleviate some of that unwanted heat. However, not all laptops are built alike. The air vents underneath are not always in the same location. The problem this raises is the one cooler may work well for a Dell notebook but may not work so well for an ASUS laptop. They could have air vents in different areas, so the cooler's fans may not line up properly with the laptop's vents, causing inadequate airflow.  The ideal solution would be to have the cooling fans line up perfectly with the laptop's vents or hotspots.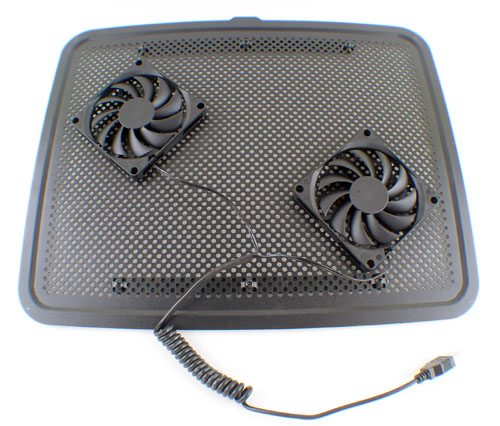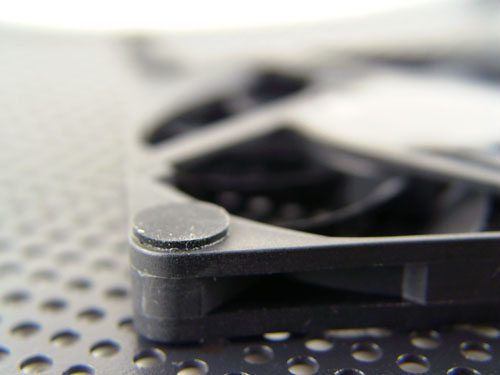 The Cryo E40 has two 80mm fans that are equipped with low-powered magnets for easy placement and removal. Plus the low power magnet won't harm any of your laptop's components. The fans are powered with a coiled USB that plugs into your laptop.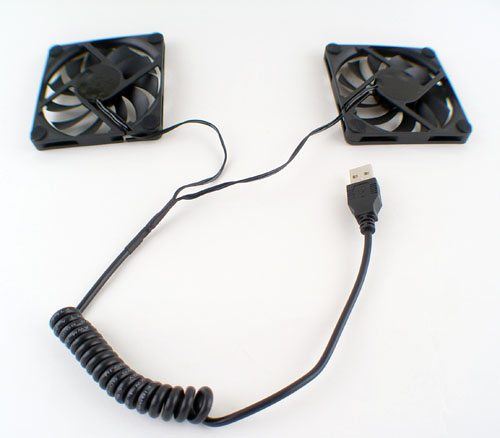 A nice thing about the coiled cable is that it is not attached to the cooler's frame so you can position it on either side of the cooler, depending on where your notebook's USB port is. Some coolers have a USB that is dedicated to one side so if the USB cord isn't long enough to reach the laptop's USB port then you are forced to find a cooler that has he cord on the side you need it to be on.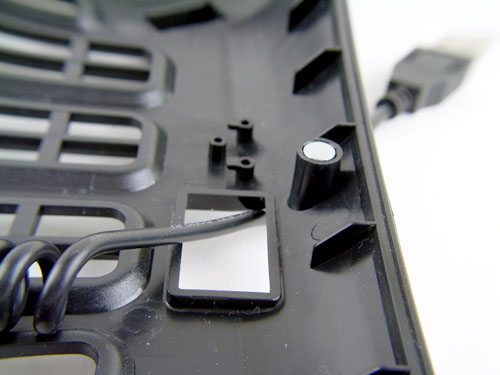 With the Cryo E40 you can literally position the cord  through a slotted opening on either side of the cooler. And since the cord is coiled, it isn't hanging loose and cluttered inside the cooler.
The top metal mesh cover and the plastic base are held together along the edges by the same low-powered magnets. The magnets supply a really good hold and separate fairly easily. The plastic base appears to be durable and didn't feel cheap. It is pretty solid as far as plastic goes. Not flimsy at all. Since the top part was metal, I was concerned about the bottom being just plastic.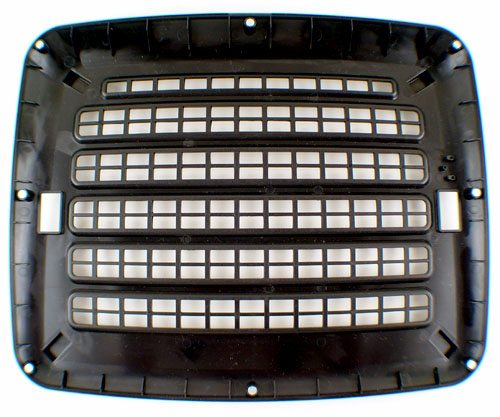 The metal grid and bottom base basically form a shell that houses the 2 fans. I was concerned, that since the fans are inside the shell with the wires, there is a chance that the wires could hit the spinning fans if not stowed away properly. The danger there is the risk of the fan blades cutting a wire in half or slicing the rubber coating exposing a wire.  But as long as you put the wires in an area that won't get in the way of the fans, then you should be alright.
The Cryo E40 ran pretty quiet, but in a completely quiet room you can probably tell that the fans were running. However,  if you were playing a game, watching a movie, or listening to music, you wouldn't even notice it. These aren't military-grade whisper-quiet fans, but they are pleasingly quiet so they not distracting at all. Unfortunately, I don't have a noise/sound meter so I couldn't tell you the exact decibels, but I can tell you that I have used other coolers and the E40 was unnoticeable compared to my other ones.
The Cryo E40 is made for laptops and notebooks up to 15″ inches, however, it looks that it can accommodate sizes a little bigger like a 17″ inch laptop. Anything bigger most likely would be pushing it.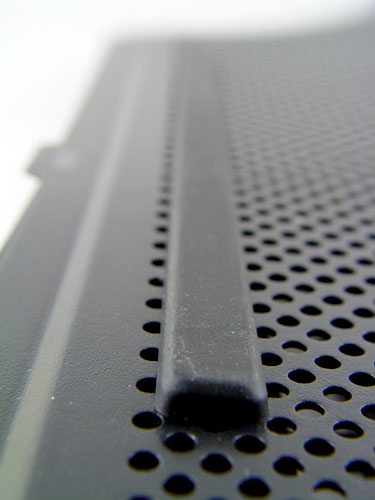 Since the mesh cover is metal and could cause a laptop to slide around, there are two rubber strips on top for the laptop to sit on to prevent sliding.  The bottom base is slightly angled, allowing for a more ergonomic typing position unlike other laptop coolers in the market which are just flat. In comparison to other coolers, the one thing that is lacking on the E40 is a USB hub. It would have been nice to have at least one extra USB port since the E40 would be taking up an existing port. However, do keep in mind that this is an entry-level cooler.
In conclusion, the Cryo E40 from NZXT is a solid and light laptop cooler with moveable fans, making it a customizable cooler for any laptop or notebook  that you use with it. What it does lack in a feature or two clearly makes up for it in the features that it does offer.
Product Information
Price:
$27.99
Manufacturer:
NZXT
Pros:

Lightweight.
Configurable fan placement.
Sturdy.

Cons: