We use affiliate links. If you buy something through the links on this page, we may earn a commission at no cost to you. Learn more.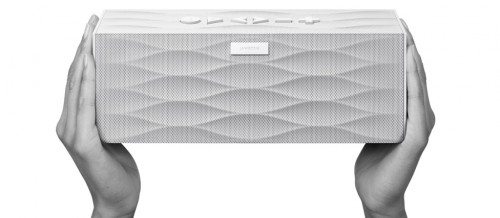 Jawbone's Bluetooth Jambox Smartspeaker is a miracle. Hearing this tiny speaker (and also Soundmatter's FoxL – on which the Jambox is based) for the first time will quite literally make your jaw drop. So will the price: $200. That's a lot for a portable speaker of any size, much less one that is only six inches long. Still, the Jambox sells well. So well in fact, that Jawbone decided to make an encore; a bigger Jambox. The BIG JAMBOX Bluetooth Smartspeaker is exactly what its name says. It has the same design as the Jambox, but in a bigger size with bigger buttons, bigger speakers and much bigger sound.  With its dual bass radiators, it rivals much larger speakers in decibles. It has a 15-hour rechargeable battery and built-in 360-degree omnidirectional microphone with echo-cancellation for use as a wireless speakerphone.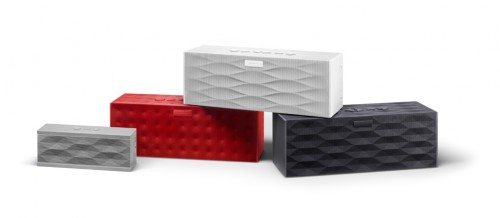 But wait, that's not all: the BIG Jambox has LiveAudio, a technology that makes speakers sound more dimensional. The BIG JAMBOX is the first available product to feature this new audio trick.
The BIG JAMBOX Smartspeaker comes in three colors and grill patterns: Graphite Hex, White Wave and Red Dot. Accessories include a 36″ stereo cable, a 60″ micro USB cable, a wall charger and a quick start guide. A carrying case is sold separately. It measures 10.1″ long, 3.2″ wide and 3.7″ high, and weighs 2.7 lbs. So while it can be moved around, it isn't as portable as the original Jambox.
The BIG JAMBOX is currently only available for pre-order on Jawbone.com for $299 and should ship after May 15.