We use affiliate links. If you buy something through the links on this page, we may earn a commission at no cost to you. Learn more.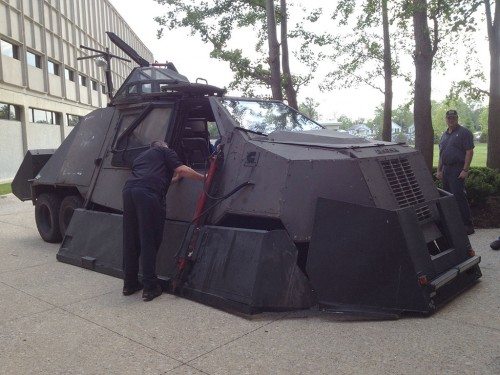 When you live in Southern Indiana like I do, seeing a celebrity is a rare event. Lucky for me, I work for Cummins Inc. and our Cummins Turbo Diesel engine just happens to power the Tornado Intercept Vehicle 2 (TIV 2), featured on the Discovery Channel television shows "Storm Chasers" and "Mythbusters". This vehicle has been designed to withstand 150MPH winds and I got a chance to see it up close and personal this afternoon when film maker and reality TV personality Sean Casey brought it by for a meet and greet.
Note: Click the images in this review to see a larger view.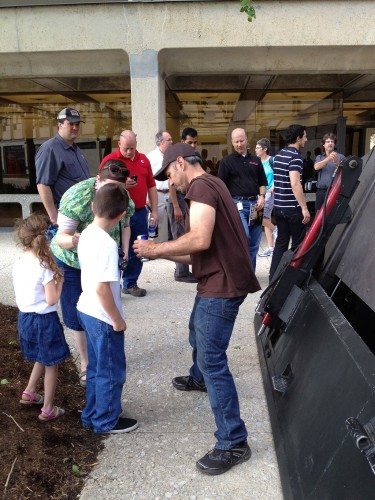 About Sean Casey (from Discovery Channel website):
For the past 12 years, Sean Casey has been roaming the country chasing the shot that will end his IMAX film about tornadoes. With the guidance of leading tornado scientist Dr. Josh Wurman, Sean's mission has been to get a one-of-a-kind shot from inside a tornado. To accomplish his goal, Sean built the TIV, or Tornado Intercept Vehicle. This 16,000-pound armored tank is outfitted with wind-resistant flaps and anchor spikes to keep him safe while filming inside a twister. Last season, Sean split from long-time partner Josh, and with the help of his own team of meteorologists, finally got The Shot he was looking for. But he isn't satisfied. Passionate about making the best film possible, he returned to Tornado Alley in 2010 with a new team, determined to get a better intercept. With medic Marcus Gutierez driving the TIV and meteorologist Brandon Ivey navigating, Sean will continue to pursue his goal, as well as document Vortex 2, the largest tornado research project in U.S. history.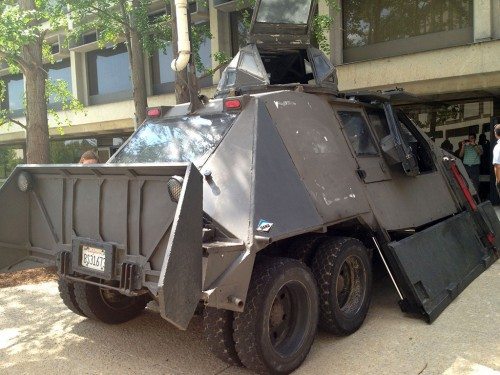 Powered by a Cummins Turbo Diesel, the TIV 2 has logged over 100,000 miles across the US, chasing tornados and severe weather. The Spring chase season is here and Cummins has been helping owner Sean Casey prepare for it by getting the TIV 2 road ready. The season lasts 8-10 weeks, with the TIV 2 logging over 35,000 miles.
This year, Sean and his TIV 2 crew will not only be capturing film for a sequel to his IMAX film currently in theaters "Tornado Alley", but will also be capturing scientific data for a national Science Foundation grant to better understand the dynamics of tornadoes to increase warning times.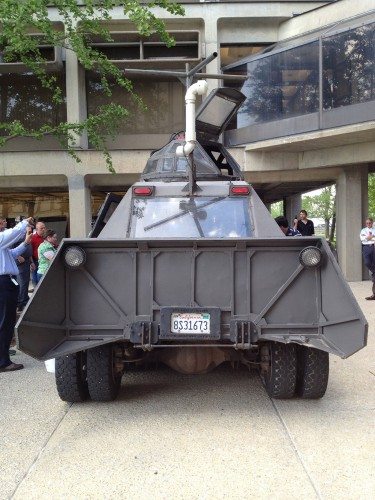 The TIV 2 is built like a tank and weighs over 14,000 pounds. Sean and his team started building it back in 2007 and based it around a Dodge Ram 3500 which was converted to 6×4 wheel drive. It may look cumbersome, but the Cummin's engine produces 625 horsepower with a top speed of 100mph.
When Sean and his team do catch the storm they are chasing, six hydraulic skirts around the TIV 2 drop down to deflect wind over the TIV to stabilize it and protect the underside from debris. Four hydraulically operated anchoring spikes plunge into the ground to keep it in place.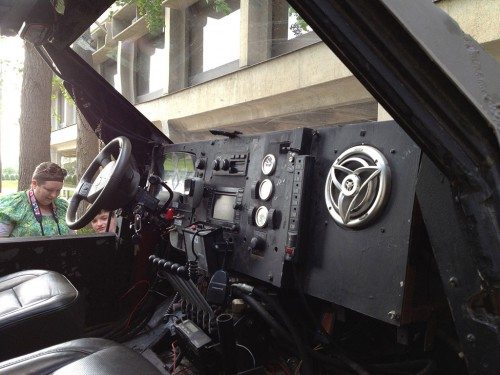 The vehicle has bullet-resistant windows and a layer of armor made of a combination of steel, Kevlar, polycarbonate and rubber which covers a steel frame.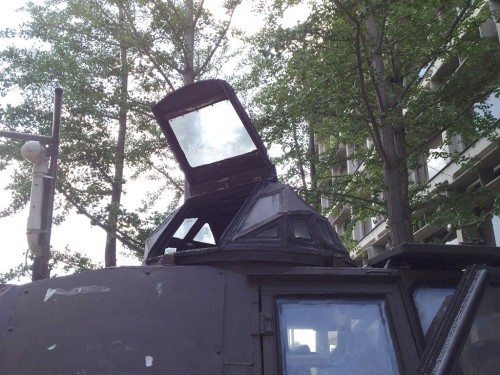 There's a turret on top to allow for Sean's IMAX filming.
The TIV 2 even has a siren so it can act as a mobile alert system.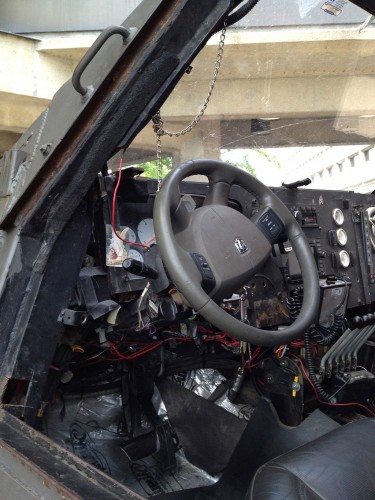 I had to smile when I saw the picture taped on the dash next to the mess of wires, dials, knobs and levers in the Mad Max-esque cockpit inside the TIV 2. I guess even macho storm chasing guys with a vehicle that can withstand 150 mph winds will welcome a guardian angel's protection.
It was really cool getting to see the TIV 2. My only regret… I didn't get it for a week to test drive it! 😉