We use affiliate links. If you buy something through the links on this page, we may earn a commission at no cost to you. Learn more.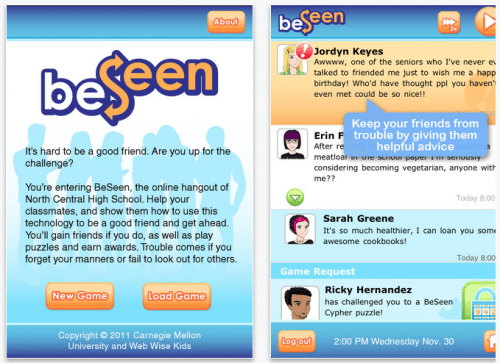 Call me old fashioned, but my daughter didn't have a Facebook account until she was 15.  Kids as young as 13 are allowed on Facebook, and there used to be (probably still are) some websites designed specifically for even younger kids.  Carnegie Mellon University and Web Wise Kids have worked together to create the BeSeen game that can help kids ages 8-12 learn how to use social media responsibly – so they'll know what's safe and unsafe when they are ready for an account.  The BeSeen game "begins with creating a profile as a student at North Central High School and then adding friends and interacting with them."  Play emphasizes "securing personal, protecting your reputation, and defending friends."  Go to the website linked above to find links to the Apple iOS and the Google Play version of BeSeen.  Both versions are free.
While you're there, you can also download materials to structure lessons for your kids about social media, including a detailed lesson guide, worksheets and a video.