We use affiliate links. If you buy something through the links on this page, we may earn a commission at no cost to you. Learn more.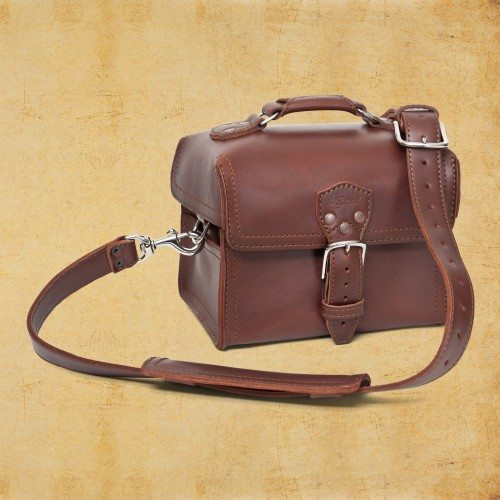 Saddleback Leather Company's newest addition is the Gadget Bag.  It's boxier than your typical briefcase, and looks and feels incredible like all of Saddleback Leather's products.  I recently got a digital SLR camera, so the Gadget Bag's shape caught my attention.  Let's take a look.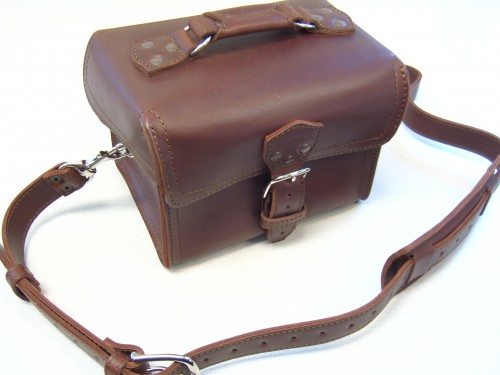 When you first unpack your Saddleback Leather bag from the box, you're greeted by that intoxicating leather aroma.  This is the real deal!  There is nothing cheap or cheesy about this.
If you're unfamiliar with Saddleback products, here are a few facts about the Gadget Bag:
100 year warranty (you'll understand when you get it)
100% thick full grain boot leather (but thicker)
Insulates cameras and electronics well from the damaging heat
No breakable parts, e.g. zippers, snaps, buttons etc.
Industrial marine-grade thread
Hidden polyester reinforcing straps
Rivets at all stress points
Sewn cap closure keeps out bad days
Outside Dimensions
Small – 6 3/4" Wide, 7 1/2" Tall, 4 1/4" Deep
Medium – 8 3/4"  Wide, 7 1/2" Tall, 7 1/4"  Deep
Large – 14"  Wide, 9 1/4", Tall, 6 3/4" Deep
NOTE: Dimensions are for the outside of the bag, interior dimensions are minus 1/8″ on each side for stitching at the seams.
Weight
Small – 0.95 pounds (.43 kg)
Medium – 1.65 pounds (.75 kg)
Large – 2.60 pounds (1.18 kg)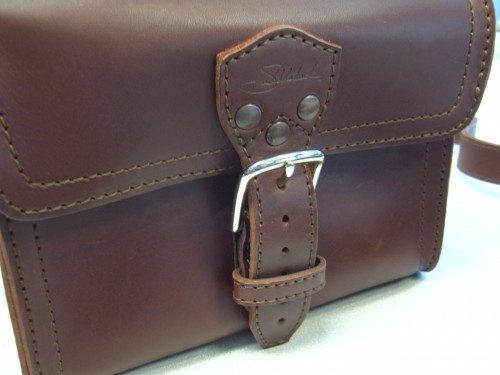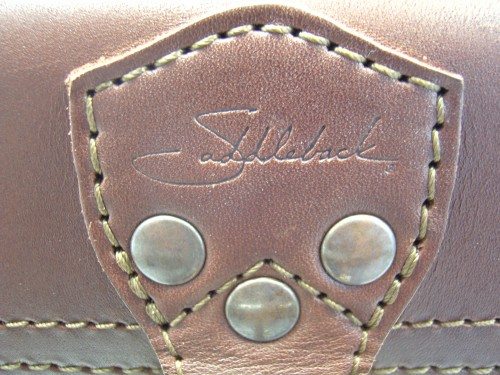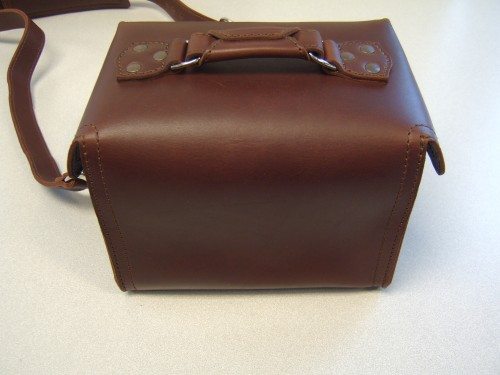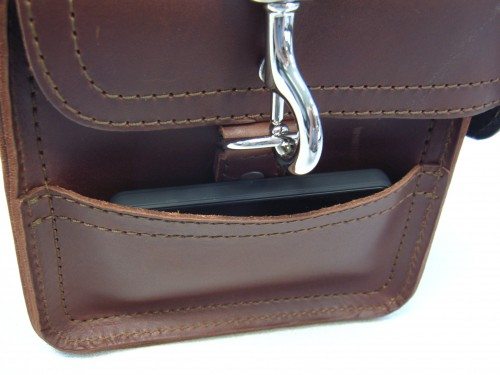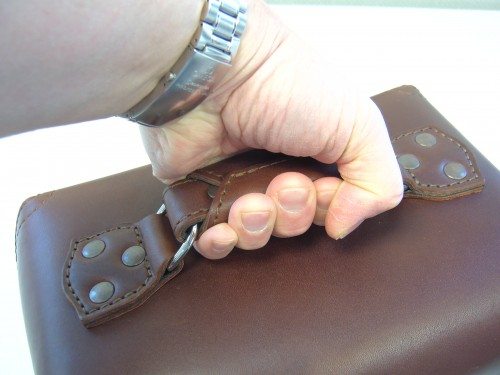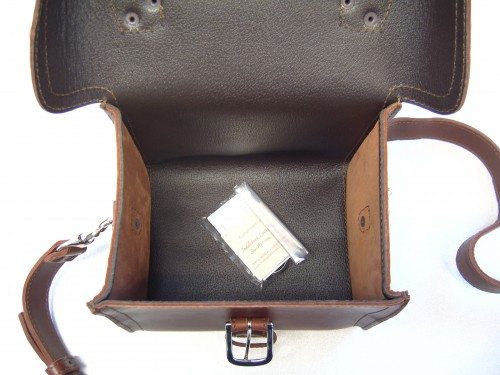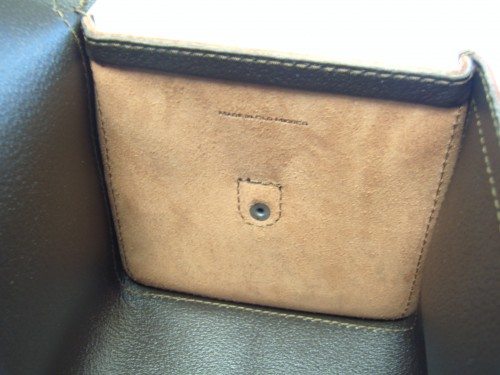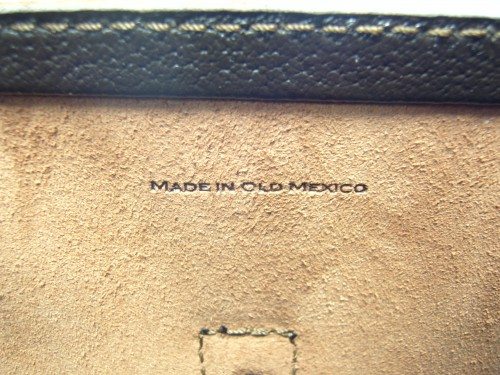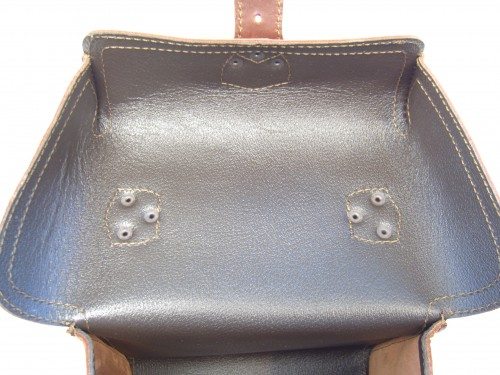 There's no doubt the Saddleback Leather Gadget Bag looks, feels and smells great.  But how does it perform?  To test this, I tried feeding it with my Canon T3i camera with a 35mm lens and 430EX-ii flash.  In case you're wondering, the EF 35mm f/1.4L USM lens measures 3.4″ long, and my sweet made-to-order tangerine-colored strap is from PhatStraps.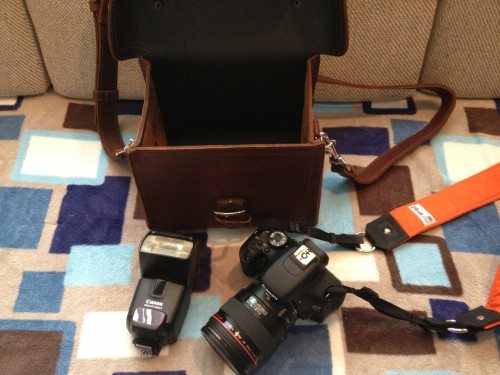 As you can see in the following pictures, there's plenty of room in the medium Gadget bag if you don't carry too much.  If you need more room, you might want to consider the next size up.  You'll also notice there are no dividers supplied with this bag to keep your equipment from knocking together.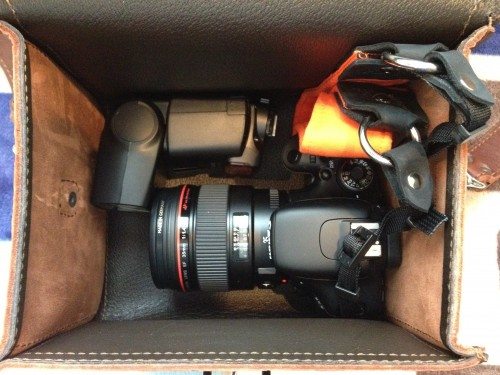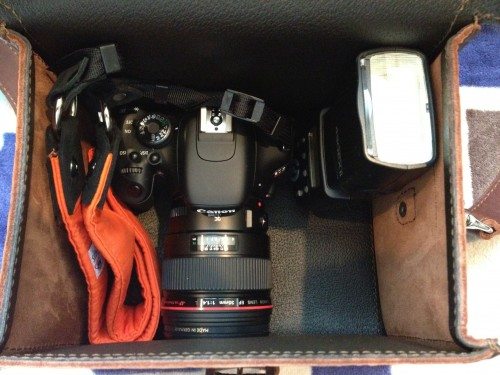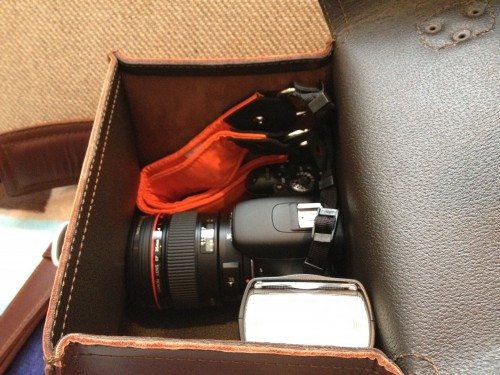 I tend not to carry a lot in my camera bags – just a camera and a flash.  I would probably slip the flash into it's own pouch to avoid bumping and scraping against the camera itself.  The leather is stiff enough that I don't worry too much about damage to the camera, but I'm not so sure I'd want to drop a fully-loaded bag.  Daily bumps and lumps should be no problem.
One minor design issue I found was with the placement of the strap rings.  If you carry the Gadget Bag with the supplied strap, you'll find the bag tends to "roll" like a log a little bit since the strap connects close to the center.  Of course, this depends on how you load your bag, but the strap can get caught on the lip of the flap.  If the lid isn't securely closed, you COULD potentially dump your gear if you're not careful.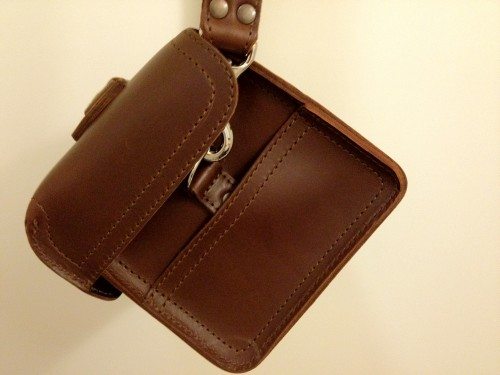 Design issues aside, the medium Saddleback Leather Gadget Bag is a handsome, well-made piece that is sure to give you a lifetime of use.  The only question is, what color?
Note: The links to Saddleback Leather Company on this page are affiliate links. If you use one of these links to make a purchase, we will earn a small percentage of the sale, so we appreciate it if you click through.

Product Information
Price:
$162 (small), $244 (medium, as tested), $280 (large)
Manufacturer:
Saddleback Leather Co.
Pros:

Nearly indestructible and will wear beautifully with age.
Sturdy construction resists ordinary bumps.

Cons:

No interior dividers or organization.
Not padded.
Strap may get caught in lid.
Pricey (but worth it).