We use affiliate links. If you buy something through the links on this page, we may earn a commission at no cost to you. Learn more.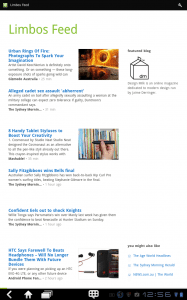 Hands up!  Who likes to start their morning with a coffee and a catchup of the daily news?  In "the old days," this meant grabbing the latest newspaper to read, but these days with all the digitised content out there, you're no longer constrained to having to read a single source about a single subject.  You could go and visit multiple web sites every morning, but that's cumbersone and time consuming.  Some sites I like don't update that often, but I do want to know when they do update.  That's where a good news aggregator comes in handy. Feedly is a multiplatform aggregator that allows me to collect blogs, RSS feeds and other assorted information to keep me up to date and amused during my day.

Feedly is available for a number of platforms – iOS, Android, Chrome, Safari and Firefox – so you've pretty much got all the major ones covered.  The nice thing is that Feedly will synchronise across all platforms, so depending on where you are or what device you're using, you get consistent feeds.  Being  centrally managed means that adding, deleting or changing feeds automatically happens across your devices. I'll concentrate on the Android client, but the principle remains the same across the platforms.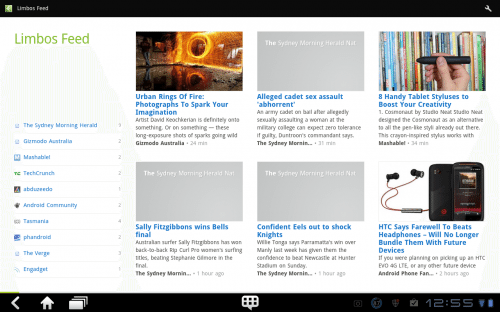 So here's my home Feedly screen on my 10.1″ Lenovo Thinkpad Tablet (you can click on any of the pictures to get bigger and better pictures 🙂 ). It's customised to my content, and down the left hand side you can see the list of sources that I'm viewing. Actually you can see SOME of the sources I'm viewing, I've got around 30+ feeds that I check each day. These include local news and newspapers, technology news, motorcycle news, and a wide variety of other sources. I lump everything into one single feed, but I could easily break them up into different subsections if I wanted.  The presentation and layout is pretty nice, and to me, it's similar to reading a magazine with lots of articles.It mixes up all the sources, but that's fine because it's the articles I'm interested in not the source.  If I want to go to a particular source, I can click it on the left hand side. I can easily scan the articles and quickly skip those that don't really interest me.  A quick swipe to the left and the next page of news items appear.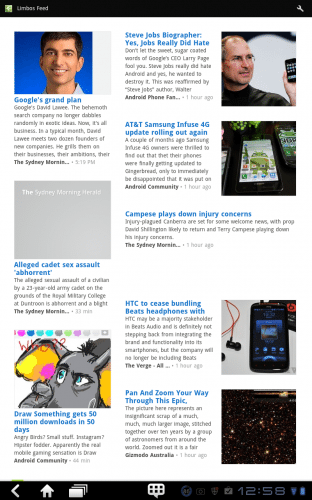 Feedly is one of the few apps that I actually like viewing in portrait mode, maybe because it's more reminiscent of a book or newspaper.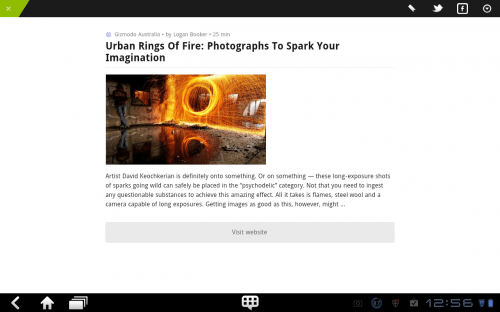 If you see an article you want to delve deeper into, you can just click on that article to get more information.  The amount of information you get will depend on the RSS feed source that you're looking at.   For some it will just be a larger reproduction of what is on your summary screen, but for some the entire article will reappear.  From here you can post to Twitter or Facebook or share via other means by using the icons in the top right hand corner.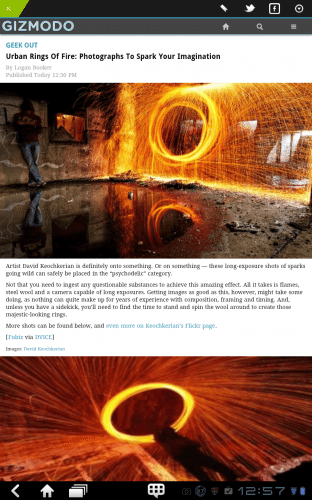 If you really like an article, Feedly has its own web browser and you can go to the full web page.  Note that it's not really a fully-functional browser.  It's a bit slower than  normal browsers, and some things like embedded video don't tend to work all the time.  If you ever want to go back to your summary screens on any of the pages you can just hit the cross in the top left hand corner.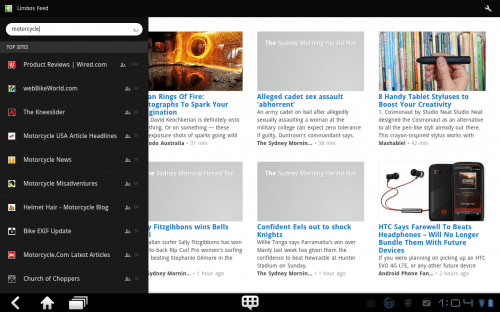 If you find the need to add more sources, this can be done from the mobile clients as well.  Just type in what you're looking for or an RSS feed address to add new feeds on the go.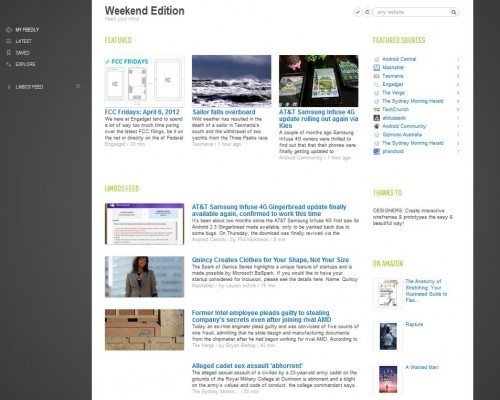 Being multi platform, I can also view and manipulate my feeds via Chrome Browser. Above is the web interface, which you can see is very similar to the mobile interface. Because it synchronises between all your devices, you can read on any device and not end up having to reread the same articles again. Personally I actually prefer the mobile client to the web client. With the web interface, to go to the next page of items you need to click "Mark Items Read" and then "Refresh", while on the mobile client I can just swipe to the next page.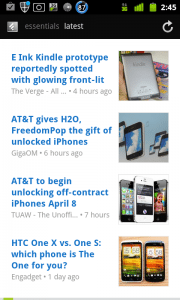 Here's Feedly on my Android phone. Not as good as on my tablet given the smaller screen real estate, but fine at a pinch to get my information fix.
A neat thing that Feedly does is recommend other feeds that you might like based on your subscribed feeds, and it also integrates well with Google reader for subscribing and changing feeds.
Having gone through quite a few different news aggregators, I find that I really like Feedly. It has a nice, clean magazine article type format, is low bandwidth and flexible. I can read on my Android phone, Android tablet, or my notebook.  Finally, it also makes it really easy to find interesting articles to write for The Gadgeteer. 🙂
If you're looking for a way to consolidate all the information you want during a day, then Feedly is definitely worth a closer look.
Product Information
Price:
Free
Manufacturer:
Feedly
Requirements:

Chrome, Safari, iOS, Android

Pros:

Clean easy to read interface
Multi platform synchronisation
Easy to personalised the informaton you want
Easy integration for sharing information ( Twitter, Facebook)

Cons:

Built in browser a bit basic