We use affiliate links. If you buy something through the links on this page, we may earn a commission at no cost to you. Learn more.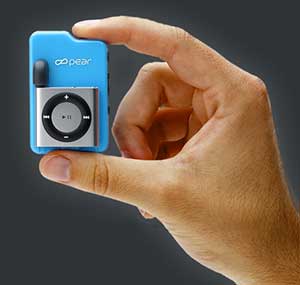 Fitbit, MOTOACTV, and Nike Fit are all gadgets that are designed to help you maximize your workouts. PEAR claims to be different and better, by offering real-time advice and motivation from an actual coach instead of a sexy recorded voice. The device is definitely a gadget because it runs on batteries, clips to your waist or arm band and interfaces with an iPod Shuffle, earphones, heart monitor strap and foot pod. Where it sets itself apart from the other workout gadgets is that it learns your fitness level by putting you through a test workout that automatically calculates your lactate threshold heart rate and individual heart rate training zones without your having to press a single button. Then while you're working out, a real world class coach will give you voice prompts and info to help you speed up, slow down and get fit. The sweat proof earphones have a button that you can press to hear your heart rate, pace, time and distance without having to look down at a screen. Workout data is saved to the cloud so you can access it later.
PEAR looks and sounds like a great little tool (gadget), but it does have two obvious caveats. 1. It works with an iPod Shuffle, but doesn't come with one. So you'll have to shell out $49 at the Apple store before you even take your first run 2. The PEAR itself costs $249.99. Ouch… Add the cost of the Shuffle and we're up to $300. I wonder how many workouts that you can get with a live trainer for $300?