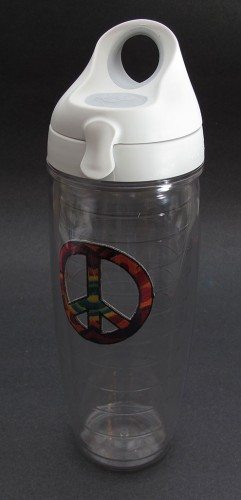 I have loved Tervis tumblers since discovering them during a vacation to Sanibel Island Florida one year. They have become my go to idea when I need to find a gift for someone and are pretty much all we drink from at my house. When the folks at Tervis contacted me to see if I might like to try their new 24 ounce water bottle, I didn't have to think about it very long before agreeing. My favorite feature of Tervis tumblers is their double insulating walls that keep cold liquids cold without sweating. Let's see if the water bottle performs as well as their tumblers.
Note: Click the images in this review to see a larger view.
The Tervis double wall insulating plastic mug was invented back in 1946 and they've been going strong ever since. They are made of BPA free plastic (including the lid) and are dishwasher and microwave safe.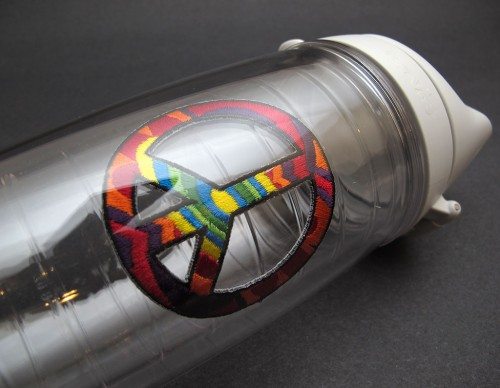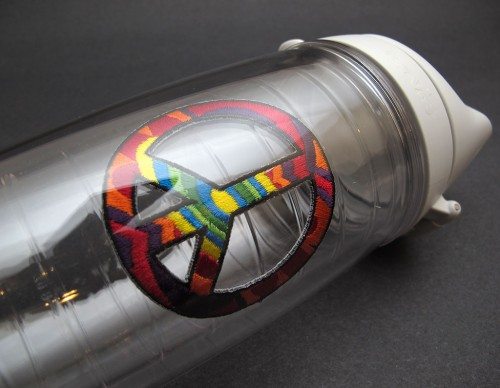 One of the really cool things about Tervis tumblers, mugs and water bottles is the huge variety of designs to choose from. The designs are actually embroidered patches are that are placed between the two walls of the bottle. I've had Tervis tumblers for years now and have never had one of the patches slip or shift position.
The water bottle is 10.4" tall with a 3.4" top and 2.5" bottom that is sized to fit most cup holders and bicycle cages. The sides have a flattened area that provides a nice grip. There are also measurement indicators embossed into the plastic that you can use to aid in mixing two liquids together.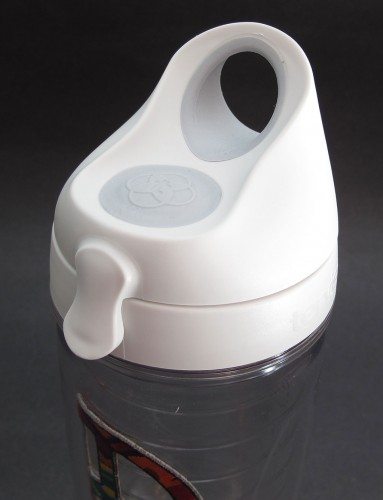 The flip lid for the water bottle screws on securely. I didn't have any problems with liquids leaking.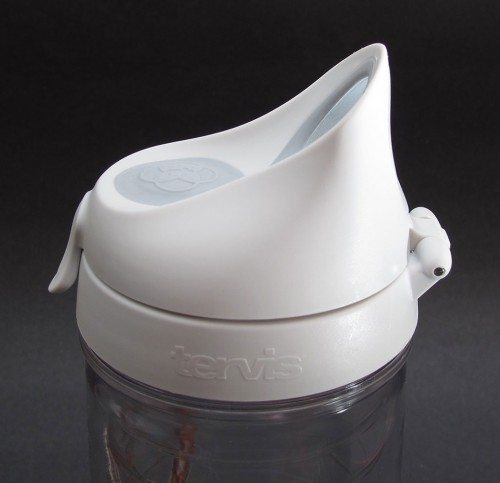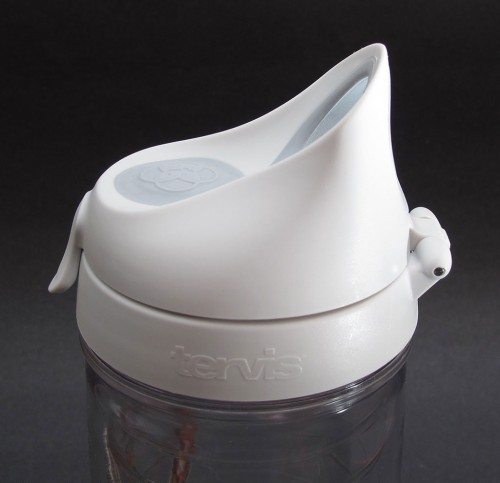 The top has two parts. The part that screws on to the top of the bottle and the flip lid that has a rubber lined plastic loop that you can use to attach a carbiner.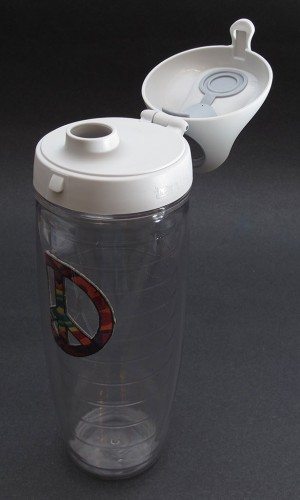 The lid flips open by pressing in on the rubber button while pressing up on the latch. The lid fits very tightly, so it does take two hands to pop it open and close. One hand to hold the base and the other to open the lid.
If you open the lid as far as it goes, it will stay open instead of flopping closed on your forehead as you're trying to take a big drink.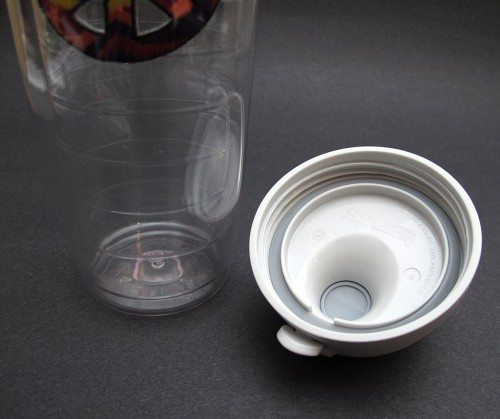 There is a rubber ring inside the lid that helps seal the lid tight to the bottle to prevent leaks.
The info on the Tervis site says that ice cubes can fit in the opening. Unfortunately the ice cubes from my ice maker do not fit. But, if you want to add ice, you can just unscrew the whole lid.
The bottle is easy to clean either by hand or in your dishwasher. Just remember to put the flip lid on the top rack…
During my time using the Tervis water bottle, I've found it to be just like other Tervis products. It is made extremely well with no defects, scratches, cracks, etc. It keeps cold drinks cold without annoying condensation dripping from the sides or base. Once you discover Tervis tumblers, I know you'll want more of the products. Trust me. You should see my cabinets.
Some of our links in posts like this one are affiliate links, which means that we may receive a small commission on purchases at no cost to you.
Product Information
Price:
$20-$25 depending on design
Manufacturer:
Tervis
Pros:

Many designs to choose from
Keeps cold drinks cold without sweating
Keeps warm drinks warm without burning your hands
Leak proof cap

Cons:

Flip lid is tough to open at first
Opening too small for ice cubes