We use affiliate links. If you buy something through the links on this page, we may earn a commission at no cost to you. Learn more.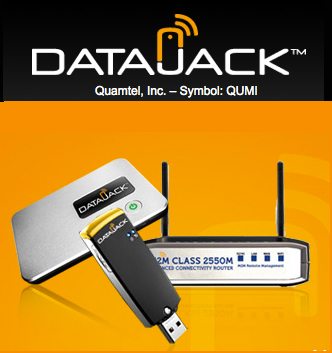 I don't know about you, but I'm ready to be implanted with that chip people keep talking about because I want to be always connected.  Until that day, I have to find other ways to keep myself connected.  It seems most every device now offers a cellular option for 3G (or even 4G) connectivity, but the problem with that is that data plans are expensive and often even require a contract.  And what do you do when you have a phone, tablet, and a laptop that you may want broadband for, but you don't want to have separate contracts for all three?  DataJack offers a line of broadband products that can get you connected at home or while you're out and about, and that can let you connect only one device or multiple devices.  Best of all, DataJack offers contract-free service plans that let you select the amount of data you need.
With DataJack, you first choose the device that best suits you.  Select from a broadband USB modem for your laptop ($70), a MiFi 2200 Mobile Hotspot ($90) to connect up to five devices to 3G, and even a 2550M Broadband professional-grade, mobile broadband router ($190) that lets you connect up to 256 WiFi-enabled devices at once.  Next, you choose the service plan.  There are no questions, no credit check, no activiation or early termination fees, and no contract.  Plans start at 200MB for $9.99 up to 5GB for $49.99 (30-day usage period).
The DataJack network offers secure nationwide 3G coverage at home or on the go, without roaming fees.  Their Data Usage Calculator lets you determine the amount of data you'll need for the amount of emails, surfing, streaming music and video, and gaming you typically do in a month.  If you miscalculated, you can change plans whenever you like.
Keep your eyes peeled for an upcoming DataJack review at The Gadgeteer.