We use affiliate links. If you buy something through the links on this page, we may earn a commission at no cost to you. Learn more.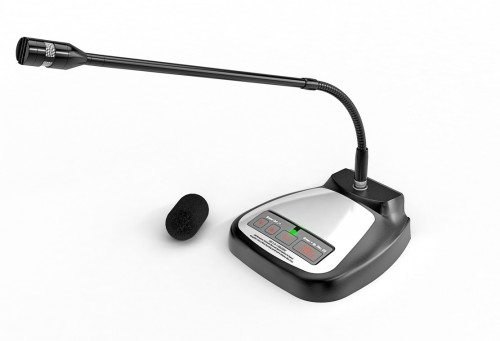 Remember those "multimedia" upgrades for PCs years ago that consisted of a sound card, speakers and a desktop microphone?  That's what the USB TableMike 3-in-1 Desktop Microphone from SpeechWare reminded me of at first, except it wasn't beige and flimsy.  Why would I need a desktop microphone when my 27″ iMac desktop has everything built in?  But that got me thinking:  The iMac's built-in mic is located above the tiny camera on the top edge.  How good was it?  I gave the USB TableMike 3-in-1 Desktop Microphone a shot to find out.
Why was this called the 3-in-1?  Was it a microphone, floor cleaner, and dessert topping all in one?  This is the description, from the SpeechWare TableMike website:
1. Desktop Microphone with USB interface and standard input and output Sound ports
2. Detachable and interchangeable flexible microphone boom (38 cm or 15″) for easier removal, portability and storage
3. Industry first integrated Speech Equaliser for superior performance with voice applications and Wideband or High Definition VoIP
The USB TableMike 3-in-1 Desktop Microphone comes with a long, flexible microphone that connects to a base.  A simple mono, wired earpiece, right-angle 1/8″ mono audio jack adapter, USB cable, and foam windscreen are also in the box.  The base is surprisingly heavy, and feels "expensive" due to the heft.  It's so heavy that the little plastic packing tray it came in cracked.  During unboxing, the base came tumbling to the hardwood floor with a loud clatter.  I'm happy to report there was no damage to the base.  It passes the completely unplanned drop test.  Oops.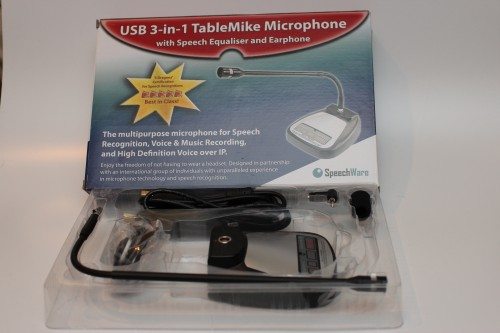 Here are the specs from TableMike.com:
| | |
| --- | --- |
| Operating System | Windows® 7 / Vista® / XP® / 2000 / MacOS® X v. 10 or higher / Linux without USB Sound drivers |
| Compatible voice applications | Dragon NaturallySpeaking®, Microsoft Speech for Windows®, ViaVoice®, etc. |
| Capsule type | Back Electret Condenser with Cardioid Polar Pattern |
| Control Panel | Digital buttons to avoid unwanted noise 'clicks' |
| Push Button modes | Always On / Press to Lock / Press to Talk |
| Sensitivity | -47 dB@1kHz, SPL=1Pa |
| ADC sample resolution and rates | 16 bit mono and up to an exceptional 48 kHz for both Recording and Playback (maximum of 22 kHz in the best competing devices!) |
| ADC SNR | An exceptional 92 dB@ fs=48kHz, 1kHz at 1 Pa |
| ADC THD | An exceptional 0.003% @ fs=48kHz, 1kHz at 1 Pa |
| Frequency response and Output Impedance | 80 – 20,000 Hz and 1700 ohms |
| Sound ports | Standard 3.5 mm mono mic-in and 3.5 mm stereo out with 2 Watts |
| Power supply | From the USB port of the PC (no need for batteries!) |
| Other unique features | Automatic Gain Control (AGC), High and Low Pass filters, Digital Signal Process (DSP) |
| Dictating distance (in Speech Equaliser mode) | From a minimum of 10 cm up to 50 cm (4"-20") and more, depending on your voice and ambient noise. Optimal distance 25 cm or 10" |
On the front of the 3-in-1 are volume buttons for the computer's output, a "PUSH" button (more later) and the Speech EQ button.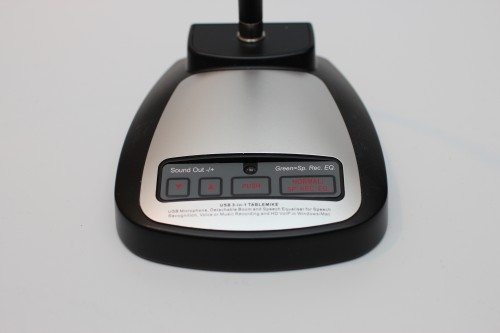 On the back side you'll see 1/8″ (3.5mm) audio ports for a mono microphone in and stereo audio out, and the USB port.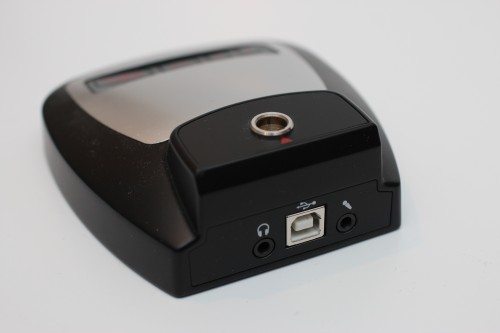 The underside gets interesting.  I found a three-position slider switch.  This adjusts the behavior of the "PUSH" button on the top side.  If you select ALWAYS ON, the mic is live all time.  PRESS TO LOCK allows you to turn the mic on and off with a single push of the button.  The LED on top glows green or blue for on, red for off.  PUSH TO TALK is exactly that:  the mic is off (LED red) in it's normal state, and goes live (LED green or blue) when the PUSH button is pressed.
I was very happy to see an actual hardware switch for a change.  I was expecting to see a software method to control mic on/off behavior.  This is much better.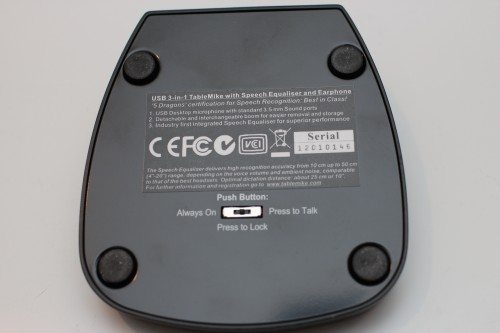 The LED on the top side has three colors:  RED when the mic is off (or muted), BLUE when the mic is on, and GREEN when the speech EQ is turned on.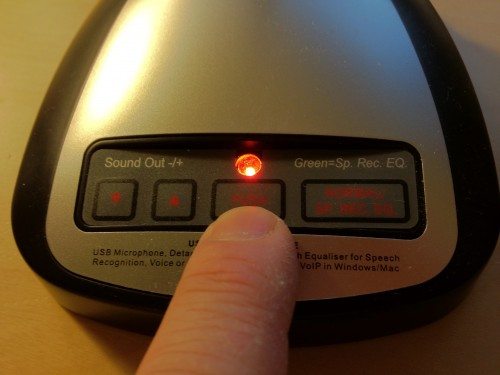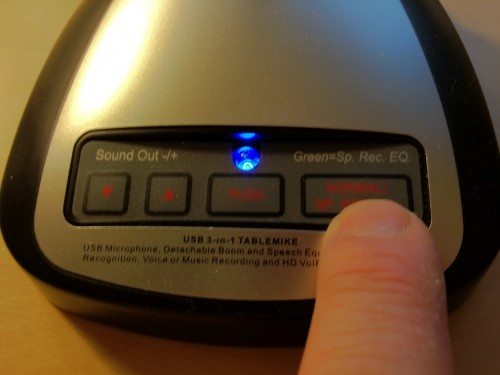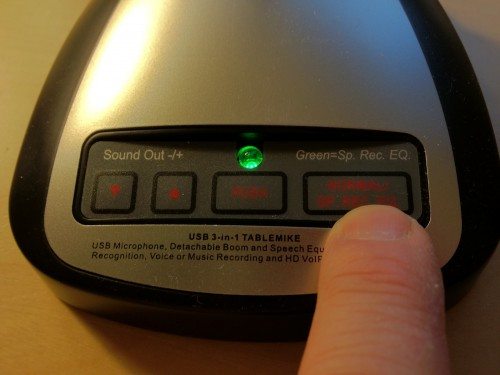 Why in the world would you need a desktop mic when your laptop or computer (like the iMac) or plug-in USB webcam have microphones built into them?  To test this, I recorded myself speaking with a pretty typical desk setup:  I placed the SpeechWare USB 3-in-1 TableMike between me and the iMac.
Test 1:  Seated about 2′ away from the iMac (computer's built-in microphone only)
[audio:https://the-gadgeteer.com/wp-content/uploads/2012/03/TableMike-3-in-1-baseline.mp3|titles=SpeechWare USB TableMike test 1 (iMac Only)]
Test 2:  Seated about 2′ away from the iMac, speaking into the 3-in-1 mic (1′ away from me, although the manufacturer recommends 2" – 4″ under this working mode)"
[audio:https://the-gadgeteer.com/wp-content/uploads/2012/03/TableMike-3-in-1-EQ-off.mp3|titles=SpeechWare USB TableMike test 2 (EQ off)]
Test 3:  Same as Test 2, with the speech EQ turned on
[audio:https://the-gadgeteer.com/wp-content/uploads/2012/03/TableMike-3-in-1-EQ-on.mp3|titles=SpeechWare USB TableMike test 3 (EQ on)]
As you can see, the putting the microphone closer to the person speaking (1′ vs 2′) makes a big difference.  However, I did not expect the "speech EQ" to make such a big difference.  At first I figured it just boosted the gain, but TableMike claims the speech EQ "substantially increases S/N (signal to noise), dictation range, and accuracy in speech recognition.
It's worth noting that the SpeechWare USB TableMic 3-in-1 has two fancier siblings:  The appropriately named 6-in-1 and 9-in-1.  Noteworthy features include a built-in 3 watt speaker in the base, foot pedal microphone control, USB ports, universal SD/MMC card reader slot, programmable function key and a longer [15" to 24"] telescopic microphone boom. Besides, a wireless unit is also in the works.
I love the idea of having extra USB ports and an SD card slot close by on the 9-in-1.  And for iMac users, the stereo headphone port in the back of all models is way more convenient to access vs. the hard-to-find one on the back of the iMac.
Well, this desktop table microphone exceeded my expectations.  Long gone are the days of the cheap desktop mics with this baby.  It's hefty, full of useful features, doesn't require special drivers (on my Mac, at least) and sounds great.  If you want better outgoing audio your built-in mic gives you, and you're ready to ditch the headset mic, go for the SpeechWare USB 3-in-1 TableMic Desktop Microphone.

Product Information
Price:
$279
Manufacturer:
SpeechWare
Requirements:
Pros:

Flexible mic with a hefty base.
Useful microphone button controls.
Speech EQ sounds great.

Cons: