We use affiliate links. If you buy something through the links on this page, we may earn a commission at no cost to you. Learn more.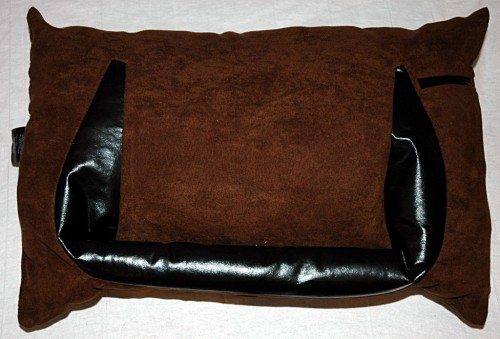 The ePillow by Veyl Products LLC is a large, soft pillow with a U-shaped ridge designed to comfortably and securely hold a tablet or e-reader in a usable position for extended periods. If you have an Android tablet, iPad, or one of the heavier eReaders (for example, a Kindle Fire which comes in at about a pound), you've probably discovered that holding one of these in a "view a film" or "read a book" position for more than a few minutes isn't really pleasant. In fact, you've probably propped yours up against a pillow or other object to try and ease the strain of holding it up… only to have it slide down (or off!) after a while. In a plane or car it's even worse, since you're far more limited in available space to make some kind of prop. This is the problem the ePillow is trying to solve – and it does so simply and effectively.
The ePillow Front and Back
The first shot above is the front of the ePillow. It's a large (18″x11″) soft, light (honestly I have no idea – less than a pound for sure) and fluffy (about half a foot thick, if fluffed, or compressing down to a few inches) pillow. It comes in either a suede or faux leather finish for the pillow itself in seven colors. The "retaining ridge" is faux leather in black, gray, or pink. There's a little pocket on the right side for your headphones or a microfiber wipe.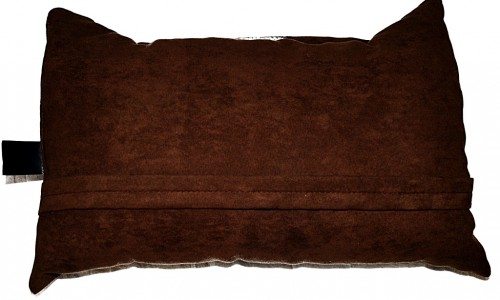 The back just has a strap for easy airplane carry-on – slide the ePillow onto your roll-on luggage and you're done.
iPad Pillow Fight
This is a simple product, so I'm not going to belabor the point. Pretty much the goal of this thing is to sit there and hold a tablet. I took it for a spin with an iPad2 in portrait and landscape orientation: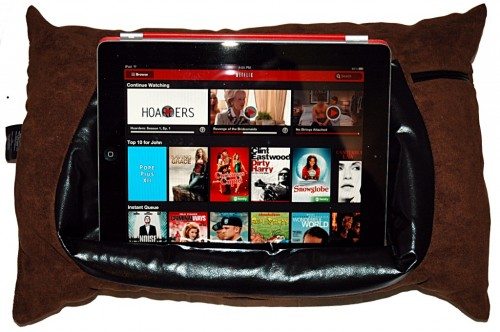 The bottom lip of the retaining material is deeper than it seems at first look, which lets you slide the iPad down for a secure hold. Even just sitting on a table for a photograph, the ePillow keeps the iPad at a comfortable "sitting next to it" viewing angle. On a plane on the tray table, or in your lap in a car or plane, the iPad is easy to see. The ePillow is firm enough to hold the iPad steady for navigation (swiping and pressing), but I found it to have a little too much give for serious typing. Not that I can do much serious typing on glass anyway, but I have seen people pound away at their iPads when typing out an email, and I think the ePillow would make that even less accurate than it already is.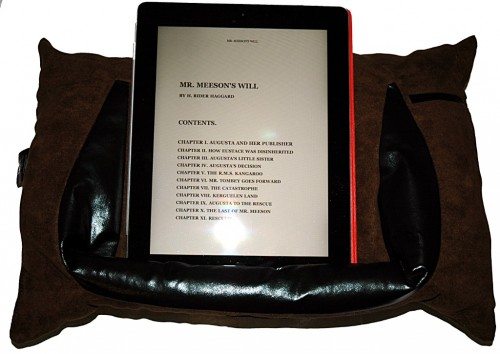 In portrait mode you'll really be thankful for that deep lip, as the ePillow will easily keep your iPad upright without worry that it will flip or fall out. I found reading with the ePillow to almost rival the comfort of hand-holding my tiny 6 oz Kindle. You can also clearly see in this photo that the ePillow has no trouble accommodating an iPad with its Smart Cover attached and flipped back.
10.1″ Android Tablet
Next up is my Viewsonic gTablet; coming in at an inch wider and a quarter pound heavier, this thing really isn't comfortable to handhold for extended periods.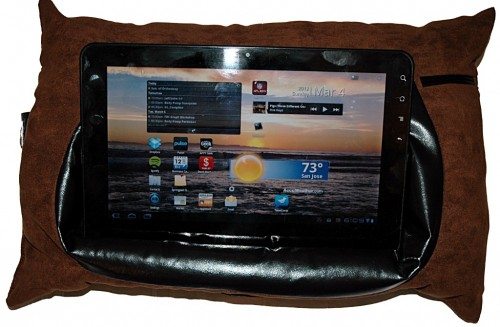 Horizontally, it's definitely pushing the limits on width, but it does fit – I'd say this is about as wide as you can go. Also, you should note that with both devices, the front bezel is obscured on the bottom by the lower lip of the ePillow – after all it is slotted down there to hold the thing in place. If you have a tablet with a very narrow, or no front bezel, you might lose some screen viewing/access when it's in the ePillow.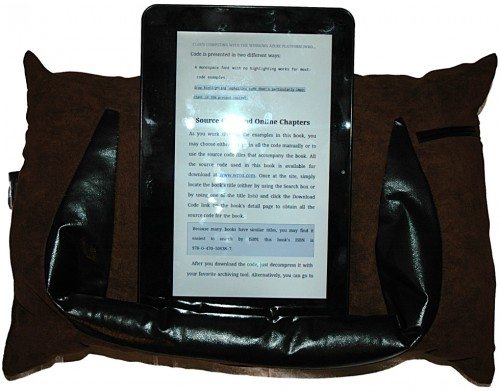 Portrait mode on the longer gTablet still works just fine on the ePillow. In fact, I was able to actually find a good viewing angle (the gTablet has a pretty horrible screen) and maintain it comfortably for nearly an hour of reading with the ePillow. I'd pretty much given up on the gTablet for reading because it is normally so hard to find a good angle and hold it there, even using pillows or other props.
A Simple Idea That Works
The ePillow isn't a complicated product. It's a pillow with a retaining lip, pocket, and strap. The construction is solid – it looks like it will hold up to use and travel. It's light enough to bring along on a trip, and it's easily mistaken for a regular pillow so it can be left hanging about the living room. If you use a tablet weighing a pound or more, between 7 and 10.5″ wide, the ePillow will give you a lot of options for comfortably holding it for extended periods.
Product Information
Price:
$29.95
Manufacturer:
Veyl Products LLC
Requirements:

Tablet or eReader up to 10.1" wide.
Lap.

Pros:

Simple "no moving parts" design for extended viewing/use of tablet.

Cons: