We use affiliate links. If you buy something through the links on this page, we may earn a commission at no cost to you. Learn more.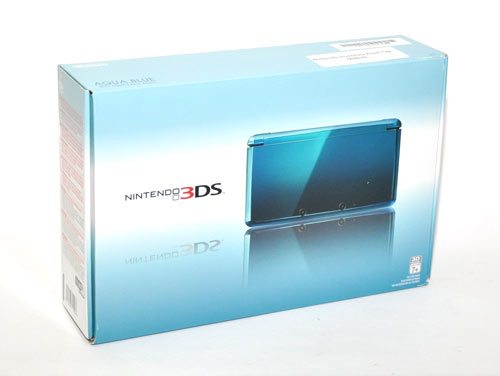 Julie asked the Gadgeteer Kid and me if we would like to do a joint review of the Nintendo 3DS portable gaming system. As many of you may know, the 3DS is Nintendo's latest and greatest handheld gaming device. Not being a video game player at all, I agreed with a bit of hesitation hoping the GK would bring a younger person's perspective to the review. I will be bringing the (boring) older non-gamer, parental point of view.
My commentary will be in normal black text and the Gadgeteer Kid's will be blue italicized.
For the kids out there, I will do my best to bring the 10 year old gamer (who loves video games) point of view.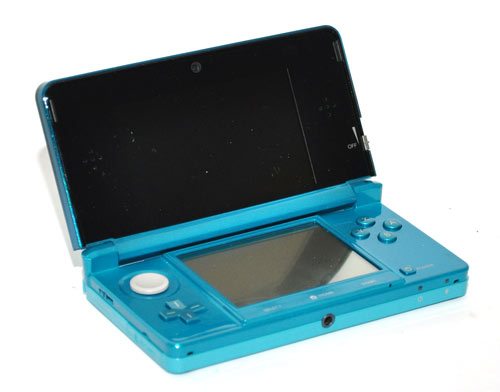 The Nintendo 3DS has been available for nearly a year now, released into the US market in late March of 2011. It's very similar in size and shape to its predecessor, the DSi and DS Lite (which I find to be a positive fact, as the XL is too big). Nintendo engineered some major upgrades into the 3DS (from the DSi): gray 'joystick' on the left, better main screen, motion sensor, gyro sensor and integrated glasses-free 3D game experience.
The 3DS measures 0.83″ high x 5.3″ wide x 2.9″ deep and weighs approximately 8 ounces, which is nearly identical to the DS Lite's physical specifications. The lower screen is approximately the same size as the Lite's as well, with both being about 3 inches. The 3DS' top screen is wider than the DS Lite's. It is a 3.5-inch display with a resolution of 800×240 pixels (400 pixels are allocated to each eye to enable 3D viewing).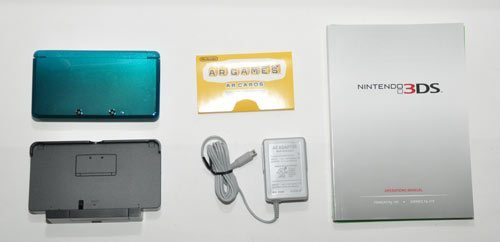 Package Contents:
Nintendo 3DS portable games system
Charging cradle
AC adapter
3DS stylus
SD Memory Card (2GB)
AR Card(s) (view the cards using the outer cameras to play supported AR games)
Quick-Start Guide
Operations Manual (including warranty)
Features:
3D screen: enabling 3D view without the need for special glasses and the ability to adjust or turn off 3D effect with the 3D Depth Slider
Stereo cameras: that enable users to take 3D photos that can be viewed instantly on the 3D screen
New input interfaces including the Circle Pad, motion sensor, gyro sensor
SpotPass, a feature that lets Nintendo 3DS detect wireless hotspots or wireless LAN access points and obtain information, game data, free software, videos and so on for players even when the system is in sleep mode
StreetPass, a feature that lets Nintendo 3DS exchange data automatically with other Nintendo 3DS systems within range, even in sleep mode once this feature is activated by the user. Data for multiple games can be exchanged simultaneously
Convenient features that users can access without stopping game play such as the HOME menu, Internet browser, Notifications, etc
Built-in/Included software such as the Nintendo 3DS Camera, Nintendo 3DS Sound, Mii Maker, StreetPass, Mii Plaza, AR Games, Activity Log, Face Raiders, etc
Nintendo eShop where users can view trailers, software rankings and purchase software
System Transfer which enable users to transfer already purchased software from one Nintendo 3DS system to another. DSiWare purchased for the Nintendo DSi or the Nintendo DSi XL can also be transferred into a Nintendo 3DS system
Compatibility functions where both new software designed for Nintendo 3DS and most software for the Nintendo DS family of systems can be played
Parental Controls which enable parents to restrict game content by ratings as well as use of specific wireless connectivity, 3D functionality, etc
Specifications:
Size (when closed): 2.9 inches high, 5.3 inches long, 0.8 inches deep
Weight: Approximately 8 ounces (including battery pack, stylus, SD memory card)
Upper Screen: Wide-screen LCD display, enabling 3D view without the need for special glasses. Capable of displaying approximately 16.77 million colors. 3.53 inches display (3.02 inches wide, 1.81 inches high) with 800 x 240 pixel resolution. 400 pixels are allocated to each eye to enable 3D viewing
Lower Screen: LCD with a touch screen capable of displaying 16.77 million colors. 3.02 inches (2.42 inches wide, 1.81 inches high) with 320 x 240 pixel resolution
Cameras: One inner camera and two outer cameras. Resolutions are 640 x 480 for each camera. Lens are single focus and uses the CMOS capture element. The active pixel count is approximately 300,000 pixels
Wireless Communication: 2.4 GHz. Enabling local wireless communication among multiple Nintendo 3DS systems for game play and StreetPass. Enabling access to the Internet through wireless LAN access points (supports IEEE802.11 b/g with the WPA™/WPA2™ security feature). Recommended distance of wireless communication is within 98.4 feet. This can be shorter depending on the environmental situation. WPA and WPA2 are marks of the Wi-Fi Alliance
Input Controls:

A/B/X/Y Button, +Control Pad, L/R Button, START/SELECT
Circle Pad (enabling 360-degree analog input)
Touch screen
Embedded microphone
Camera
Motion sensor
Gyro sensor

Other Input Controls:

3D Depth Slider (enabling smooth adjustment of the 3D level effect)
HOME (HOME button brings up the HOME menu)
Wireless switch (can disable wireless functionality even during game play)
POWER button

Connectors:

Game Card slot
SD Card slot
Cradle connector
AC adapter connector
Audio jack (stereo output)

Sound: Stereo speakers positioned to the left and right of the top screen (supports virtual surround sound)
Stylus: Telescoping stylus (approximately 3.94 inches when fully extended)
Electric Power: AC adapter (WAP-002 [USA]). Nintendo 3DS Battery Pack (lithium ion battery) [CTR-003]
Charge Time: About 3.5 hours
Battery Duration: When playing Nintendo 3DS software about 3-5 hours. When playing Nintendo DS software about 5-8 hours. Battery duration differs depending on the brightness setting of the screen. The information regarding battery duration is a rough standard. It can be shorter depending on what functions of the Nintendo 3DS system are used.
Game Card: Nintendo 3DS Game Card. The size is approximately the same as Nintendo DS Game Card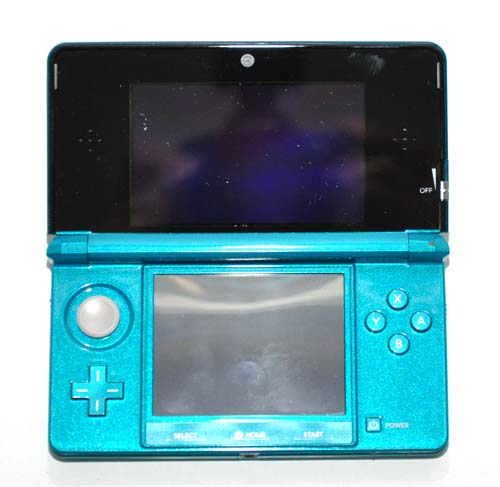 As described above, the Nintendo 3DS has the classic dual screen configuration that many of the recent generation of DS owners know and love. The touch screen input, A/B/X/Y Buttons, + Control Pad, L/R top-Buttons, and START/SELECT buttons are more or less the same as on the DSi/Lite. Regarding game control, Nintendo has added the ability to input movements with motion sensor, gyro sensor, and the 'Circle Pad' which enables 360-degree analog input. As a non-gamer, I find the Circle Pad much easier to use than the + Control Pad.
One disadvantage to native DS players is they'll have to get used to the 'Circle Pad' because Nintendo moved the regular +Control Pad down making it more difficult and less comfortable to use. But a positive change is that Nintendo moved the Select and Start buttons. They are easier to get to and they added a Home button so you don't have turn it off then back on again.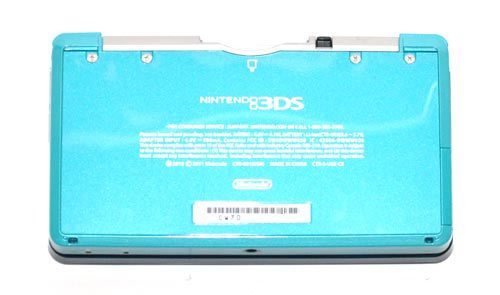 The back of the 3DS is not very notable, other than the serial number sticker.

The top of the 3DS has the game card slot, power plug port, IR transmitter, and stylus slot…plus the left and right forefinger control/trigger buttons.

The base of the device has the power and charging indicator lights and earplug port.

The right side has the volume control and SD card slot which already has an included 2GB SD card within. These side pictures nicely illustrate the blue tri-color scheme.

The left side has the wireless switch, indicator light and 3D slider control. These pictures also show how chunky and thick the 3DS is.

The 3DS comes with a relatively nice charging cradle to keep your gaming device from getting banged around on your kid's desk, dresser, or playroom.

The front facing dual, 3D cameras located on the lid are adequate for a gaming device but definitely do not take the quality of picture that many of us have become accustomed to on the latest smartphones.
Here are a few pictures I took with the 3DS to show the image quality. The 3D effect is pretty good/cool when looking at them on the actual device.
You can click on the above thumbnails to see the actual picture from the 3DS. The image resolution is 640 x 480, picture quality is fair, and it had issue with low light.

Like previous DS's, there is a player-facing camera and small, but adequate, pair of stereo speakers built into the lid of the device.
(3D) Game Play:

Operationally, the 3DS can use all the old game cartridges that the DS Lite and DSi can. In addition to those, the 3DS has its own line of cartridges that are engineered/designed to use the new 3D technology built into the device. The 3D depth slider control enables the user to tweak just how extreme they want their 3D experience. So, even though you might be using a 3D game, you can just turn off the 3D effect if you so choose.
The GK and I splurged and picked up Mario Kart 7 to truly see how well we like the 3D experience. I have to admit its pretty cool. Although, I did have to hold the device/screen at just the right distance and angle to really see the holistic depth of the 3D effect. A piece that I found disturbing is Nintendo gives the warning that no one under 7 should use the device in 3D mode specifically or that it should not be used more than an hour.
I usually play in 2D because it really annoys me sometimes when you have to put the 3DS right in front of you horizontally for 3D or else it gets blurry.  Also, it makes your eyes hurt to play too long in 3D. Another con of the 3DS is that you can't use 3D while multi-player.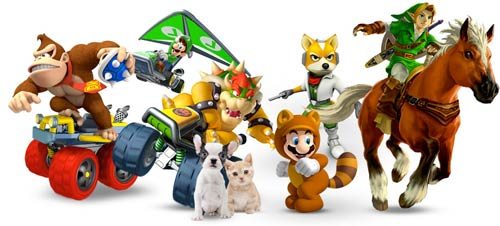 Nintendo and other gaming designers are developing more and more 3D games for the 3DS. There is a relatively large selection of 3D games, ranging from Mario Kart 7 to Cooking Mama 4: Kitchen Magic and everything in between.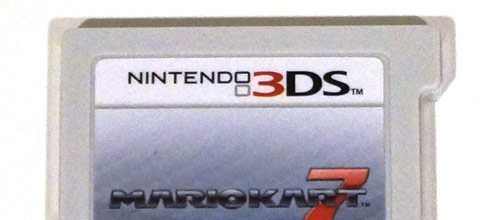 As stated above, the 3DS can use old games but the reverse is not true. There is a notch on the 3DS cartridges that the new handheld can accommodate but the older ones can not.
Built In Software (add-ons I thought worthy enough to mention):
Mii Maker: Very similar to the Wii's console Mii interface, the Mii Maker enables you to create avatars (Miis) for use with various software and games. Miis can be made from scratch or with the help of a photograph.
Even I thought this was a great feature Nintendo migrated from the Wii and integrated into the 3DS system.
Mii Plaza: The StreetPass feature allows users to "invite" other Miis residing on other nearby 3DS consoles onto their handheld devices. Miis will automatically transfer over and "live" in the Mii Plaza.
Also in Mii Plaza you'll find there are 'play', 'accomplishments', 'settings', your Mii's name and 'Go to Plaza Gate!' features.  In 'play' there is 'Puzzle Swap' & 'Find Mii'. In 'Find Mii' your Mii is king/queen and is captured! You have to use cat creatures, using two Street pass tokens hire them, to save him/her in this Pokemon-like game. In 'Puzzle Swap' you use two Street Pass tokens to get puzzle pieces to finish the jigsaw puzzle. In 'accomplishments,' you get to see all of your achievements. Settings is where you change how much other people see when they come into your StreetPass. 'Go to Plaza Gate!' is where you get to see if anyone has 'played' in your Mii Plaza.
Activity Log: The 3DS records various statistics such as how many, which, and long games were played.  This is a great feature for parents. You should have seen the GK's face when I showed him how long and what he had been previously playing.
Nintendo eShop: Nintendo has created an AppStore-like place to download games and applications.
Also they include some games like Face Raiders or AR Games. In AR games you can do many activities like graffiti, fishing, AR shoot etc. using the card. With the five character cards you can do Star Pics which enables you to take pics of Link, Mario, Kirby, Metroid  &  the yellow, blue and red Pikmin in various positions. But before unlocking those mini games, you have to do the archery game. In AR Games what annoys me is that you have to be perfectly still for it to calibrate to the distance you're at (unless you're in the 12"-16" area, then it's a lot better). Face Raiders lets you take a pic of someone and well, their face gets stolen and gets turned into a boss.
 Build Quality: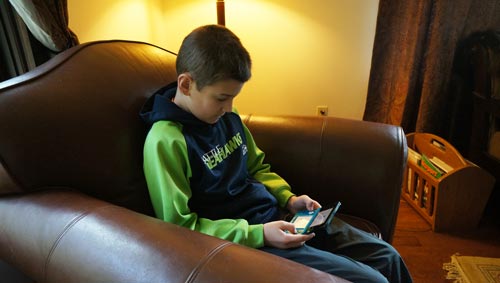 While the Nintendo 3DS is made of plastic, its construction is surprisingly good. I say this from not only holding and playing with the device but seeing countless kids use, drop, and manhandle their individual DSs. The GK takes good care of his tech but many of his friends beat the [email protected] out of theirs and they keep on working. That said, from a bigger picture point of view….I see fewer and fewer kids the GK's age playing with their DS's. What I do see is them playing on their iPod Touch, iPad, iPhone, Android smartphone … devices more and more. If you take gaming out of the equation, the 3DS can do most of what these other devices do but not nearly well or as easily/seamlessly.

The 3DS is available in black, red, blue, and just recently released pink. While originally debuting for $250, the Nintendo 3DS currently costs $169.
Performance:
The 3DS is a responsive and zippy device with good graphics (definitely not iPhone or iPad great though) depending on the game. Some games take a few seconds to load, but we've yet to experience any massive delays. Compared to previous DS handhelds, the 3DS battery life is lack-luster. The GK and I found Nintendo's spec of 3 to 5 hours (depending on screen brightness) to be right on the money. I find this surprising…..as with all tech, the battery life should improve as the device evolves.
It takes the 3DS roughly 3.5 hours to fully charge.
Comparative Size: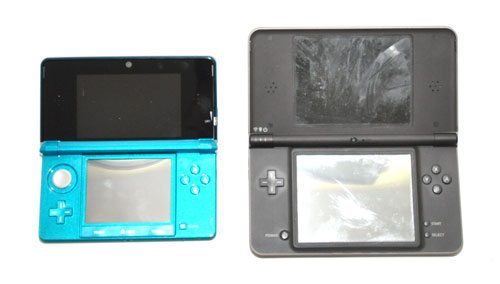 Pictured on the right is the GK's well-taken-care-of, but definitely used, DSi XL. Thankfully there is a screen protector on all four screens you see (believe it or not, that picture was taken AFTER I had cleaned the XL's screen). I HIGHLY recommend screen protectors, especially on a surface that your child is tapping on with a stylus tip countless times. While the extra screen real estate is nice on the DSi XL, it is a much bigger device and not nearly as pocketable.
The 3DS  screen is smaller than the DSi XL but is better looking. As I was getting used to the 3DS I realized that the bottom is  thicker than the DSi XL base which is a definite downside.

From a dollars and cents, tech-parental standpoint, I have to say Nintendo needs to change its consumer market plan. With an increasing number of kids and young adults carrying sleek, powerful smartphones or tablets with HD display and all-the-time connectivity, the 3DS seems like it will soon go the way of the BlackBerry or dinosaurs. When anyone with an iOS or Android device can download the latest HD game for under $10, or better yet $0.99, I do not see how a device of this size, capabilities, and cost to play will be able to survive. Seems like Nintendo needs to just see the writing on the wall and begin offering their games for other more popular devices.
I agree with Dad because I've already seen DS games like ScribbleNauts and Sonic & Sega All-Star Racing in the AppStore for $0.99, so if this keeps happening, the Nintendo 3DS might not survive.
Product Information
Price:
$169.99
Manufacturer:
Nintendo
Pros:

- 3D gaming experience is surprisingly good
- Sound build quality
- Ability to turn 3D off
- Large games selection
- Can play DSi & DSLite games
- Can create your own and keep others Miis
- Nintendo eShop
- Parental controls

Cons:

- Games are expensive
- Picture quality is poor
- Advised not to use 3D more than an hour
- Advised not to let anyone under 7 use device in 3D mode
- Have to get just the right distance & angle for 3D to look correct