We use affiliate links. If you buy something through the links on this page, we may earn a commission at no cost to you. Learn more.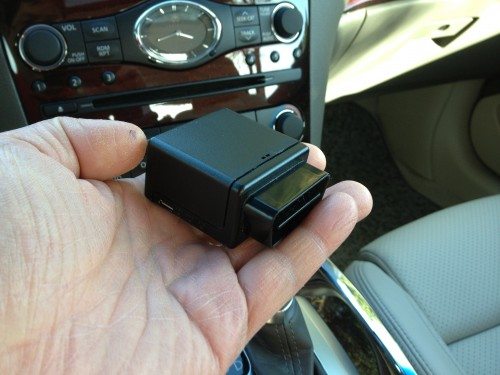 So you read our previous review of the LandAirSea SilverCloud GPS real-time tracking unit (see related posts at the bottom of this review), and you want something SMALLER and easier without the hassle of recharging batteries?  Say hello to the Live Trac EZ from LiveViewGPS.
Like the SilverCloud GPS, the Live Trac EZ consists of a GPS receiver and a built-in cellular radio, and it provides real-time tracking from their website or smartphone in 5 to 10 second intervals.  No pinging required, and you don't have to connect the device to a computer to fetch tracking data.
The EZ is small, measuring in at only 1.8″W x 2.18″L x 1.08″H.  It operates on GSM frequencies: 850/1900 (United States), 900/1800 (elsewhere).  (Click here for coverage outside the United States.)
The big difference?  You plug the Live Trac EZ into your OBD port in your car.  The On Board Diagnostic Port, better known as the OBD-II port, is found on most passenger cars and trucks built after 1996.  The port was designed to help technicians diagnose and troubleshoot vehicle problems.  The OBD-II port is typically located somewhere on the driver's side of the vehicle under the dash.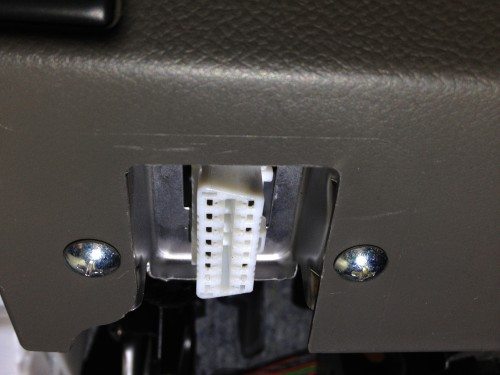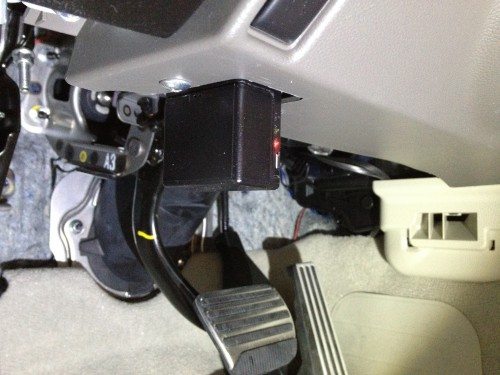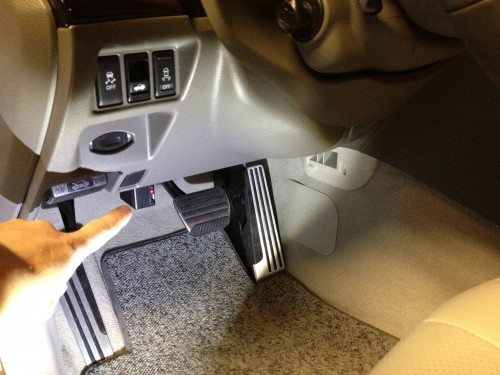 The Live Trac EZ is completely powered by your vehicle.  When the EZ detects that the ignition is off, it goes into a sleep state, where it updates the location once every 30 minutes to save power.
To locate your Live Trac EZ-equipped vehicle, simply log into the LiveViewGPS website.  From here, the position of your vehicle will be updated every 5 to 10 seconds, depending on your subscription plan.
Clicking on the vehicle icon (which you can change to a set of pre-defined ones) reveals snapshot information, such as coordinates, speed, direction, and the number of GPS satellites received at that moment.
It appears that LiveViewGPS uses Microsoft's Bing maps.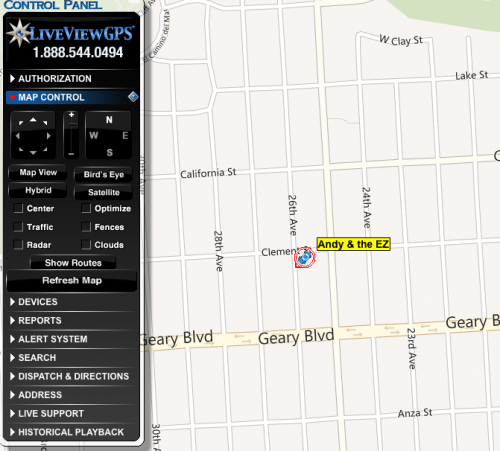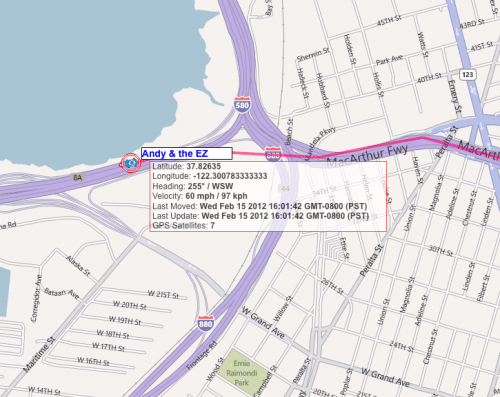 During historical playback, a red trail follows the vehicle icon.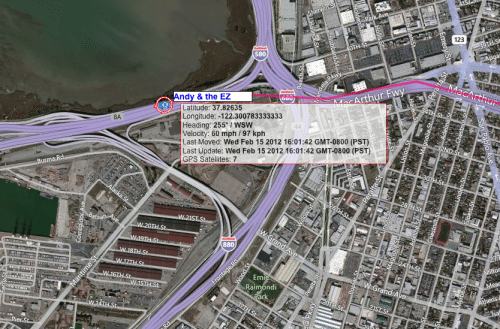 Playback, with the satellite map hybrid image backround.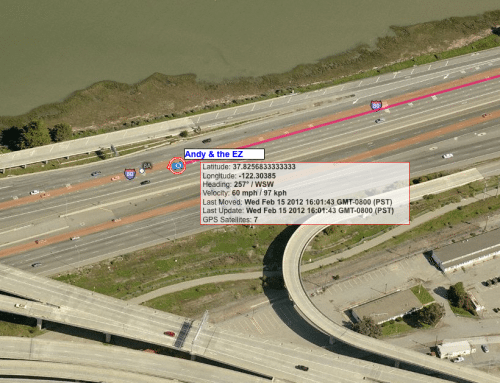 LiveViewGPS also has iPhone and Android apps for tracking as well.  The apps are free, but it will cost you $4.95/month per device to actually use them. (If you own 5 or more devices, the cost drops to $1.95/month per device)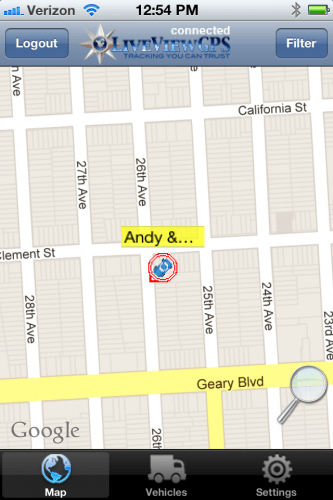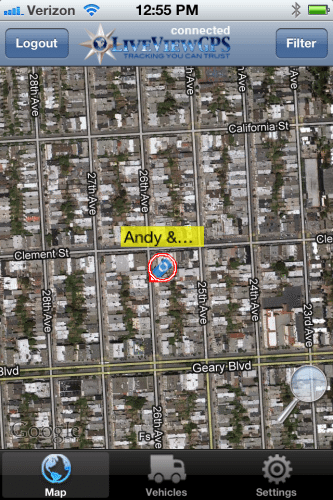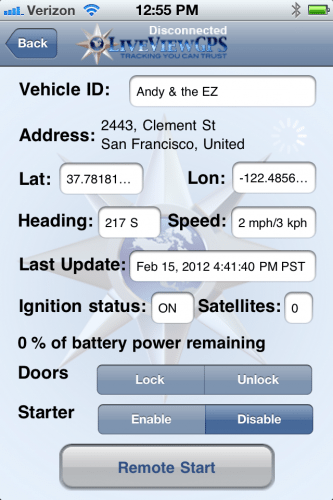 I don't currently own an Android device so I can't test the Android version.
Minor installation woes
Wait, didn't I say this was easy?  Yes, but I faced an unforeseen annoyance.  My OBD port is located such that the EZ sticks out where my smallish feet (size 8-1/2 4E shoes) aaaalmost sccrape the bottom of the GPS unit.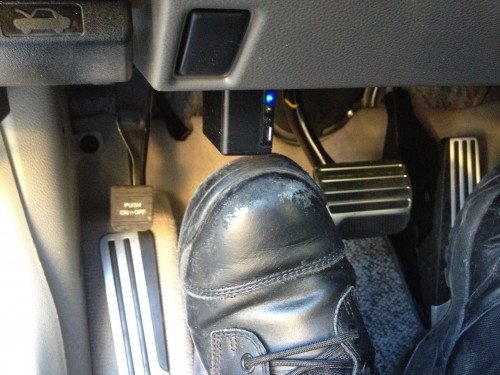 The solution?  I just happened to have an OBD cable extension with a right angle adapter.  No I'm not kidding, I actually have stuff like this lying around.  I bought mine here.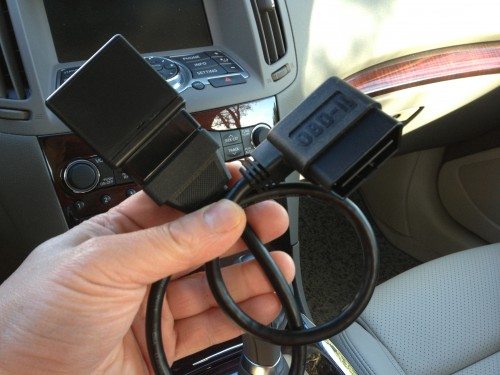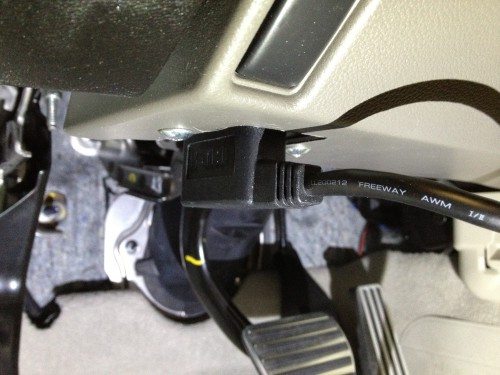 The right angle OBD extension solution works but now you have to tuck this 2 ft long cable with the Live Trac EZ somewhere out of sight, and away from your feet.
In the end, the Live Trac EZ is everything I'd want in a small real-time GPS tracking device.  No battery hassles and it swaps between vehicles in a snap.  Leave it in the car and track it remotely in real time.  Check your OBD port location first to make sure you don't end up whacking your knee or kicking the EZ with your foot.
Below are some YouTube videos of the Live Trac EZ in playback.

Product Information
Price:
$249 plus ($29.95 per month for 10 sec updates, $39.95 per month for 5 sec updates)
Manufacturer:
LiveViewGPS
Requirements:

OBD port (on most 1996 and newer cars)

Pros:

Tiny, does not require a separate battery.
Installs in seconds.

Cons:

May get in the way of your foot depending on where your OBD port is.
Mobile app is a separate cost item.