We use affiliate links. If you buy something through the links on this page, we may earn a commission at no cost to you. Learn more.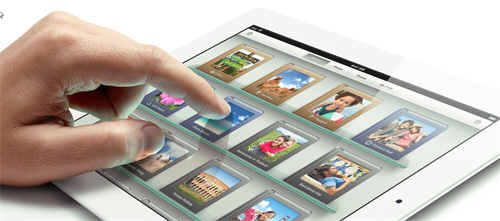 Ok gadgeteers, it's official, the new iPad was announced today by Apple. And that's exactly what they are calling it too. The "new iPad". Not the iPad 2S, iPad 3 or the iPad HD. Just the new iPad. Oh well, it's just a name right? It's the features that matter…
Hardware Features:
4G LTE for Verizon and AT&T here in the US. 4G for Rogers, Bell and Telus across the pond
9.7 inch 2048 x 1536 pixel Retina display
A5X dual-core processor and a quad-core graphics chip
iSight 5mp camera capable of capturing 1080p video
10 hours of battery life
Ability to turn the device into a WiFi hotspot
iOS 5.1 and updated apps:
Voice dictation key
iPhoto for iPad with more editing features and ability to beam photos
New version of iMovie, iWork,
New version of Garage Band that features the ability to collaborate with other people/iPads
I'm most excited about the Retina display since the other features are less apparent to me. Yes 4G is a big deal, but since I don't have 4G coverage here in Southern Indiana, I'm not crying tears of joy. Better camera, ok, that's nice. But I am not going to use my iPad to take pictures, so I'm not turning cartwheels over that upgrade either. iPhoto for iPad interests me though. I want to try the photo beaming feature. Wow, I was all excited while I was watching the live blogs, and now that has already kind of worn off. Yes, I'll be buying one though – because I have to. I'm The Gadgeteer after all 😉
The new iPad will be available in stores starting March 16th for $499 for the 16GB WiFi model and up to $829 for the 64GB version with 4G. It's available today for pre-order. I think I'm going to spring for a 32GB with 4G. What about the rest of you?