We use affiliate links. If you buy something through the links on this page, we may earn a commission at no cost to you. Learn more.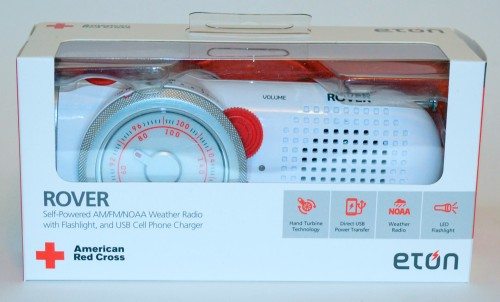 I've mentioned several times that the Piedmont area in North Carolina where I live has a lot of bad weather – tornadoes, thunderstorms, and hurricanes in the summer; ice storms and sometimes even tornadoes in the winter – that can leave us without power for days.  No power means no lights and no telephone service for us because we only use our cell phones.  It seems the only flashlight I can find when I need one has dead or dying batteries, so I need to have a ready source of light that doesn't depend on non-rechargeable batteries.  I also need a way to be connected to the outside world – both a source of news and a way to keep my cell phone battery charged up for emergency calls.  I was able to review the Eton SolarLink FR360 emergency flashlight/radio/charger in the past, and I found it was a good emergency preparedness device to keep around the house.  I was pleased to be selected to review the Eton Rover Self-Powered AM/FM/NOAA Weather Radio with Flashlight and USB Cell Phone Charger.  I'm hoping this will be good for keeping in the car.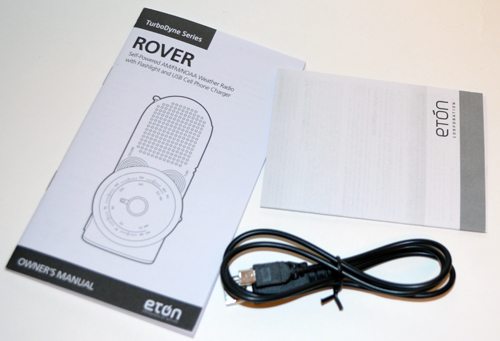 Features
AM (520-1710 KHz) & FM (87-108MHz)
NOAA weatherband – all 7 channels
3 Built-in white LED light source
Self-powered aluminum crank with TurboDyne technology
Direct USB power transfer (includes USB cable)
Rechargeable lithium-ion battery
3.5 mm headphone output
Telescopic antenna provided for maximum range and reception
Includes: USB cable, owner's manual, warranty card
The Rover measures 6.25″ X 2.75″ X 2.25″ and weighs about 12.6 ounces.  It's made of white plastic and machined aluminum parts with red and gray accents.  It comes with a red wrist strap that can be added to the end.
You'll notice the Rover's box shows the American Red Cross name and logo.  Eton works with the American Red Cross  to "encourage all families to take the proper steps as soon as possible to become prepared in the event of the unexpected."  Eton has a series of devices branded with the Red Cross logo that serve as an important part of your emergency preparedness kit.  Eton Corporation contributes a portion of every ARC-branded unit sold to support the mission of the American Red Cross.
All of these devices can be powered by multiple sources, including: alkaline batteries, hand-crank/dynamo, or rechargeable batteries with AC, solar, or USB chargers.  The Rover is simpler than the FR360 I reviewed previously.  It has the hand-crank/dynamo and a built-in battery that's USB-chargeable.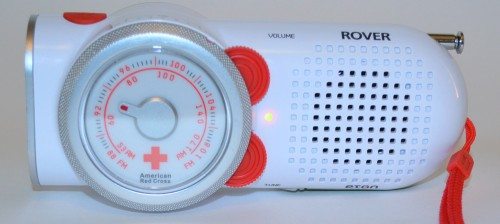 The Rover has a hand-held flashlight silhouette.  The front has a a red dial for tuning in an AM/FM radio station (bottom) and another for power and volume adjustment (top).  There's a status light that displays charging status and power state, and there's a speaker grill in the "handle". There's a circular dial for displaying radio frequencies, too.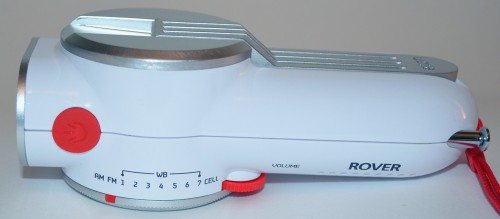 The outer, silver-colored ring of the frequency dial turns to select AM or FM frequencies or to select one of the seven NOAA weather band stations.  There's also a Cell setting that diverts the power to the USB port for charging a cell phone.  The large red button is the power switch for the flashlight.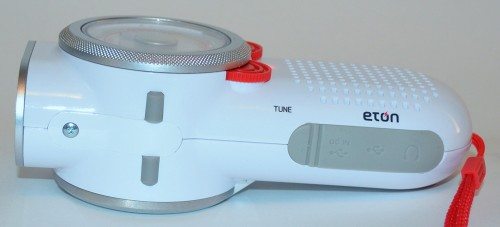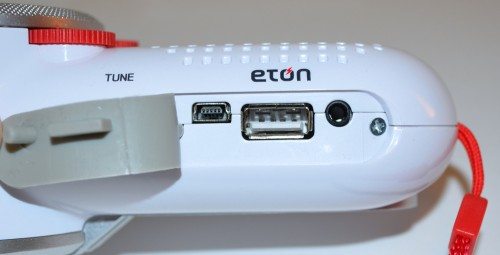 The bottom has a couple of barrel-shaped gray rubber feet to steady the Rover when it's sitting on its bottom.  The large gray flap covers a miniUSB connector used for charging the Rover's battery and a full-sized USB port that's used to charge your cell phone.  Finally, there's a 3.5mm audio jack for using headphones.  (Using headphones instead of the Rover's speaker for listening to the radio will conserve battery power.)
When I unboxed the Rover, I used the included USB-to-miniUSB cable to charge the Rover using a port on my laptop.  You should be able to charge the Rover's batteries using any USB charger.  The status light on the front showed red as the battery charged and green when it was fully charged.  Eton says a full charge will provide about 8 hours of low-volume radio play.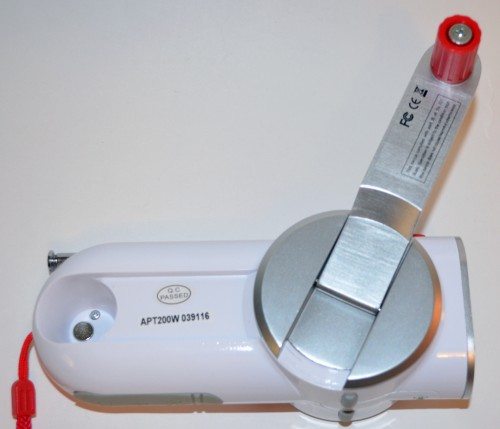 When the internal battery is drained, the Rover has a hand-cranked turbine that can provide you with power for the radio or your cell.  You have to put some elbow grease into this, as you have to crank it at 130RPM to create a charge.  The status light on the front lights up green when you are turning fast enough.  Cranking for one minute will give you about 15 minutes of low-volume radio.  If you want to charge your phone, it will take 7 minutes of cranking for about 5 minutes of talk time.  Seven minutes of cranking is going to be an arm-killer, but it could be the difference between life and death in an emergency situation.

The Rover has a flashlight with 3 white LEDs.  It's bright enough to see your way around a dark room.  The shape of the radio allows you to hand-carry it when using it as a flashlight.  You can also set it on a table, as shown, for general lighting.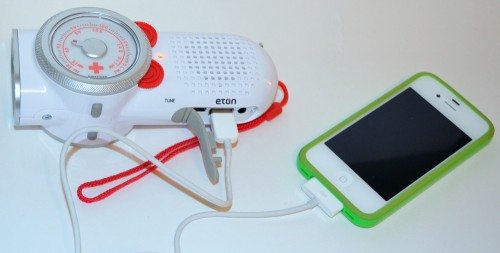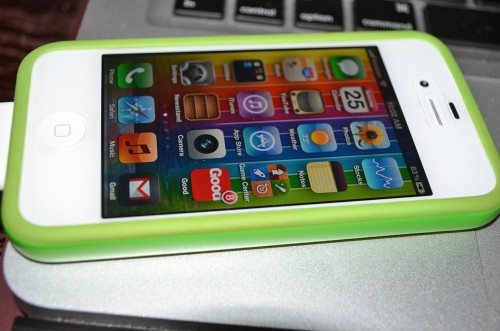 With the Eton Rover's battery fully charged, I was able to partially recharge my husband's iPhone.  It went from about 35 percent to 85% before the Rover was drained.
You can charge any phone or device that's chargeable with a standard USB port.  If your device is charged with a miniUSB plug, you can use the cable that comes with the Rover, or you can use the USB cable that came with your phone.  If you need a cable for your phone, go to iGo to purchase a charging cable and tip that can be used with the Rover.  I was able to use the 30-pin connector that came with my iPhone.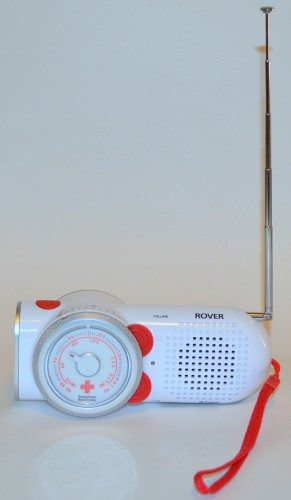 There's a telescoping antenna that pulls out of the end of the Rover.  I was able to tune in AM and FM stations in my area.  The reception was good, but the thumb-turned dial could make it a bit tricky tuning in that fractional frequency, especially when there are multiple stations close together on the dial.  I could fine-tune the reception by moving the position of the radio.  You can adjust the volume to an uncomfortably loud level, if you need to.
The NOAA weather band stations performed on the Rover like they do on everything else I've tried.  You try all seven bands until you find the one that's broadcasting information for your region; WB1 worked best for me.  There's some background hiss with the weather band station, but I always hear that on any radio I've ever tried.
The Rover is missing some of the features found on the Eton SolarLink FR360 I tried before – no solar charging and no weather band alert feature.  It's still feature-packed and a great emergency tool for home use or to keep in your car.  It will fit into the glove compartment in my car, and I can use the cell phone charger I have for the car to periodically charge the Rover's battery.  I'll always have a flashlight, and I'll always have a way to make a call for help, no matter how dead the cell phone and the car batteries are.  You can't put a price on safety, but if you have to, $50 seems to be a very reasonable price.
Product Information
Price:
$49.99
Manufacturer:
Eton
Pros:

Can charge with a USB power source or with the hand crank
Has AM/FM radios and all seven Weather Band stations
Can charge any USB-chargeable cell phone or device
Flashlight that's always going to be charged

Cons: