We use affiliate links. If you buy something through the links on this page, we may earn a commission at no cost to you. Learn more.
This post brought to you by Fellowes. All opinions are 100% mine.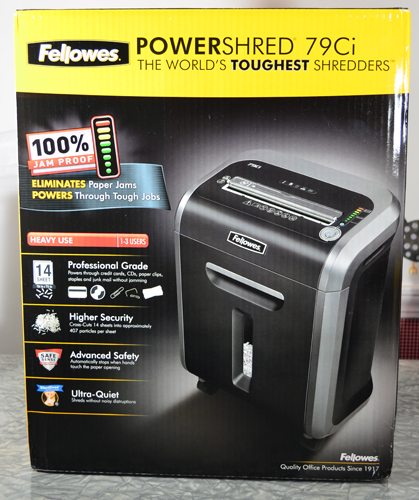 Although my ID hasn't been stolen, my husband's debit card number has been stolen twice in the past few years – once at a fast food place and once at an outdoor ATM that someone had put a skimmer on.  Luckily, the credit union was on the ball and recognized some questionable purchases before they got through in both cases.  So you can understand that I'm very concerned about all the pre-approved offers that show up in the mail daily, bills, and other personal information that could fall into the wrong hands.  I've had various shredders before, but most of the ones I had cut wide, long strips that could easily be reassembled by a determined thief.  They were constantly getting jammed, and I was afraid I'd lose a finger trying to dig out all the clogs.  I was very happy to be selected to try out the Fellowes 79Ci shredder when one was offered to The Gadgeteer.  No more jams sounds great! Click on any of the following pictures for an enlarged view.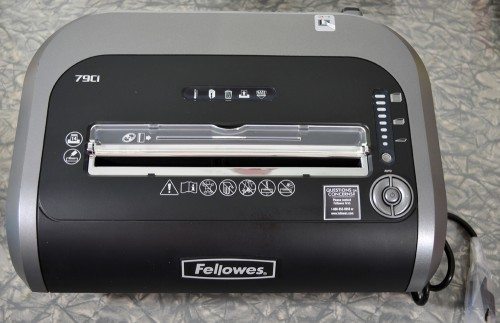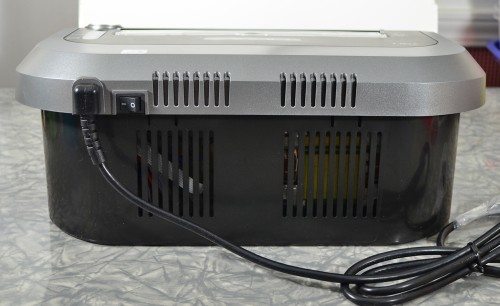 The 79Ci is a large shredder.  It's 21.50″ x 12.75″ x 15.38″, and it comes in a couple of easy-to-assemble pieces.  The shredding head is shown above.  There's a master power switch on the back, and another power switch on the front.  The exterior of the shredding head is made of silver and black plastic.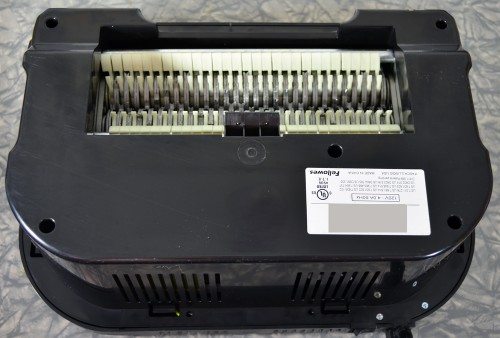 Flip the head over to see the shredding teeth.  The 79Ci is a cross-cut shredder for extra security.  Your documents will be cut into 5/32" x 1-1/2" pieces (classified as Security Level 3).  That's small enough to deter anyone from trying to reassemble your information – except perhaps Abby from the NCIS TV show.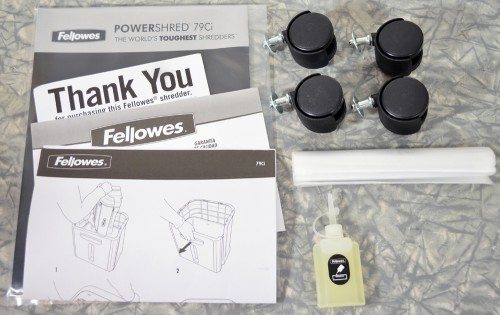 The 79Ci is heavy enough that you'll appreciate the included casters.  They snap into the bottom of the collection bin easily, but they do require a little effort to get them in – just enough so you know they'll stay in place.  You also get a bottle of Powershred® Shredder Oil & Lubricant for periodic maintenance to extend the life of the cutters.  There's also a few Powershred® Waste Bags for Professional and Deskside Shredders to get you started.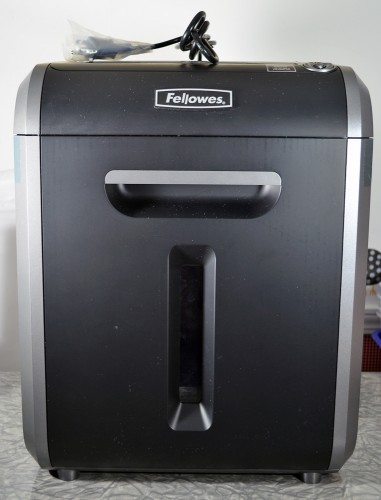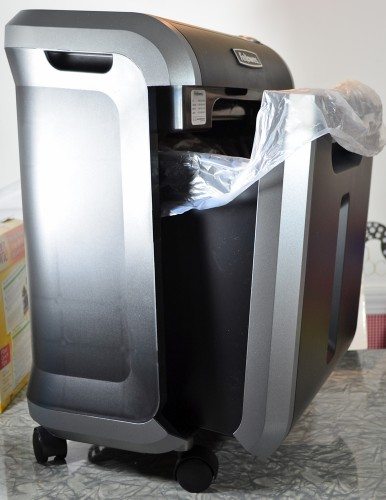 Assembly is very easy – you just snap the shredding head on the collection bin, remove the tape holding the pull-out door closed for shipping, and put in a collection bag.  The 6-gallon bin will pull completely out of the shredder cabinet, but the collection bags will make emptying much faster and cleaner.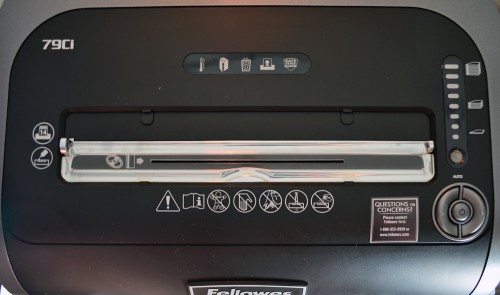 The PowerShred 79Ci is designed for personal use, and, as its name suggests, it's a powerful shredder.  Fellowes designed the first personal shredder back in 1990, and they've stayed at the forefront of technology to make personal shredders better and safer. Shredders I've had in years past were noisy, messy, and easy to jam.  It seemed that a wrinkled paper was enough to make some of my old shredders jam with the papers half-way through.  The 79Ci is designed to be 100% jam-proof.  You can send 14 pages through this shredder, and it just eats through staples and paperclips, too.  There is a sensor at the throat of the shredder that measures the thickness of the stack of papers and a lighted guide on the right side of the shredding head that shows green or yellow when the stack thickness is okay or red when the stack is too thick.  You'll know before you start feeding it through if the stack is too thick. I tried shredding some papers, and I made sure I had some paperclips in my stacks, too.  Everything fed through with no problems, and the paperclips went through without even causing a change in sound. And speaking of sound, Fellowes uses their SilentShred technology in this shredder.  As the paper was being shredded, the 79Ci made less noise than shredders I've had in the past as they idled.  This quiet operation will be especially appreciated by your officemates if you place one of these by your desk at work.
I did try to send through a stack of more than 14 sheets to test the Fellowes 100% jam-proof system.  The red light came on, and the shredder stopped before more than 0.25″ of paper fed in.  I was able to just lift out the paper with no tugging or pulling.  The shredder can also sense when papers have mis-fed, and it will either turbo-power the stack through or automatically reverse it out to prevent jamming.  This will make shredding much less frustrating and safer for me in the future. I will admit that I didn't put one feature to the test.  Fellowes' patented SafeSense Technology senses when a hand comes into contact with the paper opening and immediately stops the shredder.  It's good to know that the 79Ci is designed to keep users safe from injury if they accidentally get their fingers too close to the cutting blades.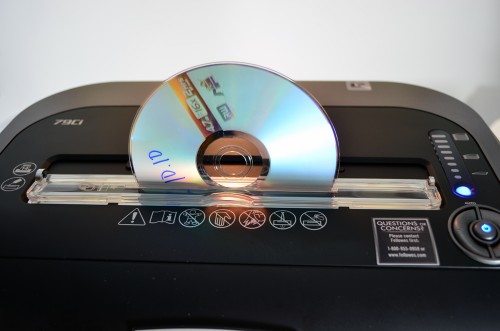 The 79Ci can also shred CDs, DVDs, and credit cards.  This picture and the previous one show the shredder set up for shredding these items.  For shredding papers, the clear plastic flap is to the back, leaving the teeth exposed.  Flip the clear plastic bar over the teeth and use the guide slot for shredding disks or cards.  The CD I shredded went through as easily, and about as quietly, as did a small stack of papers.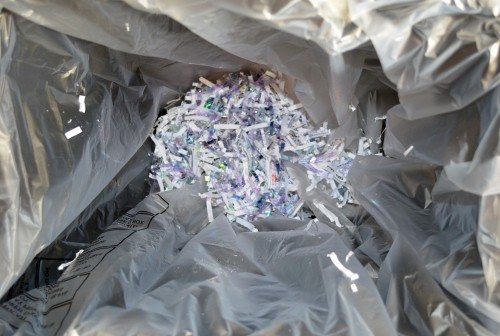 Here you can see the remains of my papers and my CD.  The iridescent pieces are all that's left of the CD. I like the Fellowes PowerShred 79Ci shredder.  I can keep it beside my desk and roll it out to quickly shred junk mail as it comes in.  I don't have to worry about jams making it take longer to shred three pieces of junk mail than it took for the Post Office to get them to my door.  And it's quiet enough that it won't deafen me in the process.  Best of all, I know my personal and financial information – on paper or on CD – and expired credit cards will be safely disposed of.
And now, Fellowes is offering you a chance to win a  PowerShred 79Ci 100% Jam-Proof Cross-Cut Shredder for yourself.  The contest (the "Contest") is open to anyone who (i) is a legal U.S. resident, and (ii) is at least eighteen (18) years of age.  Employees of IZEA Holdings, Inc. ("Sponsor"), Fellowes, Inc and Participating Blogs, and their respective parent companies, subsidiaries, affiliates, suppliers, advertising agencies, and the families and persons living in the same household as such employees, are not eligible to participate.  The Contest is subject to all federal, state, and local laws. Void where prohibited or restricted by law or regulations. To enter at The Gadgeteer, simply leave a comment for this review stating what you would shred if you won (destroying old love letters, etc – that kind of thing).  Read the full contest rules and find a list of other participating blogs here.  The contest ends at 11:59 p.m. EST on March 8, 2012.  Ten lucky winners will be selected and will be notified within 3 days of the ending time.
The CONTEST closed. The winner will be announced soon.
Product Information
Price:
$239.99
Manufacturer:
Fellowes, Inc
Retailer:
Staples
Pros:

100% Jam-proof
Cross-cut for extra security
Quiet
Easy to empty
SafeSense technology protects your hands from being shredded

Cons: