We use affiliate links. If you buy something through the links on this page, we may earn a commission at no cost to you. Learn more.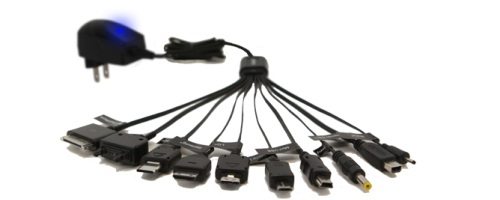 "One Charger. For All Your Devices." The ChargeAll Wall Charger combines a wall wart-type plug with about six feet of cord and ten built-in tips along with 'fast charge technology' that allows this one device to charge literally hundreds of different devices – phones, MP3 players, hand-held game systems, etc. – without additional tips or cords to lose or forget.
On the face of it, I did not have high hopes for this product – it looked rather ungainly and I certainly did not need most of the included tips. Then, I discovered that the Wall Charger is the heart of a very interesting product – the Charging Station – a box meant to place in hotel rooms or coffee shop tables, etc. that lets you find the right tip and set your phone on a small stand to charge without worrying about the tips or leaving anything behind. (Remember, after all, that cell phone chargers are one of the most often left behind items in hotel room.)
So, lets look at the Wall Charger more closely. First and foremost, the ten included and attached tips can charge hundreds of devices. The wall wart part is typical – rather light-weight feel with the plugs configured in a perfectly normal way – which means that it often blocks another outlet. I wish more wall warts uses the sideways configuration that lets it take less room on an outlet strip. The wall wart also features a very bright blue LED when it is plugged in. I can see where this feature would be useful in a motel room or cafe, but for the home user, it is just another 'night light'.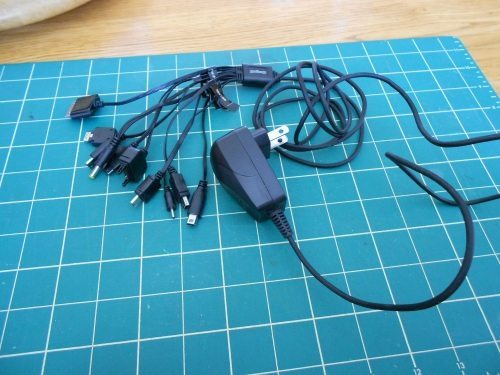 The six-foot cord is strong and round rather than the typical cheap flat version, so that is a nice feature. It ends in a small distribution block that the tips come out of. The block fells reasonably tough although it is a two-part plastic housing instead of a solid rubber or plastic piece. The block houses another bright blue LED that, again, is on when the unit is plugged in. It is seriously bright – even more than some of my keychain flashlights! Note that this LED is on when the wall wart is plugged in and does not reflect the charging status at all.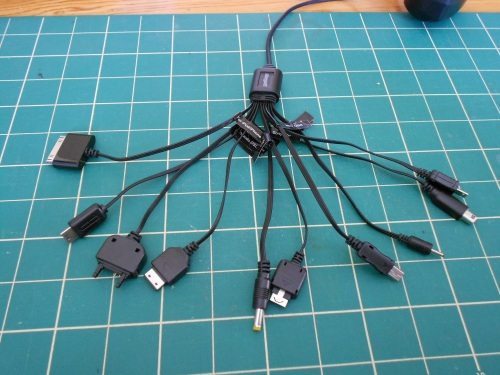 Each of the tips is on about a four inch cord of its own, and has a neatly done white-on-black label positioned near the block. The tips also seem well-made and durable – quite unlike the tips on the cheapo cables I often get on eBay to save money. I would wish that the labels were closer to the tips and color-coded since I keep finding myself in low light situations trying to figure out which one I need.
The tips included are:
Micro-USB
Mini-USB
Apple (is approved by Apple)
Nokia
LG
Samsung
Sony Ericsson
Sony PSP
Nintendo DSi
Nintendo DSLite
Unfortunately for this review, all of my personal electronics either use the same Micro-USB tip or a proprietary tip the Wall Charger does not have (such as the odd one for my camera). The tips that I have tried fit tightly and feel secure, and the charging times are good.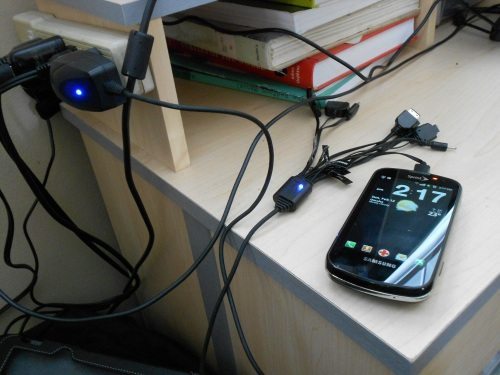 I had two major questions about the unit:
They claim 'fast charge technology' without really discussing it. Does it charge any faster than other AC chargers?
Can it charge multiple devices at once?
I discovered this comment on their site – "There is no such thing as a miracle charger. Here are some claims debunked. 1.) No, it will not prolong your battery life 2.) No, you will not get that "extra" juice 3.) No, slow down, charging too fast puts stress on your battery. (Emphasis mine.)"
The ChargeAll offers 1.5A of charging power. A USB port offers 0.5A and my older EVO charger offers 1A. This should be a 'fast' charger. I also found this FAQ answer from their site:
"Question: Can you charge more than one device at once?
Answer: We recommend to charge only one device at a time. It charges Apple iPhones 50% faster and Blackberrys 2x faster than the factory charger."
A faster charge would be very helpful for the person trying to top their phone off at a cafe or coffee shop, but it is also true that rapid charging shortens the life of most kinds of batteries – you can feel this happening as the battery heats up. Many OEM chargers are designed to charge 'slow and cool' so the battery does not get warm, while generic chargers usually don't bother being this gentle. (Note: Because of all the kinds of batteries, charging circuits built into devices, and different kinds of chargers, it is difficult to tell you how to treat your device. I suggest your user's guide or the helpful site Battery University.)
My very short-term, limited experience with another phone I was able to borrow is that it will indeed charge two phones at once, but each only appears to get about half the power and it takes a lot longer, and I assume that adding more phones would just slow it down even more.
Bottom line: This is a well-made device that, although is probably better in the Charging Station mode, is still a good option for most users. I know I have certainly had people over who have needed to top off their phones. Besides, not that long ago we had several devices that would have all benefited from this charger, and probably will again.

Product Information
Price:
$19.95
Manufacturer:
ChargeAll
Requirements:

Compatible small electronics device

Pros:

10 built-in tips
1.5A charging power
Long cord

Cons:

Typical wall wart hogs outlet space
Very bright LEDs