We use affiliate links. If you buy something through the links on this page, we may earn a commission at no cost to you. Learn more.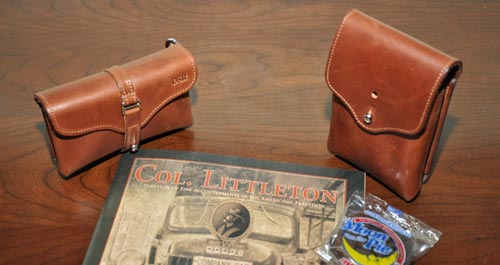 I have reviewed a half dozen or so cases for my iPhone 4, and thus far, prefer using my smartphone with only Crimson screen protectors applied to protect it. With that, I do not like my iPhone rattling around in either my front or back pockets, either. In my case, having it hanging by my side seems to be my best option. Col. Littleton has created a variety of nicely constructed, well made, stylish cellphone holsters that enable you to do just that. Col. Littleton was nice enough to send two cases, No. 47 and No. 49 phone holsters, that supposedly work well with the iPhone 4 (or other cellphone of that form factor/sizing).
The cases arrived in classic Col. Littleton style, as I described in my review of their No. 42 Courier Bag:
I should take a step back because the Col. Littleton experience goes beyond just a top-notch bag, it begins with their website. Where you first see Col. Littleton's personality — from the product videos, to the youtube 'television' shows he stars in, to the wallpapers he has created for your download pleasure, to product pictures, letters and articles from around the world, and much more. This experience follows into the arrival of your new product; the packing tape is custom made and printed with the Col. Littleton emblem, and even includes a MoonPie (something not easily found here in the Pacific Northwest). What I am trying to say is that Col. Littleton brings back some of the niceties and added touches lost in modern times……like folks checking your tire pressure & oil when you filled up. The Col. Littleton motto says it all 'Purveyor of Fine Accouterments in the Americana Tradition.'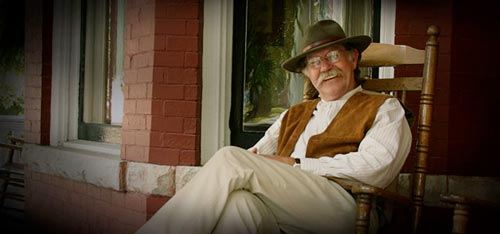 The No. 47 and No. 49 phone holsters arrived finely packaged with Col. Littleton's specially made packing tape on the box, each coming in its own fitted/labeled box, very nicely done catalog, and of course signature Moon Pie. I guess the reason I make such a point of this, is that I definitely like his style….and to be honest his leather goods as well.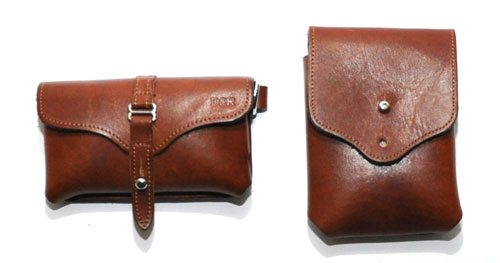 Like all the other Col. Littleton products I have used, both of the phone holsters are very well made with the best materials. They are constructed of thick, rich leather, finely stitched, and designed to last an extremely long time.
Col. Littleton No. 47 Phone Holster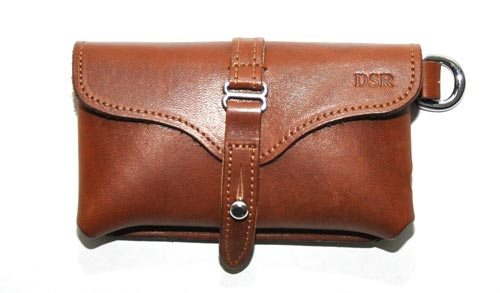 As you can see from the pictures above, the No. 47 phone holster is the smaller of the two. It's sized to hold a case-less iPhone or other 'smaller' smartphones (or digital point & shoot digital camera). The larger Android phones that are the trend these days will not fit in this case. As with a majority of Col. Littleton products, you can have them monogrammed. In this case, both cases can be embossed with three block initials on the closure flap.
The No. 47 iPhone case is held closed by a relatively thin leather strap that comes over the top of the holster and is held in place by the metal stud riveted to the lower center part of the case.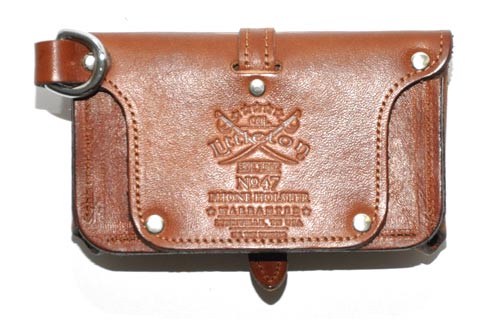 The back is stamped with the Col. Littleton logo, model number, warranty, and hometown info. As you can see, not only is the leather finely stitched but rivets are added for greater strength in key locations. The No. 47 iPhone can accommodate belts up to 1 1/2″ wide.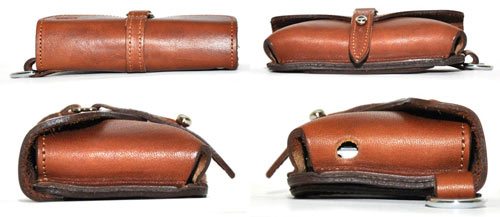 The closure flap folds over the top of the case and is held in place by a thin leather strap.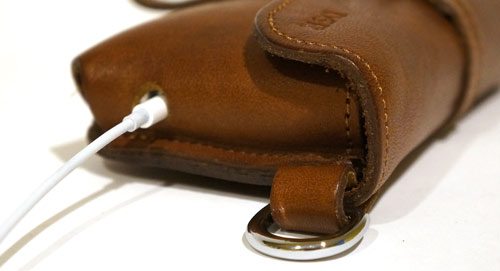 There is an access hole on lower left side for plugging earbuds into the iPhone. This feed-through hole does well for earbuds with a straight plug. It does not work with a L-shaped plug due to the lack of space within the case itself. The No. 47 holster also has a loop sewn into the right side of the case for either attaching a set of keys or thumb drive or attaching the case itself to another bag or attache.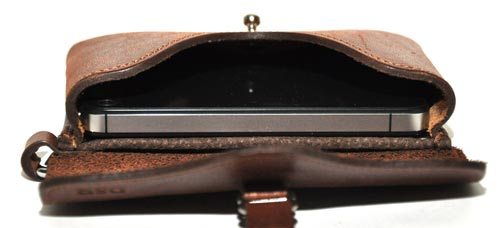 Inside dimensions are 2.56″ tall x 4.5″ wide x 0.75″ deep, nicely fitted for the iPhone or smaller Android smartphone and perhaps a few credit cars or folded money.
Col. Littleton No. 49 Phone Holster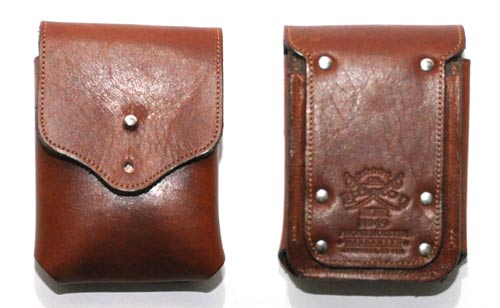 Unlike its smaller sibling, the Col. Littleton No.49 phone holster has a vertical orientation. But from a material and construction standpoint, they are nearly identical, made from the same thick, rich, supple leather, finely stitched and riveted for additional strength where needed. As you can see, the flap folds over the top of the case and is held in place by riveted stud. The flap has two holding points, allowing you to adjust how much volume the case holds depending on what you are carrying.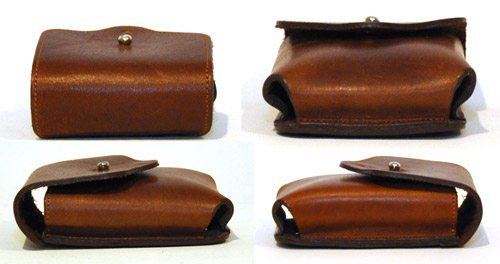 Both of these cellphone holsters have a relatively simplistic design. But nine times out of ten, this type of Old World engineering far out lasts its modern day, plastic or poorly made counterparts. (I can not tell you the number of BlackBerry cases I have killed). A huge added plus is that while Apple and other manufactures tweak and change their products design, these holsters will be able and sized to carry your iPhone 5/6/7/8…..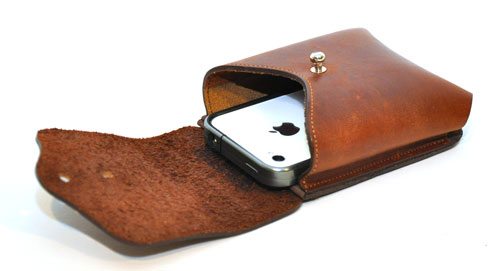 The No. 49 is sized to fit something like an iPhone with a big, bulky case (think OtterBox Defender) or one of the larger Android phones.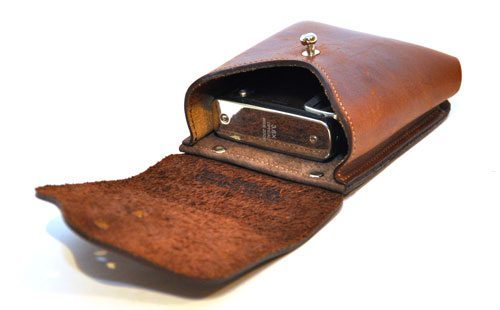 It also well sized to carry small to medium sized point and shoot cameras.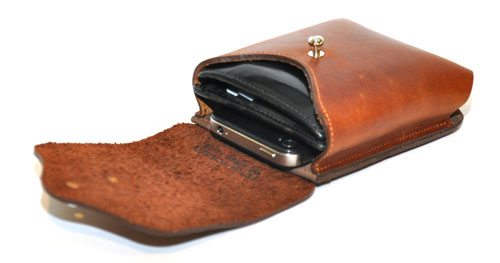 It was a tight squeeze, but I was able to shove my iPhone & standard wallet in the No.49 phone holster. It even fit the Gadgeteer Kid's Nintendo 3DS (just barely).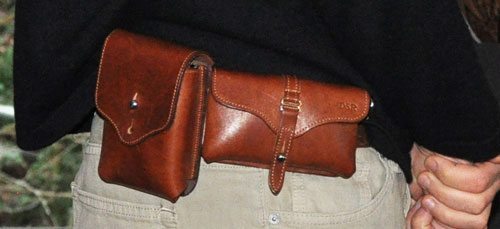 My family and I were recently on vacation in a very touristy location with many photo opportunities. I took the opportunity to wear both cases simultaneously, the No.47 holding my iPhone and the No. 49 holding my Olympus point & shoot digital camera. It worked out perfectly having both with me, but not in my way.
Overall, I like both of these holsters….quite a bit actually. I wear the No.47 often and use the No.49 when I need the extra storage capacity. Considering they are hand made, excellent material, and Old World quality and design, their less than $80 price tags are more than reasonable. Add in the fact you can use these long after you stop using your current and next 6 phones…they are a dang good bang for the buck.
Product Information
Price:
No. 47 - $75 & No. 49 - $79.50
Manufacturer:
Colonel Littleton
Pros:

- Old World craftsmanship and quality
- Last a lifetime design
- Thick supple leather
- Great way to carry your smartphone
- Stellar warranty

Cons: