We use affiliate links. If you buy something through the links on this page, we may earn a commission at no cost to you. Learn more.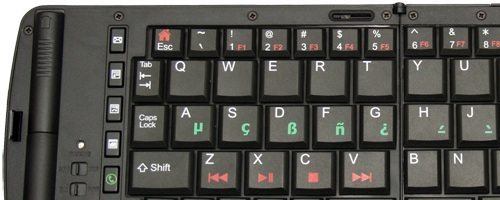 Back in the day when Palms and PDAs ruled the portable electronics market, you could get several designs of folding or mini keyboards to connect to your PDA to turn it from a 'consumptive' device (that mostly displays content) to a 'creative' one (one that allows you to easily create new content). Sure, you could use the other input options, but they had their limitations.
Now we have these cool, powerful Android smartphones and tablets, and have been mostly frustrated in finding good keyboards for them because they use a Bluetooth format called SPP instead of the HID format that Apple and other devices use. I finally found a keyboard I like that uses the SPP format for my Android stuff!  Let's give a close look at the Freedom Pro Keyboard from Freedom Input. 
Note – this review will focus on how the keyboard works for me on my Toshiba Thrive tablet and Sprint Samsung Epic 4G (a Galaxy S phone). Results would almost certainly be different on other operating systems, carriers, and even other Android devices.
To over-simplify the issue – SPP stands for Serial Port Protocol and emulates data coming over a serial port, like the old Palms used to do before Bluetooth or even USB.  HID stands for Human Interface Device and provides support for a variety of input devices including gaming controls. It is commonly used by gaming systems as well as Apple and some other devices. Some devices can use either format, including some newer Android devices, but most of us need a SPP device. (The Epic is a Galaxy S phone, listed by Freedom Input as a HID phone, but I have not been able to connect using HID. They do point out that some carriers or plans limit the HID format, so perhaps that is what is going on.)
The Freedom Input Freedom Pro Keyboard has a switch so it can do either. Physically, it is identical to the Verbatim 97537 Keyboard without the SPP/HID switch (and the Verbatim unit is about $10 cheaper) and very reminiscent of several Palm keyboards, such as the venerable iGo Stowaway. (Just FYI, older iGos were SPP format. Those available now seem to be HID).
The specs include:
Size Opened: 319.2 X 102.9 X 9.6 mm (12.6 X 4.0 X 0.38 ins.)
Size Closed: 162.5 X 102.9 X 19.2 mm (6.4 X 4.0 X 0.75 ins.)
Weight: 258g (including batteries)
Formats: SPP, HID
Power: Uses 2 AAA batteries (included). Over 90 hours use and 3000 hours standby
Included in Box: Keyboard, leatherette case, batteries, instruction manual, 'cheat sheets' for some devices
Compatible With: Pretty much everything:  Android, Apple, Blackberry, Palm, Symbian, and Windows devices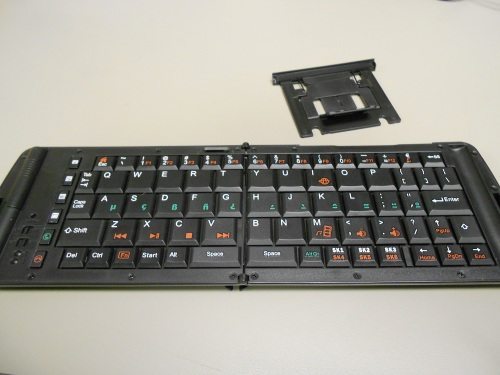 Other points worth noting include:
Full 5 row keyboard with 75 keys.
6 Dedicated keys to: Answer Call, End/Reject call, Open Messages/email, Open Address book, Open task and Open Calendar.
6 Additional 'SK' keys emulate on-screen controls or commands
12 user-defined quick launch keys.
Control and function keys allow complete control of your mobile device from the keyboard.
Separate LED indicators to show power and connection status.
Pull-out folding device stand.
The unit is well-built and designed. It passes the Gadgeteer Creak Test and feels like it would survive the real world nicely. Once you open the keyboard, you can lock it with a sliding pin. There is a cleverly designed pop-up folding stand tucked into one side that can hold a phone at a convenient angle. The keyboard is flat, but the locking pin means you can prop it up safely. It even comes with a decent case.
Never miss one of our posts again. Sent MON, WED, and FRI with the latest gadget reviews and news!
I tried to set it up with both my phone and tablet. The phone was a bit easier, but following the directions on the site exactly eventually got them both going. You are going to need the slightly hidden on-line directions.   The manual did not help much; for some reason it seems to be missing an import pairing step – after telling the phone the code, you also need to enter it into the keyboard.  You also need to download a free app.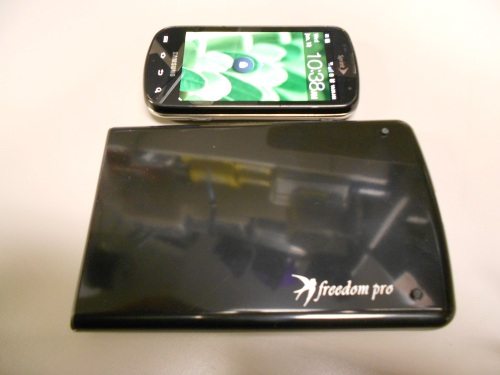 There are several customizable and 'quick launch' keys.  Twelve you can program for a variety of things and six that do specific things once configured; six other keys (labelled 'SK') emulate on-screen buttons or commands such as menu, back, and search bar. Additional keys can, on some devices, open the web browser or control playback. It is very important to note that not all of these button and keys work on all devices. In fact, many of them do not work on the Android, but those that do are easy to set-up, either in a pop-up menu or in the app.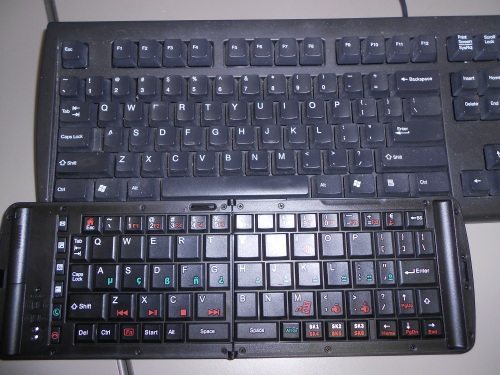 The open size can easily make you think that the keyboard is much smaller than a standard QWERTY board, but when you line it up as in the photo you see the keyboard sections are very close to being the same size. They do cheat a bit by making some of the keys narrower than usual, and the split space bar is narrower than you are used to. This throws off touch typing just a bit, but not being much of a touch-typist myself, it is not a big deal. I do keep missing certain keys though – backspace and shift seem to be my personal foibles on this one.
This is a decent keyboard in actual use. As mentioned, it is not quite 'touch type', but not bad. For basic text entry, tolerating errors that I could clean up later, I actually got nearly what I can do on a regular keyboard. There is little feedback for pressing keys – a bit of stiffness and a sort of a 'flat' response, but no vibration or noise. The keys are a tiny bit 'stiff', so just touching a key does not activate it. Holding a key causes repeats, just like my full-sized keyboard.
Turning off the keyboard does not automatically remove it as the preferred input method, but a couple quick taps on the Android disables it nicely… except that on my tablet, I keep getting an error message saying that it is not responding and must be forced closed. Stopping it in the application manager usually stops it.
As you read this review you may be uncertain of my real feelings for this device. Let me make it very clear. I like this keyboard. It is a nice compromise between keyboard size, packing size, functionality and cost. There are other options if you want a smaller board with smaller keys for better portability, or a more normal board for easier typing, but this is a great option that does both fairly well.
I could wish that the board itself had a few features – feet for propping it at an angle and a more visible on/off switch – or that the manual was more clear or the website easier to navigate, but overall this is a good product. I can accept some of the issues with it (non-functioning keys, etc.) as the price to pay for a device that is designed to play with so many different devices – as long as it plays with my devices nicely!
Product Information
Price:
MSRP $99.99, available for under $70
Manufacturer:
Freedom Input
Retailer:
Amazon.com and others
Requirements:

Compatible smart phone, PDA, or tablet with Bluetooth

Pros:

Portable
SPP or HID format
Programmable keys

Cons:

Not really a full-sized keyboard
Not all keys work with all devices