We use affiliate links. If you buy something through the links on this page, we may earn a commission at no cost to you. Learn more.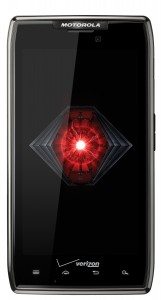 Verizon announced a new DROID RAZR that is available on January 26th. I have often commented that I wished manufacturers would stop with the thin obsession, and focus on battery life, and they finally listened to me. OK, so probably not to me, but still, I like this change.
The RAZR MAXX is only 8.99 mm thick vs. its thin cousin the RAZR at 7.1mm. But for that modest 1.89 mm you go from a 1780 mAh battery to a 3300 mAh battery. They claim you will get more than 21 hours straight on a single charge, and this is a 4G LTE phone. See more specs after the jump.
The Specs:
8.99 mm thick (I assume this is at its thinnest like the RAZR)
3300 mAh battery rated for 21 hours straight on a single charge
Dual-core 1.2 GHz processor
4G LTE (Mobile Hotspot capable)
2.3.5 Gingerbread, upgradable to Android™ 4.0 Ice Cream Sandwich
8-megapixel rear-facing camera
1080p HD video capture and image stabilization technology for crisp and clear videos
Front-facing HD camera for video chat
32 GB memory – 16 GB on-board memory and 16 GB microSD™ card pre-installed (actual formatted capacity is less)
This is a very interesting update, and highlights what I really like about the Android eco-system, the ability to choose from an array of options that best meets your needs. If you are willing to sacrifice a little thickness (and I assume weight) you can get a 4G capable phone that can consistently last the entire day.
You can check out the entire press release on Verizon's site.