We use affiliate links. If you buy something through the links on this page, we may earn a commission at no cost to you. Learn more.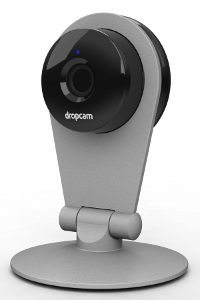 Dropcam announced this morning that they will no longer be using a third party camera vendor. Their new WiFi camera is completely redesigned to include HD quality 720p video, night vision, 2-way audio and digital PTZ. The online viewer has also been enhanced to increase user experience. They are claiming that the Dropcam HD will be the most full featured, lowest priced point camera on the market and the easiest to set up, guaranteed. I know that their previous version (see my review listed below in the related posts lists) was very easy to setup and I continue to use it on a regular basis to keep an eye on things at home while I'm not there. I can't wait to try this new camera which will be available later this month for $149. Read the full press release after the jump.
Dropcam Shows CES Attendees How to Keep an Eye on Their Homes While They're Away
World's smallest Wi-Fi video monitoring camera with night vision, video streaming, mobile viewing and recording capabilities provides peace of mind when on the go
LAS VEGAS, Nevada (Consumer Electronics Show 2012), Jan. 9, 2012 –Dropcam today unveils the Dropcam HD Wi-Fi Video Monitoring Camera – its newest camera for the connected home. From initial setup to daily dependable service, the small, stylish award-winning Dropcam HD camera makes it effortless to use live and recorded video to check in on the kids, share moments of a new baby, keep an eye on a pet, or make sure your home is safe when you are away.The easy-to-set-up video camera integrates seamlessly with Dropcam's enhanced online video streaming and cloud-based DVR services, which also go live today.
With access from any computer, iPhone, Android phone, iPad or Android tablet, the live and recorded video from your Dropcam HD camera is available to you anytime, anywhere. When you're not actively checking in on your home, you'll still stay up to date with email and push alerts when motion or audio is detected. You can also take a look back through events with Dropcam's DVR service, which can record up to 30 days of video. All video is encrypted using bank-level security standards to ensure user privacy.
Dropcam HD ($149) is now available for preorder on www.dropcam.com and will begin shipping later this month.
Dropcam HD enters the scene as the most full-featured Wi-Fi video monitoring camera in its category. Features include:
·        60-second setup – Plug it in. Select your Wi-Fi network. Personalize it. Your Dropcam HD is online in three intuitive, simple steps.
·        Watch and check in 24/7 – AC-powered Dropcam HD gives you reliable, quality video at all times. It's plugged in, so you don't have to worry about missing video due to drained batteries.
·        Night vision – Reasons to keep an eye on what you care about don't stop when the sun goes down. The night vision mode turns on automatically when a room darkens to make sure you don't miss a moment.
·        Talk back with two-way audio – Respond to what you're watching as it happens with two-way audio. Ask who is at the front door, check in on the kids while chores get done, tell the dog (or husband) to get off the couch.
·        Digital zoom – Pick which part of the room to focus on. Zoom in on the baby's crib, the front door, or one of the cars in the driveway.
·        Versatile placement – Dropcam HD is adjustable to quickly mount on a wall, stand on a table, or you can pop out the lens to create a smaller, more discreet profile that can be placed anywhere.
Breaking the Mold
To date, Wi-Fi video monitoring cameras have been designed as utilitarian and unattractive, and they were coupled with outdated video viewing software that was difficult to set up and understand. Thoughtful design with a focus on simplicity and usefulness was paramount in creating the new Dropcam HD camera and the accompanying online services. The camera's monochromatic colors and unique shape blend naturally into a living room or office.
"Our users are our first priority – from the design of the camera through the easy product setup to the simple daily use of our video services. User experience is at the forefront of all that we create at Dropcam," said Greg Duffy, CEO and Co-Founder of Dropcam.  "It's an exciting time to launch Dropcam HD, a product that introduces quality hardware and intuitive user experience to a space that has missed it completely."
Cloud-based DVR Services and CES Demo
Along with Dropcam's new camera come best-in-class video streaming and DVR services. Video from your Dropcam HD camera is stored in the cloud, so it doesn't slow your computer and you never have to worry about running out of memory on your PC. Unlimited real-time viewing from any device as well as email and push motion/sound alerts are always free for users.Recording plans to capture moment-by-moment HD video start at $9.95 per month. Your video stream can also be safely shared with friends and family for free by inviting them through a secure link, so they can share in the things you care about most.
Dropcam's cloud-based viewing and recording service is all you need to access your Dropcam HD camera 24/7. There's no need to keep a computer running – just connect to your Wi-Fi network. Dropcam DVR can record up to 30 days of continuous video from each camera.
See a demo of the Dropcam HD camera and online services during CES Jan. 10 – 12 at booth #3421 – LVCC, North Hall, and at the Pepcom Digital Experience media event Jan. 9 in the MGM Grand.
Also, join Dropcam CEO Greg Duffy on Jan. 12, 4:20p in the Mommy Tech area – LVCC, North Hall N256, when he speaks about "Moms as CEO of the Household."
About Dropcam Dropcam, Inc. is an agent of change at the intersection of video, data, and the cloud. Its award-winningWi-Fi video monitoring camera and intelligent software services capture life's moments, making it easy for users to check in on the things they care about from anywhere, anytime, on any device. Founded in 2009, San Francisco-based Dropcam is funded by Accel Partners and top angel investors. To learn more, please visitwww.dropcam.com, watch our demo videos on YouTube, like us on Facebook and follow us on Twitter @dropcam. Dropcam, Inc. is located at 160 Spear Street, Suite 1700, San Francisco, CA 94105.