We use affiliate links. If you buy something through the links on this page, we may earn a commission at no cost to you. Learn more.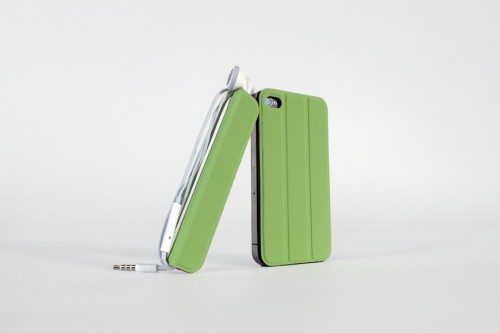 You know that feeling when you see an invention and marvel that no one had thought it up sooner?  Take a look at this iPhone accessory that has already been successfully funded through Kickstarter (with over 3 weeks still left on its fundraising campaign).  This is the TidyTilt, which solves a major problem and provides an additional couple of features.  Problem: how do you store your headphones/earbuds?  You're probably not alone if the answer is wrapping it several times around your iPhone or tossed haphazardly in your bag.
The TidyTilt is primarily a cord wrap that will protect the integrity of your headphones and attach to your iPhone for on-board storage.  It is comprised of a thin magnetic frame that attaches to the back of the iPhone as well as a soft, magnetized polyurethane panel.  The panel is designed to fold around the headphone cord to keep it tangle-free.  When folded it can then also be used as a "kickstand" for tilting the phone screen up, ideal for typing or watching movies.  Since both pieces of the system are magnetized, the iPhone can itself be mounted to any magnetized surface and the earbuds can be mounted and stored separately as well.
Currently the TidyTilt is made exclusively for the iPhone 4/4S.  It isn't an iPad case–it will provide no screen protection–but it is compatible with many pre-existing cases.  TidyTilt can be preordered now through their site (which will link to Kickstarter until the fundraising campaign is over) in pink, green, blue, or black for $19 ($36 for a 2-pack) and are planned to start shipping in February.