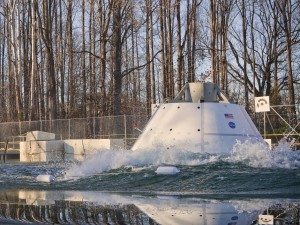 You are getting ready to travel to the deepest parts of space to seek out new life and new civilizations, to boldly go where no one has gone before.  What is your ride of choice?  Unfortunately not the Starship Enterprise; we have to wait a few 100 years or so before that bad boy is ready to take to the start.  The astronauts will ride on the Orion Space Capsule, designed by NASA for the trip to the deepest regions of space. Besides safely making the trip to the stars, you also want to know that when you come home you will be able to safely make the trip back to earth and rejoin your family and friends.  So, the team at NASA is putting an 18,000 test version of the Orion Space Capsule through some testing, including dropping it into a test pool and testing the heat shield in some sea like conditions. (Yeh, the heat shield is on the bottom of capsule and needs to be both water-tight and able to survive sea-like conditions after returning through the extreme heat of re-entry into the atmosphere).  With more than 150 sensors on the test space capsule NASA is recording and analyzing enough data to ensure that the Orion Space Capsule will be ready to ferry our astronauts into space and back home again.  For more information check out the NASA website.
Support The Gadgeteer
:
We may earn a small affiliate commission from purchases made from buying through links on our site. As an Amazon Associate I earn from qualifying purchases. Learn more.