We use affiliate links. If you buy something through the links on this page, we may earn a commission at no cost to you. Learn more.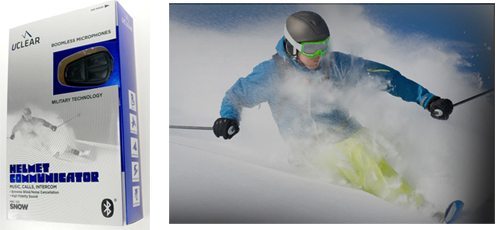 Uclear makes a series of Bluetooth communication systems that you add to your bike, motorcycle, or snow sports helmets. The HBC120 Snow  incorporates a "lightweight noise-cancelling Bluetooth system with advanced military technology", so you can easily make a call, intercom another skier, or listen to music.  The boomless mic uses a patented noise-reduction system that isolates your voice and virtually eliminates background noise, even at 100mph.  The speakers are powerful enough to produce clear sound, so you'll have no problem hearing your call or listening to music.  The HBC120 attaches to most skiing and snowboarding helmets, and the Bluetooth system pairs easily with your phone or other Bluetooth-equipped device or with other Uclear helmet systems.  The Uclear HBC120 Snow helmet communicator system is $229.95 from Uclear.
If you're not into skiing, check out Uclear for motorcycle ($199.95) and bike ($229.95) helmet systems, too.