We use affiliate links. If you buy something through the links on this page, we may earn a commission at no cost to you. Learn more.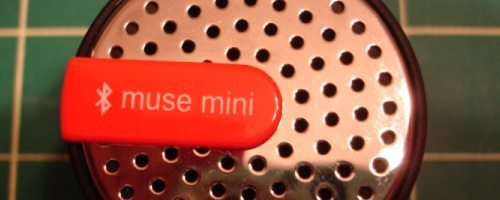 I for one vastly prefer listening to speakers than headphones and I am always on the search for both the perfect personal portable speaker for general use, and amplified travel speakers to use in class. It would be great to get both in one package!
The Muse Mini Portable Bluetooth Speaker is certainly small at just under 2″ tall and a bit less than 1 3/4″ across! I could not wait to try it out!
Some specifications from the site for the tiny speaker include:
Dimension (LxWxH) : 43mm x 50 mm
Net weight: 178g
Loudspeaker Output: 2.2w
Frequency range: 2.401-2 .480 GHZ (2.4GHz ISM Segment
Signal to noise: -95db +-2db
Play backtime: up to 4 hours
Battery charging voltage: 5v/+0.5v
Battery charge time: 5v input – 1.5 hours
Work Current: <400mA
Standby Current: <3mA
Play backtime: up to 6 hours
Range: <10M (Bluetooth Class 2)
Bluetooth Versions: V2.1, V2.0, V1.1, and V1.2 Standard (A2DP, AVRCP)
FCC, CE, RoHS Compliant
The package includes the speaker, a M to M 1/8th inch stereo cord, a USB charging cord, instructions, and a 20% off coupon for your next purchase.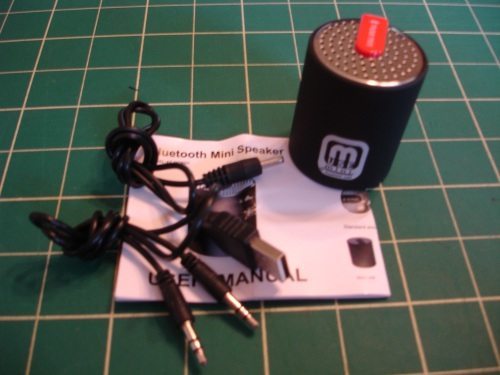 The speaker is available with or without Bluetooth, and in black, white, silver, blue, and green (they also show red on the site, and say they can do other colors as well.) I was sent a black version with Bluetooth to trial. The cylinder has a silver speaker grill and logo on top; an audio jack, status light, charging port, and logo on the body, and the 'on/off' Bluetooth' switch on the bottom.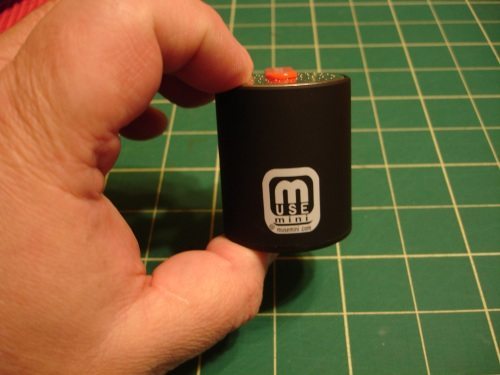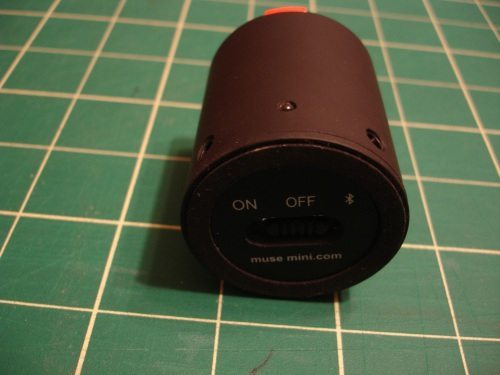 My experience with Bluetooth is usually pretty good with my Android (Samsung Epic) and laptops, and this was certainly a straight-forward process. I was synced in about a minute all total on every device I tried it on. Very nice. The instructions could be done a bit better, but are tons better than a lot I have seen! A blue light blinks occasionally to show you are connected.
Don't want to, or can't do Bluetooth? Just switch it to 'On', and use the included cable. A red status light will show. The cable is a bit short- great for travel and packing, but a longer cable would be nice to have available. They are easy enough to find so this is not a problem. Charging is also straightforward… unless you don't have a powered USB port available. The package does not include a USB to AC (or auto) adapter. Not a problem for me, I have bunches of them laying around with all my phones and other stuff. (The tip seems to match up to a Radio Shack 'K' tip if that helps).
Sound quality is amazingly good. I am not an audiophile, but everything sounds accurate, crisp, and clear. Some distortion at high volume, but that is typical of almost every speaker. Bass and treble are better than expected in such a small speaker, just remember that if you want to adjust them, you have to do it on your player.
Volume is better than a non-powered speaker would provide, but is not as loud as I was hoping. It is a little louder (and clearer) than my Epic's built-in speaker. Loud enough to play background music in my office (I like it on the quiet side) and at full volume it can do a decent job of filling my den with sound, but I doubt anyone will ever shout at you to turn it down.
The small size, light weight, and decent built-in battery makes it very portable, but the cylindrical shape means it does not pack flat or tuck neatly in most pockets. It also seems a bit odd to me that there is no case or bag for the speaker and the cords. Certainly not a deal-breaker on such a nice speaker, but I really wish I could keep the elements together better.
There is a lot of competition at the 'around $50' price point for portable speakers. The Muse Mini Bluetooth Speaker offers good sound and great portability for its price, but if you need more 'umph' you may want to look for something else.
Product Information
| | |
| --- | --- |
| Price: | $46.54 |
| Manufacturer: | Muse Mini |
| Pros: | |
| Cons: | |