We use affiliate links. If you buy something through the links on this page, we may earn a commission at no cost to you. Learn more.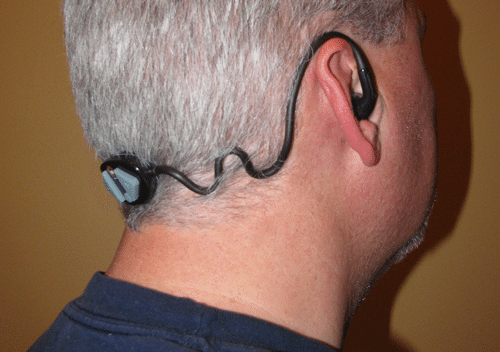 My airline travel has recently picked up the past year and I find myself on planes for more hours than I can remember. And if you have ever spent any time in coach on an airline, you know the value of a good set of headphones. I have tried every earbud known to man and have come to the conclusion that there is no good earbud. So wanting to avoid wires altogether, I have recently been trying Bluetooth stereo headsets. My most recent foray into the wireless Bluetooth headset arena is the Leo Stereo Wireless Bluetooth Headset from Arriva. With a name like Leo, it better have some teeth, right?  Let's find out if it does!
Before getting my hands on the Leo my day-to-day stereo Bluetooth headset was the Motorola S10-HD. This isn't a review of that headset, but I will compare the Leo to that headset simply for the sake of those of you who may own that one.  I like the S10-HD, so I was really curious if the Arriva would take its place as my go-to headset.
Let's start out with some photos:
The Arriva comes with a micro-USB charger, 3 sets of earbud covers in addition to 1 set already on the earbuds, and a hard foam round carrying case that holds the Arriva quite nicely. The headset folds up nicely in that case, and they are great for traveling because they take up so little space.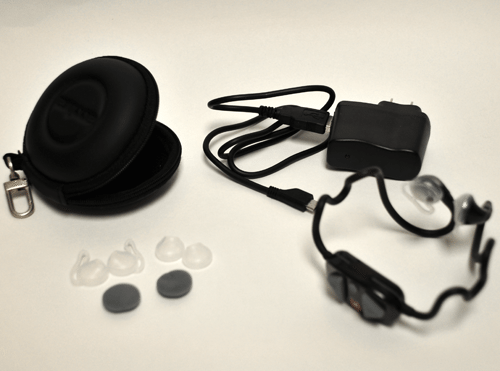 2 sets of the earbuds have a little loopy things (yes, that is a technical term) that extend from the earbud to push against the inside of your ear to hold the earbud in place.  I tried the foam and plain earbud covers and neither worked for me, so the loopy earbud covers were a must for my ears.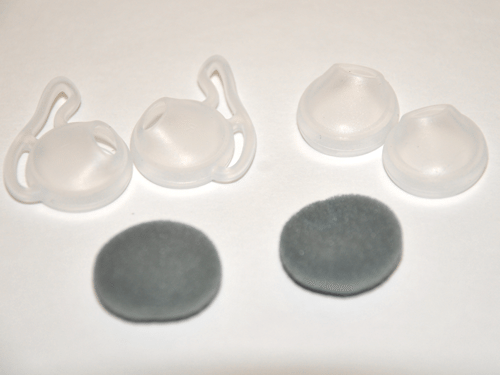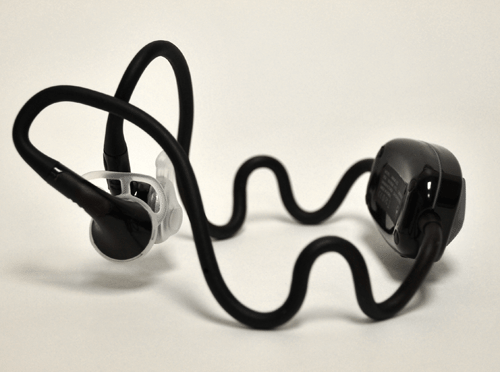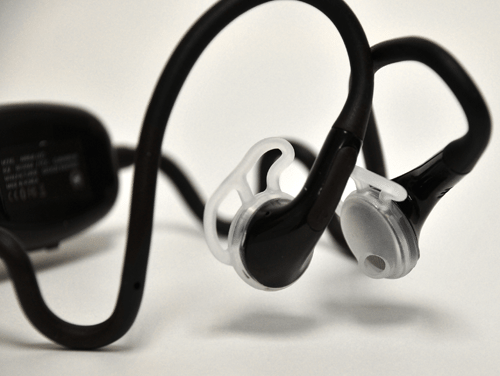 Here is a better picture of what it looks like on the back of my head. You can see the main unit rests at the base of your skull, allowing you to wear a helmet, glasses, hat, etc, and be unobstructed.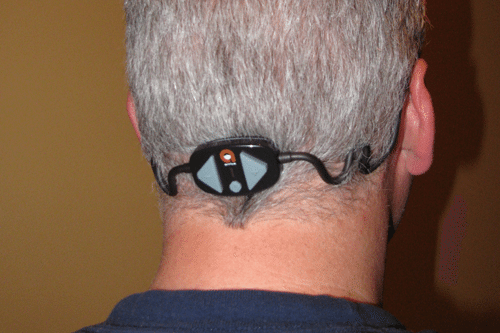 Never miss one of our posts again. Sent MON, WED, and FRI with the latest gadget reviews and news!
The next picture is a closeup shot of the main unit on the headset.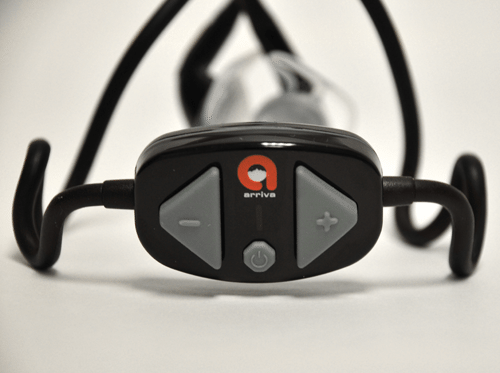 The micro-USB charging port is on the bottom of the unit.  It has a power button and a plus and minus button on the front. Each button performs several functions. Holding the power button turns the headset on, and if you keep holding it down for 7 seconds, the headset goes into pairing mode.  You hear some tones when it turns on, but oddly you don't heard anything when it goes into pairing mode. Every Bluetooth headset I have ever owned makes a "pairing" sound, so when I first tried to pair it with something I thought something was wrong because I didn't hear any tone or indications that I was pairing.  If you receive a phone call while listening to music,  pressing the power button will answer the call and when you hang up the music will start again. While listening to music a tap on the power button will pause the music.
The plus and minus buttons will increase and decrease the volume of the sound and long-pressing the buttons will advance to the next or previous songs in your playlist.
And here is a picture of the size comparison between the Arriva (left) and the Motorola S10-HD (right)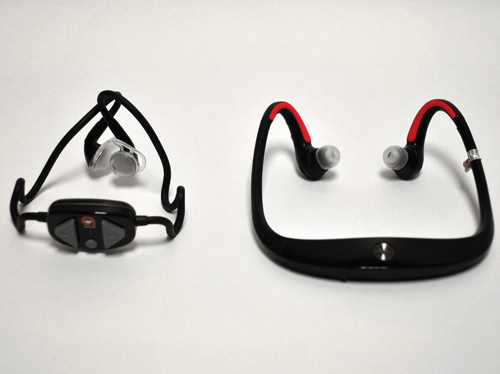 The Arriva, just like the Motorola, is one of those Bluetooth headsets that can also answer calls on your phone because it has a mic built into the left earbud. When I used it to talk on the phone I wasn't that pleased with the results. The call quality to me was what I experienced with Bluetooth headsets a few years ago. It was susceptible to wind noise and more often than not the person on the other end of the call would ask me to repeat myself.  I used both headsets to call myself and leave a voicemail and then I listened to the messages.  While the Motorola provided slightly better sound quality than the Arriva, I just don't think either one of these headsets are meant to be used for making calls all day. They are fine if you want to answer a quick call while you are listening to music, but I don't think that long conversations are suited for this headset and I wouldn't buy this one if that was your intention. There are many other Bluetooth headsets that are designed for making calls. For example, I can listen to music using my Plantronics Pro headset, but I wouldn't do it because it sounds bad and that headset wasn't designed for listening to music.
Where the Leo has no teeth:
When I first took it out of the package and tried to place it on my head I am glad someone wasn't videotaping me. I initially thought that maybe I had received a defective unit because I couldn't get the darn thing to stay on my head for more than a few seconds and it just looking all mangled and funny. After much weeping and gnashing of teeth, I was able to bend and shape the Arrive to fit my head and my ears. So what started out as a big negative in my initial impression turned into a good experience when I realized I could bend and mold this thing to fit my head perfectly.  I can now wear it for hours and not realize I have it on. So you'll need to be patient when you first start wearing it and find out what fits best for you.
I mentioned that I expected to hear some sort of audible tone when pairing the device, and I didn't hear anything.  You also don't hear anything after the headset connects to a device. I expect to hear something when that happens too, but I heard nothing. So I had to actually play some music to make sure that it was working with my tablet or phone.
With other Bluetooth headsets, for example, if I walk away from my phone beyond the range of the Bluetooth I get some sort of audible indication that my headset is no longer communicating with the phone. This has saved me countless times from leaving my phone someplace on accident. The Leo doesn't do that either.
I experienced a big problem with my Verizon HTC Thunderbolt and the Leo. I won't go into all the techy detail but here is the bottom line: if you own the Thunderbolt, then when using the Leo, don't use the "LTE On/Off" app that allows you to turn off the 4G connection on the phone to save your battery. When you do that the Thunderbolt will lock up on an incoming call if you are using the Leo. When I used the Thunderbolt in normal mode (with the 4G connection on) then everything was fine. Not sure what that was about, but now I know, and so do you.
Where the Leo has some teeth:
The sound from this headset is top notch. It is quite literally the best sounding Bluetooth headset I have ever heard. The highs and the lows are wonderful. I couldn't turn up the volume all the way on any device for fear of blowing out my eardrums, so you will enjoy the high quality sound. I've already mentioned how comfortable it is, so you should have no problems with getting this to fit.  While the Motorola is comfortable, the Arriva feels nice. I don't do extreme sports of any kind, so I can't speak to how well it would stay on my head while hang-gliding, but the headset stayed on my head while jogging and working out.
And the price is just right. It is now $69.95, which is cheaper than what I paid for the Motorola S10.
Miscellaneous information
While I experienced no problems with sweating while working out, Arriva does state that this is not a waterproof headset, so no swimming with this thing.  The battery (140mAh) lasts about 5 hours before needing a charge and it is supposed to last 20 days on standby. It takes about an hour and a half to fully charge and the battery, and the headset has an indicator light to let you know when it is done charging.  Their website also has some guides on how to pair with various phones and how to get the Leo adjusted to fit your head.
The bottom line
The Leo is the best sounding and most comfortable Bluetooth headset I have ever owned. I used it successfully with my HTC Android cellphone, my HTC Flyer tablet, my ASUS Eee Pad Transformer tablet, a Samsung Fascinate cellphone, an iPhone, and an iPod Touch.  Aside from the aforementioned issue with the phone-locking-up thing I already mentioned, it worked flawlessly.  I did not experience any skipping or signal dropping.
I should also mention that when I had the issue with the phone locking up I contacted Arriva via email (they have no published phone number) and they responded quickly and provided me ideas and suggestions about what might be happening.  They even offered to send me another headset, and they sent all the information I gave them to their technical folks to find a solution.  Their folks were really nice about the whole thing and they took my suggestions for how to improve the product and seemed genuinely interested in making me happy, so I give them props for that.
I like the Motorola S10 HD, I really do. It's a good Bluetooth headset.  But I like the Arriva even more, so the Motorola will be delegated to the gadget drawer as my back-up device.  I am going to give the Arriva an 8 out of 10, so I do recommend it to anyone.
Product Information
Price:
$69.95
Manufacturer:
Arriva
Requirements:

Bluetooth 2.1 compatible device

Pros:

Very comfortable
Great highs and lows
Voice prompt if you move out of range
Big buttons to accommodate gloves

Cons:

Lots of initial wrangling to fit
No audible tones in certain instances
Phone locked up when receiving a call