We use affiliate links. If you buy something through the links on this page, we may earn a commission at no cost to you. Learn more.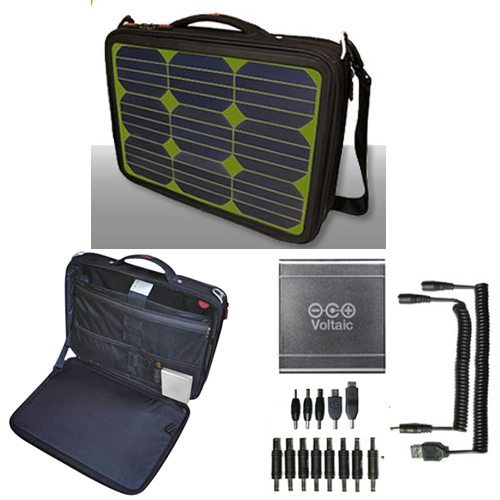 Voltaic makes a line of gear and laptop bags with built-in solar panels, like this Generator Solar Laptop Charger. The bag is made of 600-denier fabric made from recycled soda bottles; the fabric is waterproof, lightweight, and UV resistant. Inside is a padded laptop sleeve that fits up to a 17″ MacBook Pro. Wire channels allow you to route your headphone cables and other wires. The handle has an LED logo that lights up when sun shines on the solar collector panel. The front of the bag is a 15W solar panel; inside is a battery that fully charges in about 8 hours of direct sunlight. It has a 50Wh capacity, and it can output 19V, 16V, 12V, and 5V for device charging. The bag comes with a variety of tips that will allow you to charge most laptops, tablets, handheld devices, and phones. A special tip may be needed to charge some laptops. Voltaic says 1 hour in the sun will provide between 12 and 45 minutes of runtime, depending on your laptop. 1 hour in the sun is typically sufficient to charge most cell phones and other handheld electronics. See the list of compatible devices at the above link. The Generator Solar Laptop Charger bag is black, and it is available with silver, green (shown), or orange accents. It's $499 at Voltaic.
Ha! I wrote this post before I saw Ian's post just below this one. What a happy coincidence with the Fellowship of the Ring references!