We use affiliate links. If you buy something through the links on this page, we may earn a commission at no cost to you. Learn more.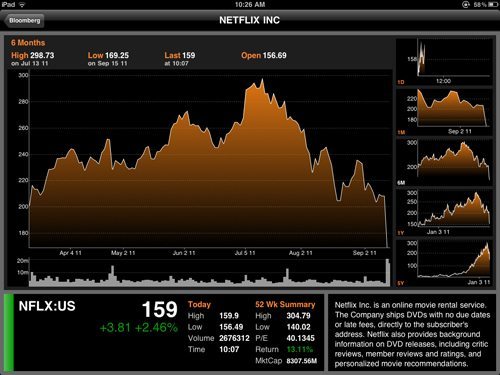 Every Netflix subscriber – and most everyone else who reads or hears the news – learned a couple of months ago that Netflix was drastically increasing their rates. (Scroll down to July 12th's entry.) Instead of $7.99/month for one DVD at-a-time or $9.99/month for one DVD at-a-time plus unlimited streaming, the DVD mailing service would remain at $7.99/month and unlimited streaming would also be $7.99/month. There was still a combo plan, but it was $15.98/month – no discount. Apparently the price increases were necessary to better reflect the costs of the services and to help them compete with other streaming services. As I recall, Netflix compared the rate increase to the price of a coffee from Starbucks. This comment, while true, seemed a bit flippant and angered many people so much that many were threatening to drop Netflix altogether.
Apparently many people followed through with their threats, because Netflix recently lowered their US subscriber forecast by 1 million, as reported by Reuters. And you can see from the above photo (captured from the Bloomberg app on my iPad 2 this morning), Netflix stocks took a hit in mid-July when the price hike was announced and have continued to slide.

This morning, I (and all Netflix subscribers) received an email from Reed Hastings, co-founder and CEO of Netflix, with an apology for how he handled the rate hike. You can see the text of that email at the Netflix official blog. He says "For the past five years, my greatest fear at Netflix has been that we wouldn't make the leap from success in DVDs to success in streaming. Most companies that are great at something – like AOL dialup or Borders bookstores – do not become great at new things people want (streaming for us) because they are afraid to hurt their initial business. Eventually these companies realize their error of not focusing enough on the new thing, and then the company fights desperately and hopelessly to recover. Companies rarely die from moving too fast, and they frequently die from moving too slowly." He says the changes Netflix had made in the past had been successful without much CEO communication, and he assumed that would hold true so long as Netflix kept growing and improving.
He goes on to say "But now I see that given the huge changes we have been recently making, I should have personally given a full justification to our members of why we are separating DVD and streaming, and charging for both. It wouldn't have changed the price increase, but it would have been the right thing to do." He says that the DVD mailing service might not last forever, but they want it to perform well for as long as possible, so they are separating that service from the streaming service. The streaming service represents the future of Netflix, so it will continue under the Netflix name. The DVD service will now be called Qwikster, and it will soon also be offering a game rentals upgrade option for "those who want to rent Wii, PS3 and Xbox 360 games", among other planned improvements. The Qwikster website will be online in the near future.
The two services will be two separate companies, with separate billing. If you continue both services, you'll have two charges on your card, and you'll need to go to both companies to update should you ever need to change your billing information.
Go to the Netflix official blog to read more details of the new services and to watch a video of Hastings and Andy Rendich (the new CEO of Qwikster) explaining the changes.
I had dropped the DVD rentals some time ago and continued with only the streaming service, so the rate hike didn't impact me. I'll admit that I could see the need for the price increases, but I thought that perhaps they should have done a couple of incremental increases to make the bitter pill go down easier. I had actually forgotten about it until I saw the news reports recently about the stock prices for Netflix. The email I got today is proof that Netflix is admitting they approached things incorrectly and are trying to address that now. What do you think? Will this apology and changes to the company help soothe angry customers? (Are you one of those angry customers?)