We use affiliate links. If you buy something through the links on this page, we may earn a commission at no cost to you. Learn more.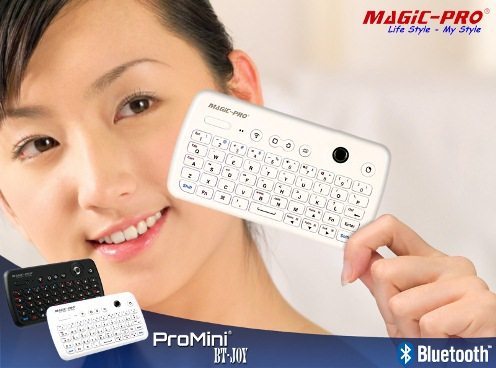 I like keyboards; I like big, full-sized keyboards like my Logitech G15 on down to my one-handed Lenovo N5902 Multimedia Remote. I could barely play "Chopsticks" on the piano and when it comes to 0n-screen keyboards. I'm all thumbs…in the wrong way. We have three tablets in our home (Apple iPad, Asus Transformer and HP TouchPad), all of them are paired with keyboards that make typing anything over a few words much more pleasant.
There's a trade-off to carrying a physical keyboard though, and that's the added size and weight. When you start lugging around a separate keyboard maybe it's time to consider going with one of the new "ultra-thin" laptops like the Apple MacBook Air or one of the new slim Windows machines by companies like Sony, Lenovo and Asus and reap the benefits of using full-fledged desktop operating systems and applications.
It appears that selecting your mobile computing device and the matching input method to fit your needs could become more difficult than choosing the right outfit. Okay, I admit, in my case, that might be a bad example as my clothing selection usually comes down to whatever is clean, but you get the idea.
So, what do you do when you don't want to use the on-screen keyboard on your phone or tablet, but carrying an extra keyboard is too much? Well, that's where Magic-Pro's ProMini BT-Joy might meet your needs. Pyramid Distribution sent us the ProMini, which is a Bluetooth-enabled, physical thumb-board that includes a working joystick-type of pointer control that they call a "Sliding Jog Mouse". If you have ever used the IBM/Lenovo TrackPoint device that appears on many of the ThinkPad notebooks you have an idea of how the ProMini's pointer works. Right and left mouse button functions are handled nicely with one button on the top edge of the keyboard, easily accessible to your index finger and the right button situated just to the right of the pointer-stick.
Specifications
(as Supplied by Magic-Pro)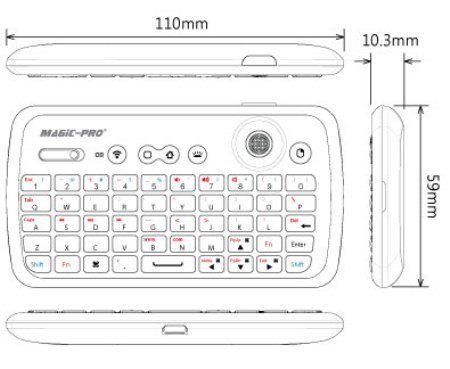 Dimension : 110mm x 59mm x 10.3mm
Weight : 50 grams – 58 games (two different weights listed)
Battery Type : Built-in rechargeable Lithium-ION Polymer
Battery Life: Use 30 hours plus, Standby 30 days
Operation range : up to 10 meters
Operating Voltage : 3.7V
Bluetooth version: 2.0 HID
Frequency: 2.4-2.48 GHz
Charging Time: Under 3 hours
Comparability: Apple iOS 4 or above, Google Android (please read below), Nokia Symbian 560, Microsoft Windows 2000, XP, Vista and 7, Mac OSX 10.2.8 or later, Linux OS, Sony PlayStation 3.
Warranty: One year limited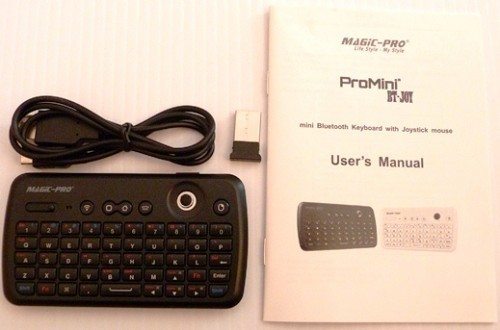 The ProMini has a back-lit, five-row, QWERTY layout. The keys all have discernible travel and a reassuring and slightly audible click when pressed. The punctuation keys except the period require holding one of the two shift or Fn (function) keys. Four standard cursor keys (up, down, left, right) are included on dedicated keys.
Special function keys like a ".com", "www" and play/pause, fast-forward, rewind and volume-up, volume-down, and mute are available when you hold down the function key.
Never miss one of our posts again. Sent MON, WED, and FRI with the latest gadget reviews and news!
There are two buttons above the keys that the documentation explains are to serve as a home key for iOS and Android. They do this, but instead of one working with iOS and the other for Android as described. I found that one worked for both functions and the other didn't have any effect whatsoever. That same key also launched a browser on my Windows and Ubuntu machines.
The keyboard connects to your device through Bluetooth, and Magic-Pro included a small USB Bluetooth dongle for PCs that don't have native Bluetooth support. There are no drivers included and with one exception they shouldn't be necessary.
Power is provided by a Lithium-Ion battery that charges with a USB (micro) connection from either your computer or many USB chargers. I appreciate the use of standard charging ports as it means there's one less cable to pack and they're easily obtainable when I forget to bring it or, leave it plugged into the outlet at a hotel.
Apple iPod Touch, iPad or iPhone sync/charge cables are not compatible, but depending on which charger you're using it may work with the ProMini's cable. Battery life of the ProMini (30 hours of use or 30 days on standby) is such that you really shouldn't have to worry about charging unless you're going away for a long time or have to do a lot of typing. If it's the latter, you probably won't want to be using the ProMini anyway. The battery is not easily user-replaceable.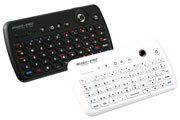 The ProMini's case is made out of plastic and while it doesn't look like the most well-built/sturdy device I've seen it felt relatively solid in my hands. The keyboard tested was black, but Magic-Pro's literature and website also indicate that it may be available in white.
Testing
I set out to test the keyboard with a variety of devices including my T-Mobile/HTC G2 smartphone running Google's Android 2.3.4 (Gingerbread), an Apple iPad running iOS 4.3.3 (Jail-broken), an Apple iPod Touch (4G) running iOS 4.3.5, a PC desktop running Windows 7 x64 SP1, an IBM ThinkPad T42 running Ubuntu 11.04, and an Asus Transformer tablet running Android 3.2 (Honeycomb). I added a Sprint/Samsung Nexus S running Android 2.3.5 (Gingerbread) to the testing after having problems connecting the ProMini with the G2.
Other than the two Android-powered smartphones the ProMini paired, connected and worked very well. The mouse functions did not work with the Apple devices, but that's related to the lack of mouse support in iOS and not a failing of the ProMini.
Android Issues
There is a tiny asterisk next to the Android compatibility statement on the back of the ProMini box for good reason. Android does not include Bluetooth keyboard drivers as part of the operating system. Compatibility is on a device-by-device basis.
However, even if the ProMini doesn't work out of the box with your Android phone it's not impossible to get it up and running. I had a similar problem when trying to connect my Apple Wireless keyboard to my Asus Transformer. I rooted through through the Android market for a solution, and found the "BlueKeyboard Pro JP" by Elbrain it worked for the Transformer and the Apple keyboard, and worked again on both phones with the ProMini. BlueKeyboard has a free version or for roughly $2 you can buy the upgrade that incorporates additional features like a user dictionary. While it's not a difficult task to download, install and configure this keyboard driver it is an extra step and could be confusing to some.
Pairing and Connection
Other than the aforementioned Android phones, pairing the keyboard was pretty much the standard Bluetooth experience. You start by turning the keyboard on and then pressing the "connect" button which sits next to the power switch, and is slightly recessed to prevent accidentally activation. A blue light begins to blink and you then start the Bluetooth device scan on your device. Follow a couple of on-screen instructions and it should take the place of, or work in addition to any keyboard and mouse. As with most Bluetooth devices you only need to go through the pairing process once per device with connection occurring automatically thereafter.
It Works Quite Well
So, how did the keyboard work? Well, about as I expected with a couple of minor flaws. When I compared it to the built-in hardware keyboard on the T-Mobile G2 I found it slightly easier to use. Its keys are a bit larger and it has a full five rows of keys rather than four on the G2. They're both still thumb keyboards though so the advantage wasn't enough for me to want to carry the ProMini around in addition to my phone. I'm sure some former Blackberry/Treo owners that are now using iPhones might be interested in the ProMini.
Tablet owners with small hands could potentially find use for the device, but it would be difficult to use the ProMini while also holding the tablet. I thought of duct-taping it to the bottom of my iPad, but it covered up the sling-shot in Angry Birds so I had to abandon the idea.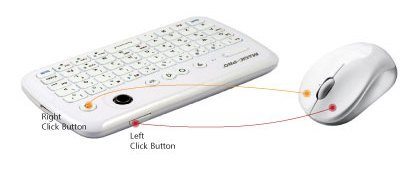 On the PC and ThinkPad the keyboard/mouse worked as well as you would expect any combination keyboard/mouse to work. While I did not test the ProMini with a Macintosh, I expect that it would work with OSX without significant issues.
I can think of a couple of uses for a device this small and a PC; Home Theater PC use and as a substitute for a remote mouse when giving presentations. I tried the ProMini with our HTPCs and it worked well, but there are better alternatives with dedicated media keys  like the Lenovo Multimedia Remote/Keyboard in the same price range. As a presentation mouse it serves adequately.
Two Minor Complaints
Other than the Android connection problem I had a couple of very minor issues with the ProMini. The backlit keyboard is controlled by a button that works at any time except when you're initially pairing the device. So, when you have to type in the numeric code to complete the initial pairing you have to make sure you have enough light in the room to see the keys.
My other nit involves the alternate uses for the keys. On the black keyboard the key caps have the main character in white and then one or two alternate characters/functions in much smaller red or blue font.  For anyone without very sharp vision these are going to be difficult to read.
Conclusion
So, that's about it for the ProMini BT Joy. If you have a need for a very small "thumb-board " it seems as though it will do the job. I'm sure some people will consider it small enough, and inexpensive enough (list price is $69) to carry around  for the every-so-often situation where it can make input into a variety of devices a bit easier and faster. To me it's a bit pricey, and I'm not sure if I see a real need, but it does what they say it will do so I'll still give this "thumb board" a thumbs up.
Product Information
Price:
$59
Manufacturer:
Magic-Pro
Retailer:
Pyramid Distribution
Pros:

Backlit keyboard
Small size and low weight
Long battery life
Decent key "feel" for its size.
Use of standard micro-USB cable for charging

Cons:

Issues with Android devices
Very small font and dark colors of the alternate key markings