We use affiliate links. If you buy something through the links on this page, we may earn a commission at no cost to you. Learn more.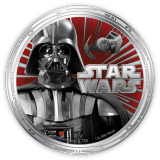 Come to the  Dark Side……….. the New Zealand Mint has released 2 unique four coin sets depicting Star Wars characters that will be legal tender on the South Pacific Island of Niue. The coins feature a full coloured image of your favourite character duos of Luke Skywalker / Princess Leia, Obi-Wan Kenobi / Yoda, R2-D2 / C-3PO, Han Solo / Chewbacca. The second set of four coins feature the Dark Side including Darth Vader, Emperor Palpatine, Death Star, and a Stormtrooper. On the reverse side, Queen Elizabeth II sovereign of the Commonwealth of Niue. Each coin is struck from 1oz of Pure Silver and no more than 7,500 of each coin will be issued.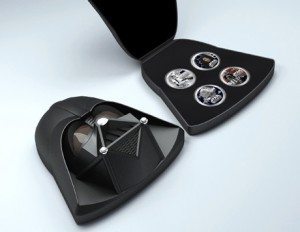 The coins will be packaged in unique sets of 4, the Empire in a Darth Vader head  with authentic movie sound effects of Darth Vader's breathing  and the Rebels in a Millennium Falcon case with "jump to light  speed" effects.
Sets available for preorder from the New Zealand Mint for around $390  US  ( Face value of each coin…….. $2 🙂 )
Also available for  preorder the first 10 of 40 single character Silver Plated Base Metal Coins ( again legal tender ) for $20US ( FV $1 ) .