We use affiliate links. If you buy something through the links on this page, we may earn a commission at no cost to you. Learn more.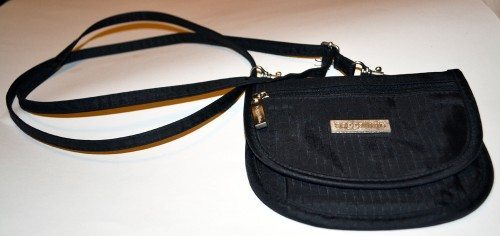 Julie's recent talk of wanting to design her own modular wallet system reminded me of a little bag I've owned for some time now.  When we got rid of our landline, I needed a way to keep my cell phone with me around the house.  Most of my clothes don't have pockets, so I needed a pouch I could wear.  Baggallini, a bag and luggage company, had just what I was looking for.  I ordered a Teenee Baggallini from Amazon, and I used it for my running-errands purse for quite some time – until I got restless and needed a new bag, you know.  Anyway, let's look at all this tiny bag can hold. 
All the photos in this review can be clicked for an enlarged view, including the top picture.
The Teenee is available in ripstop nylon or crinkle nylon.  Each fabric is available in several color choices; many of the color choices have contrasting interiors.  I purchased the ripstop in black, and unfortunately it doesn't have a contrasting interior.  The black makes it a bit hard to photograph, but it is small enough that your things don't get lost in the dark bottom while you're using it.
I measured the Teenee at 6.25" wide X 5" tall X 0.5" thick.  It comes with a strap that's just under 0.5" wide.  The strap is made of the same material as the bag, and it has silver-colored "dog leash" clips on each end and a silver metal adjustment slider.  The strap adjusts from about 30" long to about 56.5" long, including the clips.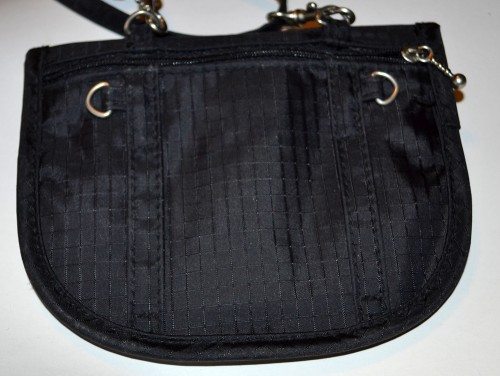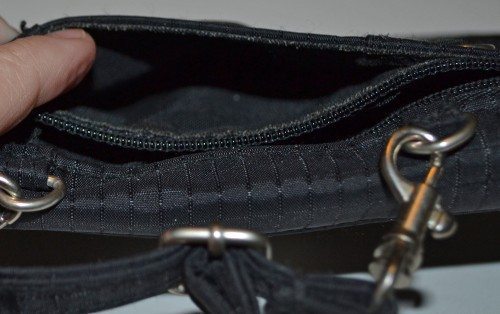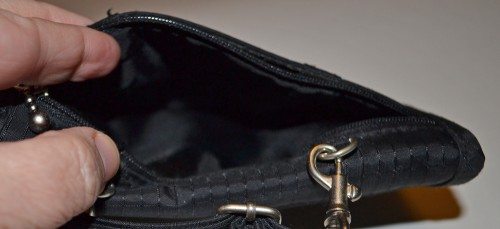 The back of the bag has a zipper pocket.  There are two sets of metal rings for attaching the strap.  The top two allow you to use the Teenee as a shoulder bag or as a cross-body bag, depending on how you've adjusted the strap.  Attach the strap to the lower two rings and you can wear it around your waist, although many may find the strap is too long to wear this way.  The lower rings are attached to two vertical strips of fabric that can be used as belt loops so you can wear the bag on your belt.  You can even take off the strap and carry it as a wallet.  And note that there's an open, vertical storage pocket between those two belt loops.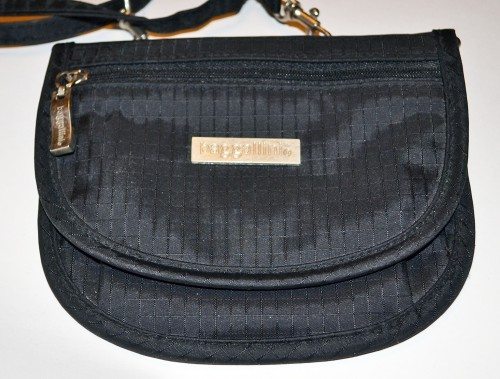 The front of the bag has a silver-colored metal logo badge and a nylon zipper with a silver metal pull.  You can see the ripstop fabric has a windowpane design woven in.  The bag closes with a hidden magnetic snap under the front flap.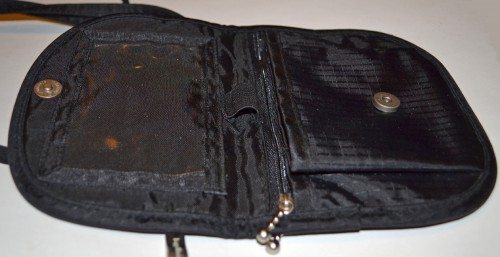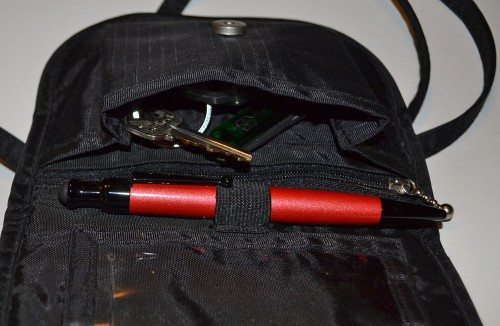 Open up the bag, and you'll see a clear ID pocket inside the flap.  Below this is an elastic loop that Baggallini says is for lip balm, but I found it held my Monteverde One Touch Stylus Pen perfectly.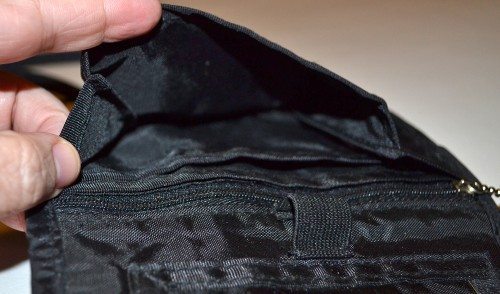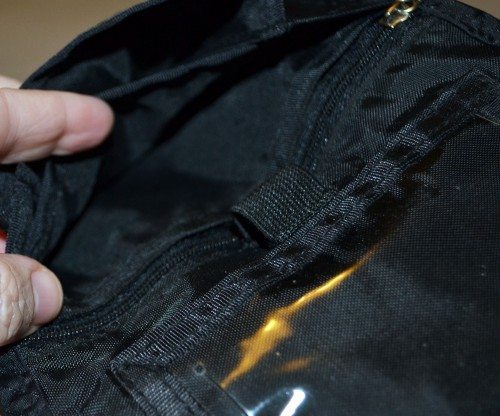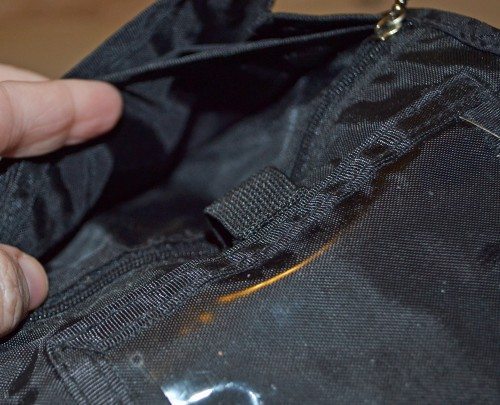 Below the pen loop is a series of flat pockets.  The top one, with part of the magnetic snap, has a gusset so it can expand to fit a bigger item.  There are two dividers behind the gusseted pocket to make two more flat storage areas.  Finally, there's a zipper at the back that opens up the full width of the interior of the bag.  The zipper opens up so that you can put things behind the pockets and/or up inside the front flap.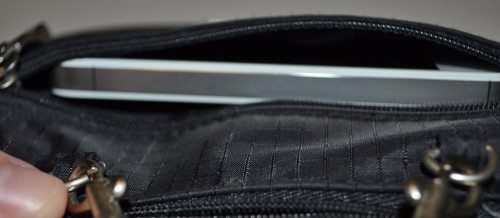 I always keep my iPhone 4 in a Bumper Case, and I found that I could fit my phone easily into the back zipper pocket, the interior flat pockets, and the interior zipper pocket.  If I take the Bumper Case off, I can also fit the iPhone 4 into the zipper pocket on the front flap.  The iPhone will also fit vertically into the vertical pocket on the back, but I wouldn't use it for my phone.  The iPhone fits very loosely in this open pocket, and it sticks up about 1.5" above the pocket opening.  I normally carry my phone in the back zipper pocket.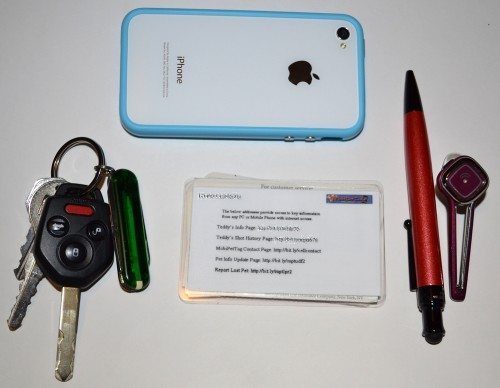 I can easily carry a stack of 10 or 12 cards in the interior zipper pocket.  I put my keys in the gusseted pocket, and I could carry folded bills and coins in the front flap zipper pocket.  I could also fit my Plantronics Bluetooth earbud in the front zipper pocket, but it would only fit in the Teenee without the charging case.  I still had room to fit in receipts or other small papers in the flat interior pockets.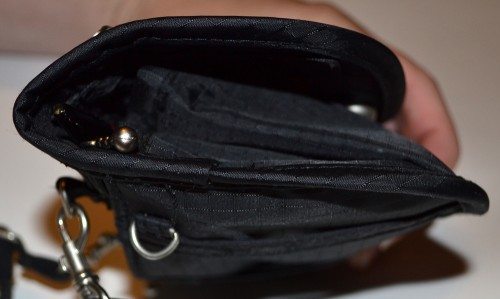 Even loaded up, the bag is light enough that you can throw it across your body and wear it all day.  You'll forget it's even there until your phone rings or you need your keys or cash.
All in all, the Teenee bag from Baggallini can pack in more than enough stuff to serve you well as a "going to lunch and running errands" bag.  It's small enough, and comes in dark, neutral colors so that some men may find it works well for them.  And it's small enough that you can toss it into your bigger bag when you need to carry a gear bag or a handbag.  Considering how much bags can cost, the Baggallini is a cheap way to combine a wallet, phone case, and key pouch into one tiny bag.
Product Information
Price:
$14 - $30, depending on style and source
Manufacturer:
Baggallini
Retailer:
Amazon
Pros:

Small but very organized
Can hold a lot of things
Lightweight
Can be worn in a variety of ways

Cons: