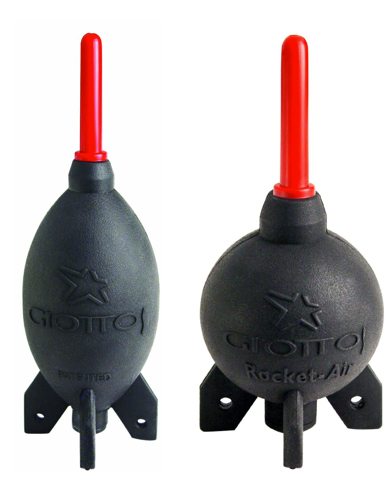 We recently noticed a lot of spots in pictures we were taking with our Nikon D80 camera.  A quick Google search suggested we needed to clean dust off the mirrors and the other internal components.  "Canned air" works well for cleaning dust out of nooks and crannies that all electronic devices have, but there are problems with it.  Have you ever held the nozzle a little too close to your device?  You'll see an area of frost left behind, if you do.   When the frost evaporates, there's often residue left behind.    We didn't want to risk damaging anything inside the camera, so we decided to look for something safer.  Giottos, a manufacturer of photographic equipment, had just what we needed.  Their Rocket Air Blasters are designed to clean delicate camera equipment with a puff of room temperature air, so you don't have to worry about damage from the extremely cold air.  The Rocket Air Blasters come in three sizes, small (shown on the right), medium, and large (shown on the left).  They are made from natural rubber, and they have a one-way valve to prevent the Rocket from pulling in dusty air and redepositing it.  We tried the large size, and it cleaned out the dust from our camera with only a couple of puffs.  We keep the large one at home and bought a small one to keep in our camera bag.  Amazon carries all three sizes of the Rocket Air Blasters for $9-10 each.
Support The Gadgeteer
:
We may earn a small affiliate commission from purchases made from buying through links on our site. As an Amazon Associate I earn from qualifying purchases. Learn more.