We use affiliate links. If you buy something through the links on this page, we may earn a commission at no cost to you. Learn more.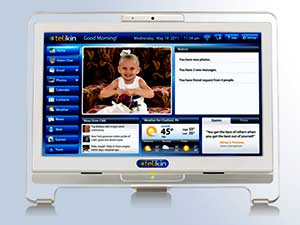 If you've been trying to find a simple to use computer for your parents or grandparents, the Telikin Touch could be the answer. It's a touch screen computer that comes in two sizes: 18 inch and 20 inch. A special easy to use and understand interface offers email, facebook, video chat, photo sharing, calendar, address book, news, weather, games and of course web browsing. Just take it out of the box, connect it to your existing broadband connection and you're ready to go. It also offers a special Tech Buddy feature that is basically a remote access application that allows a designated friend or family member to access the Telikin Touch from their personal computer. The tech buddy can connect to the Telikin and see what the family member is seeing and help them with problems and questions.
This sounds like a great upgrade from the MailStation and MSN/WebTV devices of several years ago, but the price of the Telikin is pretty steep in my opinion. The 18 inch version is $699.00 and the 20 inch goes for $999.00. I actually think that I would recommend an iPad or an Android tablet with a keyboard over this solution. What do you guys think?