We use affiliate links. If you buy something through the links on this page, we may earn a commission at no cost to you. Learn more.
A few years ago I suggested to my Dad that he purchase a WebTV box so that he could surf the Internet and send emails. Not being very computer literate, I thought this would be a good solution for him. It turns out that I was wrong. Mainly because the service was slow (dial up) and surfing wasn't all that comfortable on the eyes using a small 27″ TV set. Fast forward 5 yrs or so to 2006. Now Microsoft has a new version of this product: the MSN TV 2 Internet & Media Player. We'll see if this next generation unit is an improvement…
Hardware Specs
Model: RM 4100
Operating System: Windows CE
Processor: 733 MHz Intel Celeron
Memory: 128 MB RAM, 64 MB Flash memory
Dimensions: 11.75″ W x 9″ D x 2.375″ H
Weight: 4.45 lbs
Supported Image Formats: JPEG, GIF, BMP, PNG
Supported Media Players: Windows Media Player for TV
Web Browser: Internet Explorer 6.0 technology
Package Contents
MSN TV 2 Internet & Media Player
Wireless keyboard (batteries included)
Remote control (batteries included)
6′ audio/video cable
25′ phone cord
Telephone-line T-splitter
Registration card
Power supply
Setup and User Guides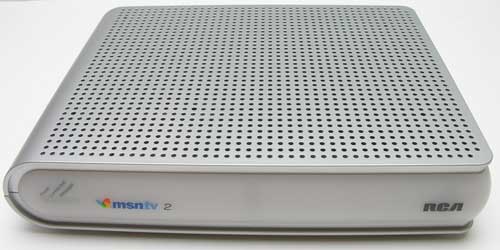 The device itself is not overly large. The footprint is about the size of a standard sheet of typing paper. The face of the box is white, with 3 LEDs on the left side that report the status for Power, Internet connection and E-mail. When the box is powered on, the leftmost LED will glow Green. When connected to the internet, the middle LED will glow Red. The rightmost LED will glow Blue when you have unread E-mails.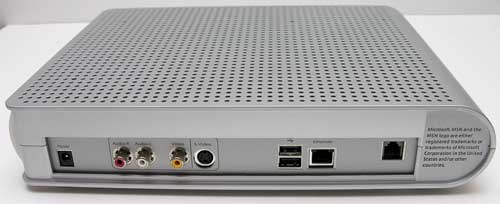 All of the necessary connections are made on the back of the unit. From left to right, you'll find the Power jack, Audio / video jacks, S-Video jack, 2 USB ports, Ethernet jack and Phone jack. Everything but the USB jacks should be obvious. As for the USB jacks, I was surprised that this device allows for USB card readers and Printers to be connected. More on that later.
Never miss one of our posts again. Sent MON, WED, and FRI with the latest gadget reviews and news!
Connecting the box to your TV is a simple process. Just find a open set of audio / video inputs on the back of your television, and connect the included RCA cables. If you happen to have an open S-Video input, you can improve the picture quality by connecting it and unplugging the Yellow RCA connector. An S-Video cable is NOT included with the MSN TV 2 unit, but they are readily available at your local electronics store.
If you don't happen to have any free inputs on your TV, you can also connect the unit to your VCR.
The next step requires you to decide how you want to connect the MSN TV 2 box to the internet. You have 3 ways to do this. You can connect the included phone cable to an open phone jack (a splitter is included) and use a local phone number to get access. This is easy to do, but will result in the slowest surfing experience. If you already have a computer with a broadband connection (DSL, Cable, Satellite), you can connect an Ethernet cable from your computer to the box and share your connection. This will also allow you to share music and pictures from your computer. The last method uses a WiFi connection. If you already have WiFi setup in your house, you can connect a WiFi USB adapter to one of the USB connections on the back of the MSN TV 2 box and connect wirelessly. I actually tried this method first as I had a USB Linksys WUSB54G vers 4. Unfortunately, this particular adapter was not compatible with the box. So I ended up connecting via Ethernet instead. The supported 802.11b and 802.11g WiFi adapters are:
Netgear WG111 (serial number must start with WG72 only)
Belkin F5D6050
Dlink DWL-G120 (revs B1 and B2)
Dlink DWL-G122 (revs A1 and A2)
Linksys WUSB11 (v2.6 – 3.0)
Linksys WUSB12
SMC 2662W
Once the unit is connected to your TV and phone (or Ethernet / WiFi), you can grab the included handheld remote and wireless IR keyboard, sit on your couch and commence with the registration process.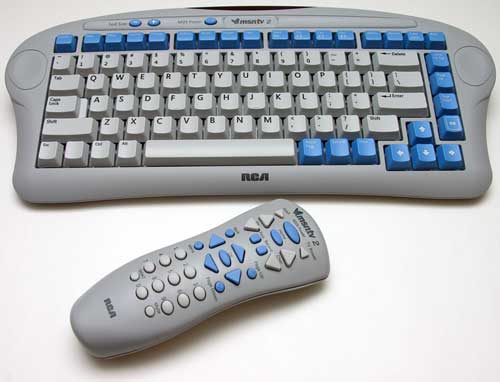 The included wireless keyboard and remote both allow you to interact with the MSN TV 2 box from across the room. The handheld remote is more for quick surfing of the built in news pages, music, favorites, email etc. While the keyboard allows for input of web addresses, and emails.
Registration requires you to choose a name for an email address. If you already have an MSN or Hotmail address, you can just use that. This process also requires you to choose which monthly service plan you would like to pay for. If you intend to use the dial up method (through the phone line), you'll pay $21.95 per month. If you want to use your existing cable or DSL broadband, you'll pay $9.95 per month. Discounts are available if you prepay for 1yr, or if you just want an hourly access plan.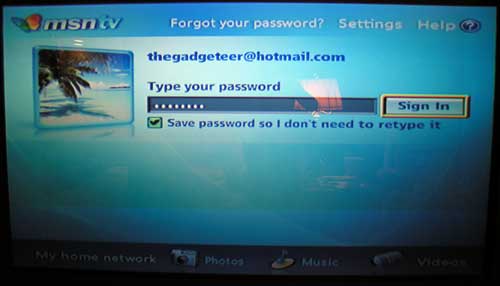 After you select your service plan and give them your credit card info, you'll be able to login and get to surfing.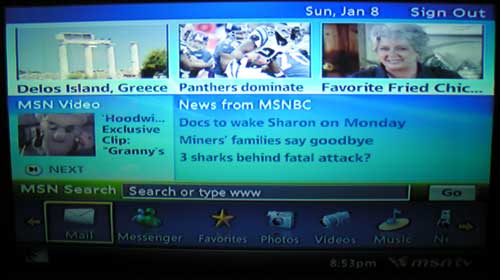 Once you login, you'll be presented with the home screen. This screen changes to reflect the latest news headlines, local weather info and video clips that you can watch. Along the bottom of the screen are icons for all the main functions. I'm going to briefly go over each one.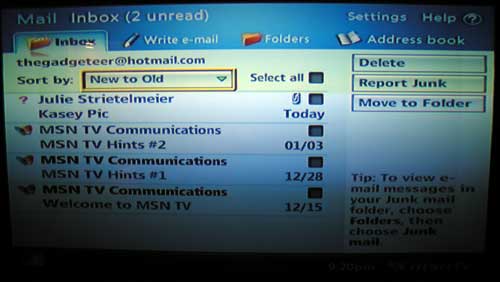 The MSN TV 2 unit has full email capability. It will interface with your MSN or Hotmail account, or any POP mail account. You can actually setup 5 different email accounts per user, and up to 11 users per unit. The primary user gets up to 2 GB of file storage, with each additional user getting up to 250 MB of storage per account.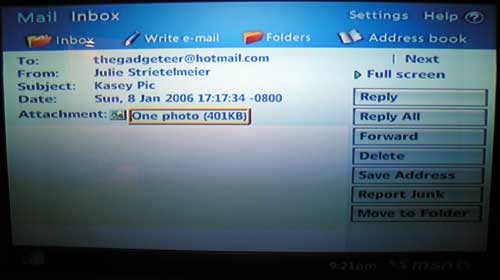 The mail application is pretty basic, but does allow for address book look up, filing of emails in folders, and spam filtering. You can even view attachments in the following formats: Microsoft Word, Adobe PDF, JPG, GIF, BMP and PNG. You can send image attachments too.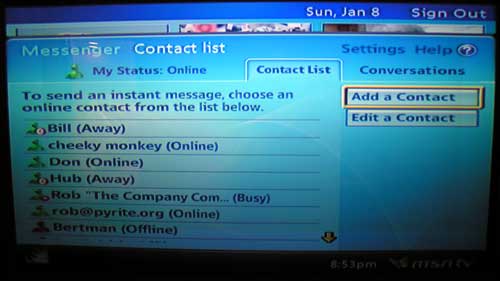 If you like to chat with your friends, the MSN TV 2 has an MSN instant messenger client built in. It's very similar to the client on your desktop. If you are already an MSN user, your buddy list will automatically load.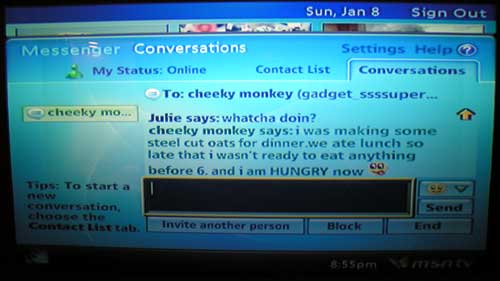 Emoticons are supported too. Above you can see what Judie fixed for dinner last night. ;o)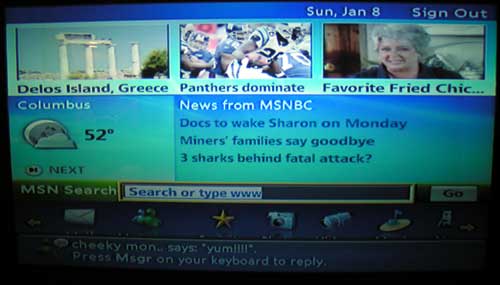 If you're not in the Messenger application and someone sends you an instant message, you'll see it appear at the bottom of the screen. Pressing the Msgr button on the keyboard will automatically switch to the chat app.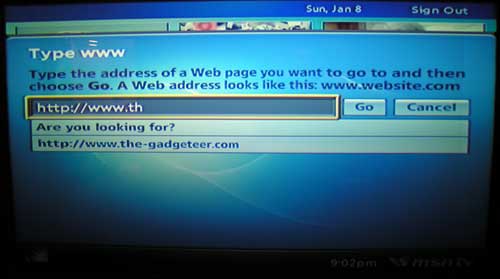 One of the main activities most people would want the MSN TV 2 for, would be for surfing the web. This unit utilizes Internet Explorer version 6 technology.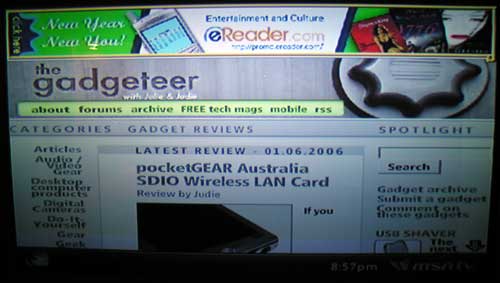 Above you see The Gadgeteer. I found it easy to read and navigate. Keep in mind though that I have a 65in TV. That said, text size can be adjusted.
You can surf to secure pages like banking sites etc. I wasn't able to login to my eBay account though. It gave me errors saying the address was bad.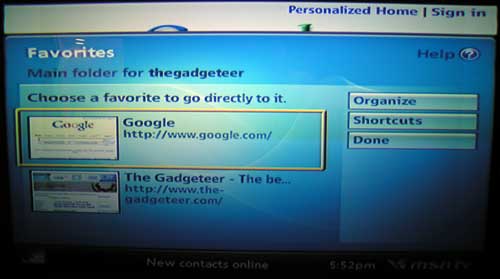 Favorites can be saved and organized into folders. Small thumbnails of the sites are shown when navigating through these favorites.
In addition to surfing the web and emailing, this device is also a media player. Media meaning photos, videos and music.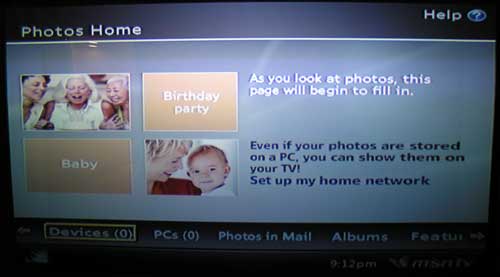 The photo application is easy to use, with a simple feature set. You can view images one at a time, organize in albums, and view images attached to emails. You can also view slideshows. If you plug a USB card reader into one of the USB ports on the back of the box, you can view pictures from the media cards.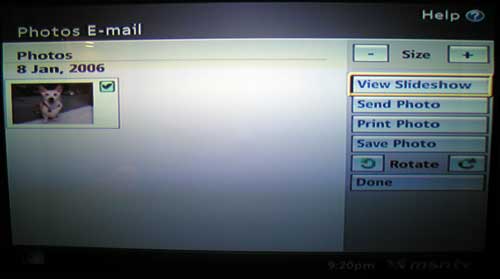 When you plug in a card reader, a popup window will appear on the screen asking if you want to view photos, music or videos.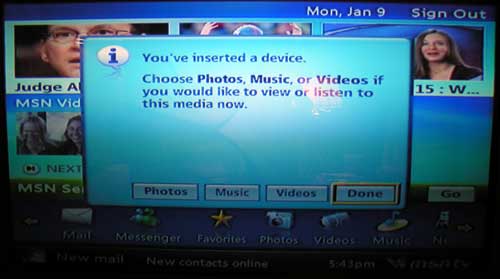 Choosing photos will then display all the pictures as thumbnails. From there you can start a slideshow, pick images to print (if you plug a USB printer into the other USB connector on the back of the device), pick images to email and delete images.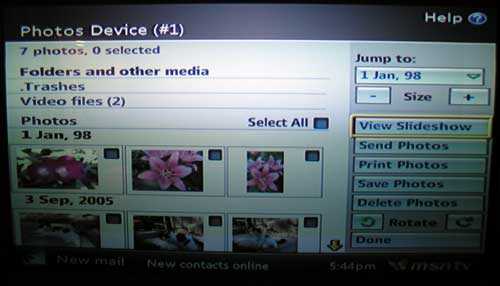 The MSN TV 2 unit can also play video files with the following formats: Windows Media Player for TV (Windows Media versions 7, 8 and 9), ASF, MPEG and Flash 6. If you have a broadband connection, you can watch a variety of streaming news videos, movie trailers, music videos, etc.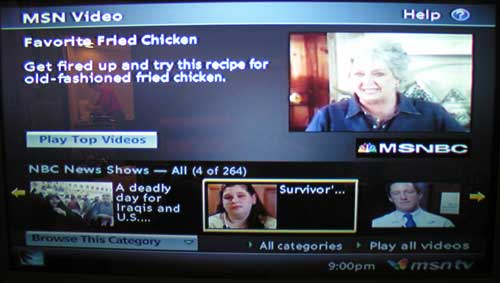 Playback of the streaming videos is not full screen, but in a smaller window.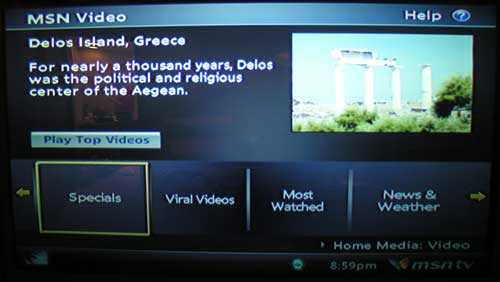 If you have videos on a memory card connected by USB, you can view those videos too as long as they are in the correct format.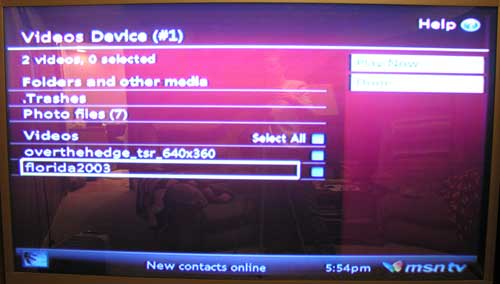 One of my favorite features of the MSN TV 2 is the MSN Radio feature. You can browse through and tune into different radio stations and play their streaming content. MSN TV 2 supports MSN Radio and other Web-based Internet radio stations (that are Windows Media-compatible) and that do not require a client download of software.
Sound quality through the TV is pretty good.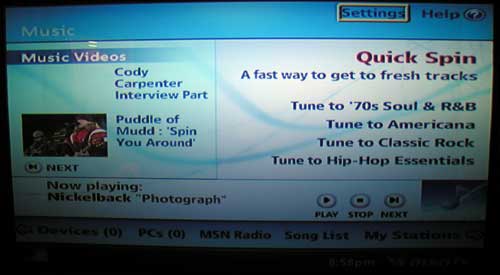 The best part about the streaming radio stations is the album art and artist information that is shown while a song is playing. You can also surf and do other things like emailing, or chatting while the music plays in the background. At anytime you can just press the Music button on the keyboard and the currently playing song info screen will pop up.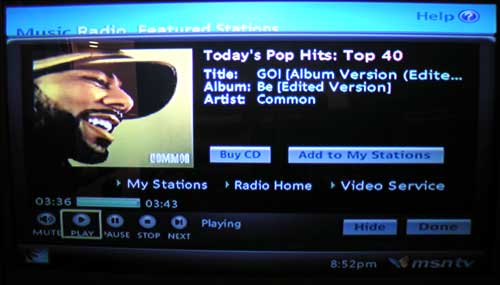 Just like with photos and videos, if you have music files on a memory card, you can play them through the MSN TV 2 box. The file formats supported include AIFF, AU, WAV, WMA and MP3.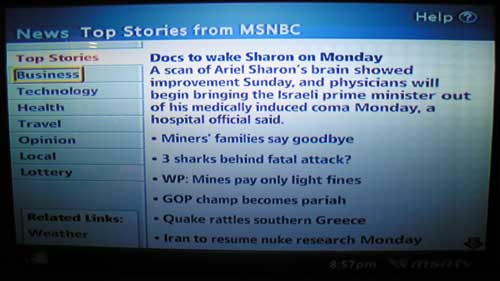 If you want to stay up on current events, you can press the News button the keyboard. Doing so will take you to the top news stories from MSNBC. The stories are categorized by Business, Technology, Health, Travel, Opinion, Local and Lottery.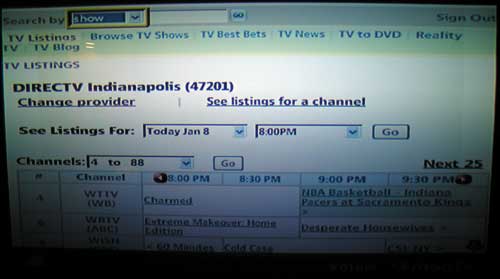 Couch potatoes like myself can take advantage of the TV listings application. Although the listings application will not allow you to record shows, you can use it to see what shows will be on TV for that day.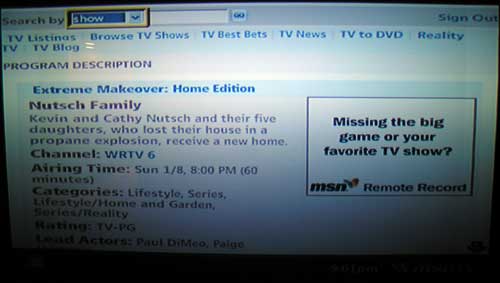 Brief descriptions for each show are included.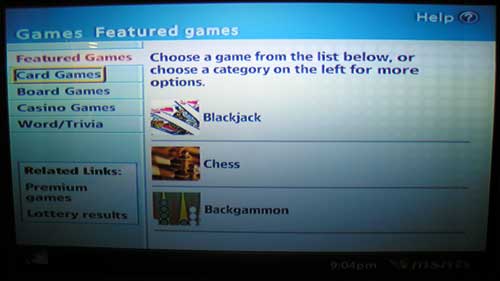 There is a Games icon that takes you to a portal for Card, Board, Casino and Word / Trivia games. The thing is that these are web sites that appear to be maintained by people other than Microsoft. They have banners on the pages and options to pay for preferred access.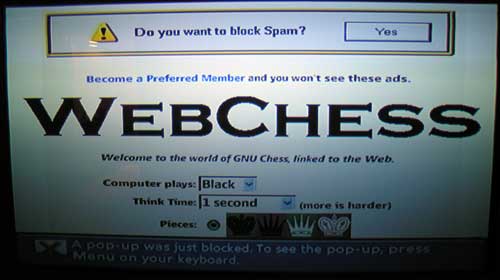 I would have rather seen actual games made just for MSN TV 2 users. Maybe even the ability to link with other MSN TV 2 owners for head to head play.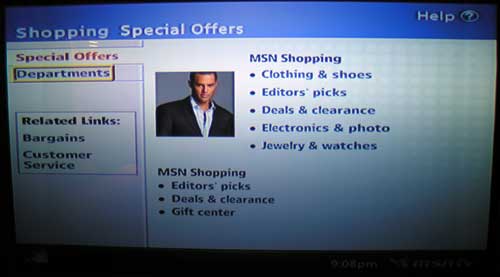 If you have some money burning a hole in your pocket, you can use the shopping portal to find items to purchase. The MSN TV 2 service supports Secure Socket Layer (SSL), the Internet encryption standard. This allows encryption-protected online banking and shopping to subscribers.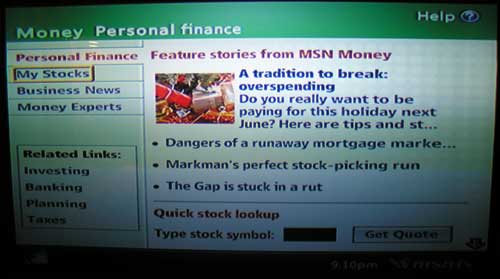 Then once you spent all of your cash, you can read articles in the Money portal about how you should save your money.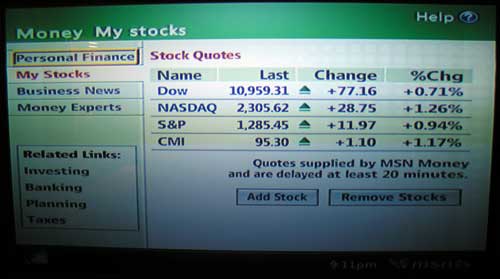 You can add your favorite companies to the stock quotes listing. Cummins stock is up 1.10. Yay!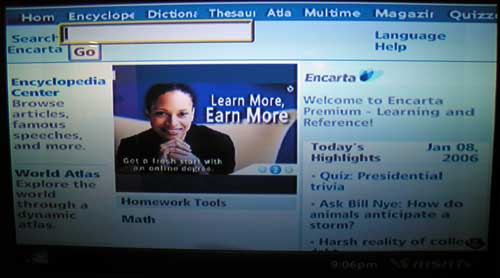 Parents will like the fact that their kids can browse the Encarta Encyclopedia portal.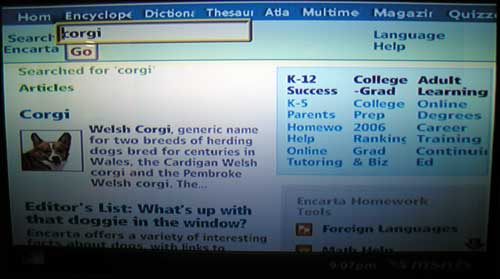 Searching on a subject (here I used "corgi") will bring up articles on that topic.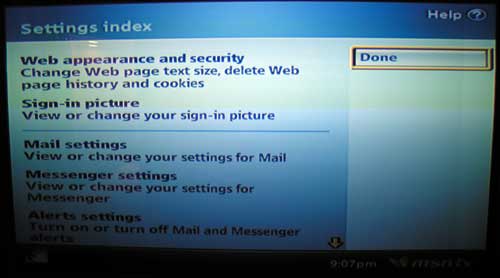 Last but not least is the settings application. This is where you can customize the applications. The MSN TV 2 Internet & Media Player also has special settings that allow parents to filter inappropriate content and help protect kids from accessing mature Web site content.
Using the MSN TV 2 service was more fun and useful than I thought it might be. Using broadband makes all the difference. I would not want to use this service with dial up. Streaming video through dial up would be really painful. Surfing might be ok. But just barely.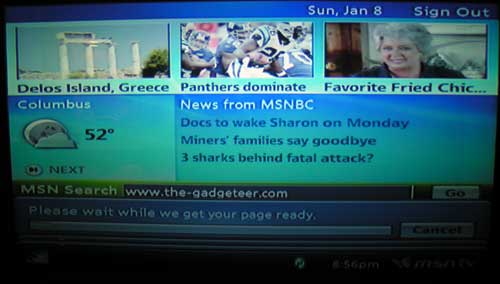 Even with my satellite broadband connection, everytime I would back up to the Home screen or bring up a new webpage, I would be presented with the wait bar at the bottom of the screen.
The MSN TV 2 set top box is an easy way to bring the web into your living room. With rebates, it's also pretty inexpensive. The only annoying part is the monthly subscription fee. That said, I would feel safe recommending this to someone that is afraid of, or has never used a real computer before. It's easy to setup, easy to navigate and you don't have to worry about viruses and other annoyances that desktop PC users do. Also, a first time user would not know that a dial up account is slow as they would have nothing to compare it to. MSN TV 2 would give users like these an easy way to get onto the web with as little frustration as possible.
Product Information
Price:
199.95
Manufacturer:
Microsoft
Requirements:

TV & Stereo Requirements:
TV (or VCR connected to a TV) with available audio/video input jacks or available antenna jack (if your TV only has an antenna jack, an RF modulator is required). S-video connection optional.
Stereo or AV player with available RCA audio input jacks.
Wired Broadband Network Requirements:
Ethernet network hub/router/gateway
Ethernet cable with RJ45 connectors
Wireless Broadband Network Requirements:
Compatible Wi-Fi/wireless Ethernet bridge (802.11b and 802.11g) for connecting to an existing wireless network

Pros:

Easy to setup
Full email application and web browser
Interfaces with USB card readers and printers
Up to 11 users per box
Up to 5 email accounts per user

Cons:

Monthly subscription fee
Sluggish
May be hard to read on small TVs