We use affiliate links. If you buy something through the links on this page, we may earn a commission at no cost to you. Learn more.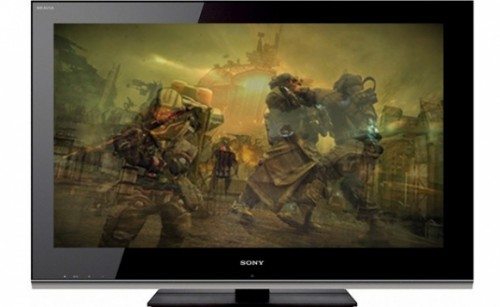 The jury is still out on the verdict regarding the usage of 3D TV's at home. In the meantime, Sony has showed additional usage for the capability of showing a different image to each eye — Dual-View. Dual-View enables two players to watch one screen, but to view two different images (instead of the split screen implementation in some games). The 24" display Sony presented at E3 can provide dual view in 3D to two players. It achieves this by supporting a 240Hz refresh rate, when each of the 4 separated pictures are being presented in 60Hz.  Providing a dual view might be a good reason to wear the special glasses.
The dual view idea is not new. Philips had presented a 3D TV with Dual-View capability in March. While this technology can enable two people to watch two different shows on the same TV, the sound track cannot be separated and therefore gaming is a good application. An even better application, and this time without the special glasses, is to enable the in-dash screen in a car to show different view to the driver and to the passenger. Several car manufacturers have presented the usage of a dual view capability in cara, including Mercedes SplitView technology (see picture below), which enable the driver to see the navigation instructions while the passenger can watch a movie. It will be interesting to see what additional use models the capabilities of the new displays will bring us.