We use affiliate links. If you buy something through the links on this page, we may earn a commission at no cost to you. Learn more.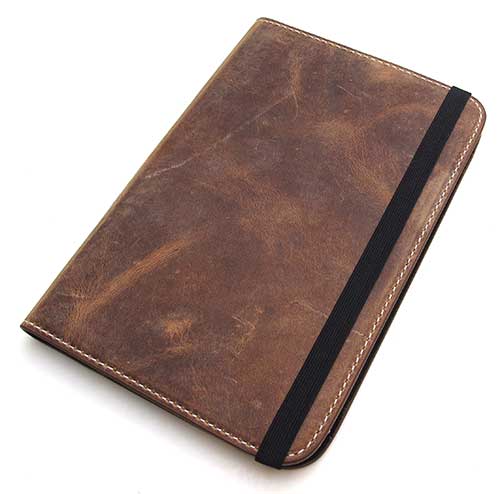 Are you looking for a stylish cover to protect your 3rd generation Kindle eReader? OCTOVO recently sent me their Vintage Leather Book Cover and it's a keeper.
Note: The images in this review can be clicked for a larger view.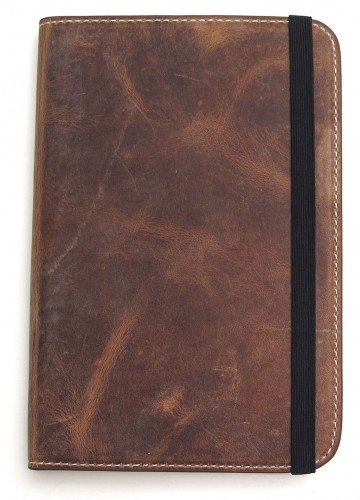 This cover is made from 100% natural vegetable tanned leather that has been distressed to look like it has been worn and used for years. It has scratches and scuffs, but is still smooth to the touch, with neat even stitches are sewn around the edges to give it some contrast.
As you can see in the image above, there's an elastic band to hold the cover closed. The cover does stay flat on its own though, which is a big plus.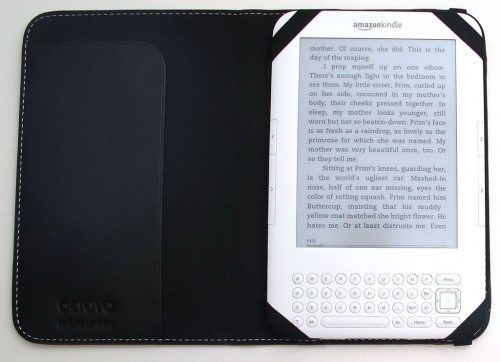 The cover opens easily and again, it lays flat on its own. There's a Black leather flap pocket on the left cover where you can tuck important papers. The interior is lined with soft microfiber.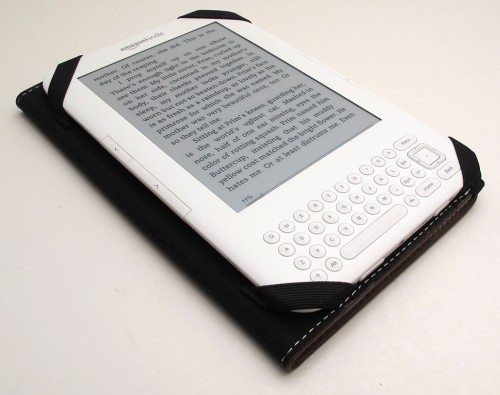 The Kindle is held in place with 4 elastic straps. I'd rather the cover use the special slots on the left side of the Kindle, but I suppose that would increase the price.

The elastic straps do not block any of the Kindle's switches or ports.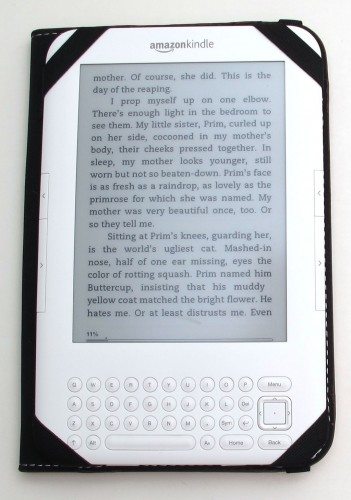 The cover folds easily underneath the Kindle, allowing you to comfortably hold it in one hand.

Since the Kindle is already very thin, this cover doesn't add much bulk. That said, the cover is rigid and thick, allowing it to provide a good deal of protection. The edges extend slightly farther than the body of the Kindle, so all sides are protected in case of a drop.
I really like the OCTOVO Kindle 3rd gen Vintage Leather Book Cover. It's made well, protects well, looks great and is easy to use. My only complaint is that it's pretty pricey given the fact that you can buy a Kindle 3 for $114, which is only $39 more than this cover. I still really like the look and feel of it though, so if you don't mind the price, this is a very nice cover and will definitely outlast your Kindle.
Product Information
Price:
$74.99
Manufacturer:
OCTOVO
Pros:

Cover stays closed on its own
Can easily fold cover underneath reader
Comfortable to hold

Cons:

Expensive
Uses elastic bands instead of dedicated holder slots