We use affiliate links. If you buy something through the links on this page, we may earn a commission at no cost to you. Learn more.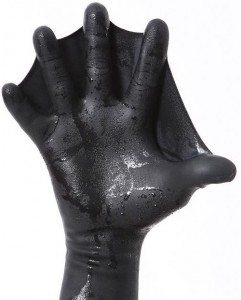 With summer just about here,  you're probably going to be spending at least a little bit of time in the water whether at the beach, lake, or backyard pool.  The Darkfin gloves might be just what you need to cut through the water like, well, a shark.
The gloves are made of latex and with their webbed design, give your hands up to 70% additional surface area.  This design helps to more easily tread water and improves swim speed.   The webbing is actually in the rear of the glove, which provides maximum flexibility for holding objects normally with your fingers.  The palms also have a non-skid coating for enhanced gripping.
The gloves are designed to be light weight and do not soak up any additional water.  They are touted as being ideal for surfers, snorkelers, swimmers, and even sky divers (the webbing would help with more complicated air maneuvers).  Darkfin gloves are available in 12 sizes (child through adult) for $25.