We use affiliate links. If you buy something through the links on this page, we may earn a commission at no cost to you. Learn more.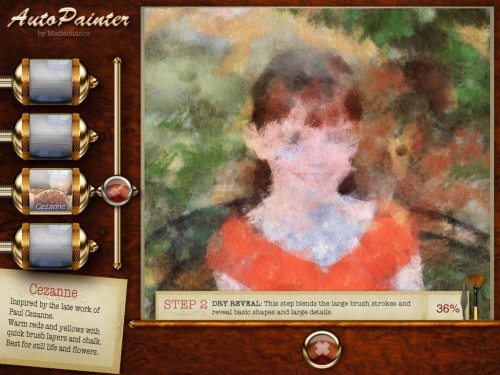 I often write news items about iPad apps I think might interest you, and usually I find just a screen capture and a couple of sentences are enough.  The AutoPainter app for iPad is so much fun that I thought it deserved a little more.  The iOS versions (also available for iPhone) have been ported from the Mediachance desktop application called Desktop Auto Painter.  You'll need to see some photos to see what this app can do.  In a nutshell, AutoPainter takes a photo and turns it into a "painting" in the style of a famous painter.  (The above photo shows a photo in mid-transformation.)  Click through to learn more and see some of my paintings.
All of the pictures in this article can be clicked for a full-sized view.  The pictures have not been edited.
The description for AutoPainter says it differs from other "paint" applications because it doesn't just shift a few pixels around; it uses your picture as a reference and creates a new photo using different brushes in the style of real-world artists.
There are four styles available, each best suited for a particular style of photo.  Aquarell is good for flowers, landscapes, buildings, or even people.  Benson enhances works best on sunny landscapes and outdoor photos.  Cezanne works well for flowers and still life compositions.  Van Gogh is inspired by his Starry Night painting and works well for "night life photography and landscapes, especially if water reflection is involved."   After the transformation is complete, you can save the image to your iPad.
Mediachance says AutoPainter even works well with lower-resolution pictures, big pictures, small pictures, even pictures from your iPad camera or from your most expensive DSLR.  You can even use this to help refine your photo composition skills.  Use the app to reduce your pictures to the most basic elements so you evaluate your photo without being distracted by tiny details.
I am utterly fascinated by the application.  I love watching the painting emerge as the app works through the three-step process.  I have tried every style on most every picture I have on my iPad.  The next update for the app promises dramatic improvement in portrait paintings.  I'm excited to try the update, because I think Rachel's portrait lacks details in her face – despite having selected her face as the region the app should use more details when rendering.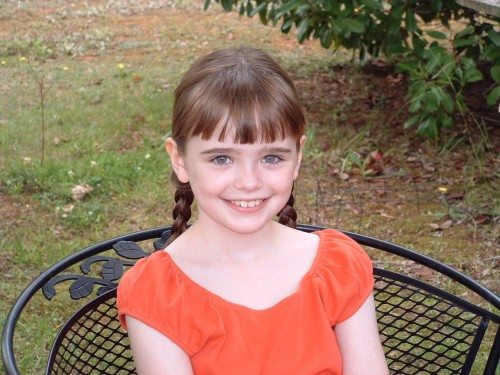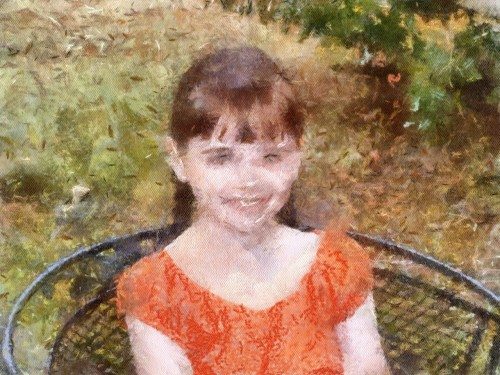 Here are some examples of my "work."  First, a picture of Rachel as seen by my camera and as transformed by the Benson style.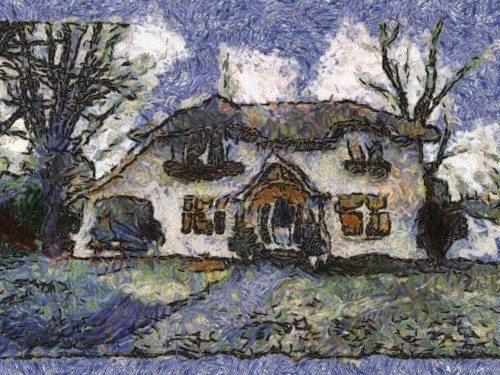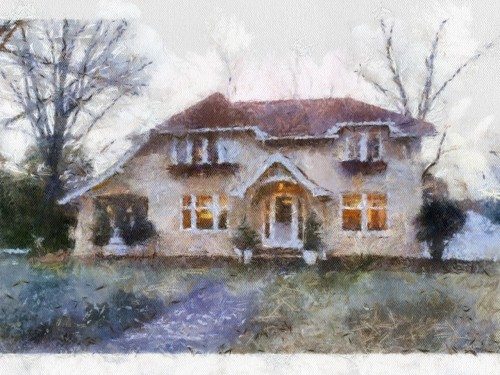 Here is my "lottery house" – you know, the house I'll knock on the door, hand the owner a check and tell him he has 24 hours to vacate my new property if I ever win a big lottery.  I didn't include the before photo, because I didn't take it – I downloaded it from the internet.  The top photo is in the Van Gogh style, and the bottom is in Benson.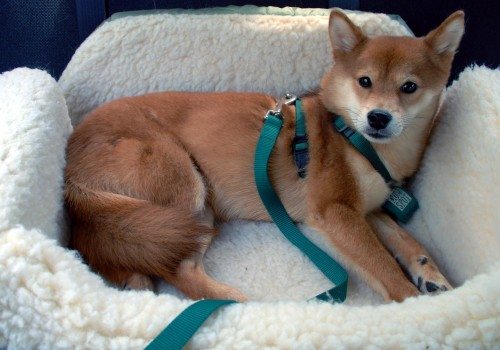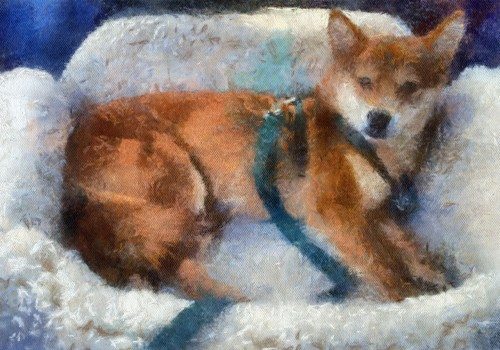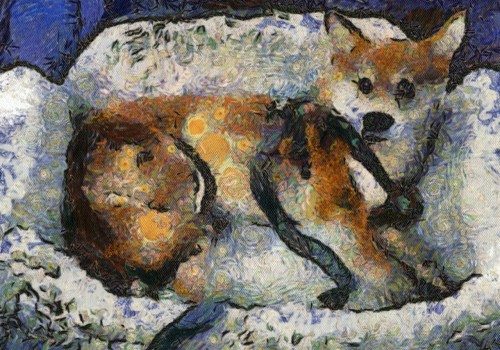 Finally, some pictures of Teddy (who is doing amazingly well after surgery!).   You'll see the actual photo, the Benson style, and the Van Gogh style.  (Yes, Benson and Van Gogh are my favorites…)
I must say, the AutoPainter app is the most fun I've had for $2.00!