We use affiliate links. If you buy something through the links on this page, we may earn a commission at no cost to you. Learn more.
I've tried Bluetooth headsets before. Some I've liked, and some I've lost. Often, the same one met both fates. I quit buying them because they are usually fairly expensive to replace. Enter the EcoSound Bluetooth Headset from WirelessGround which is selling this headset for less than $10. This is insane for a Bluetooth headset! Must be a piece of garbage and look like a lump of coal, right? Not so, my friends, not so.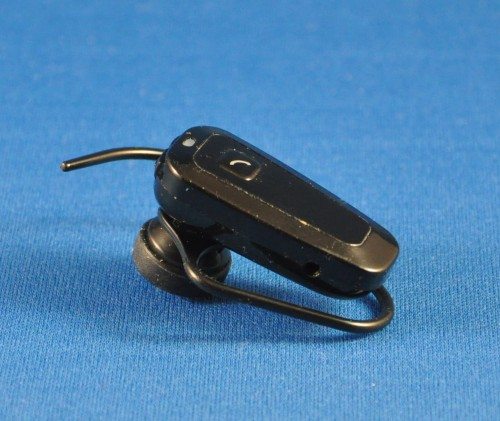 The design of the headset is actually quite pleasing. It's a slightly tapered, nearly cylindrical piece with the earpiece knob sticking out at a right angle from the larger end. Opposite the knob, there is an on/off switch, and there are two volume control buttons on the large end. A reversible plastic clip can be used to loop over the ear for stability and security. The earcups are a black silicon. Inside the sound channel, there is a gold-colored mesh to keep dirt and – um – ear goo out.
Charging the device is done through a short cord attached to a wall wart. This may be the only irritating feature of this little gadget. If yours is like most homes or offices, your power ports are near the floor, well below table or desk height. So, why would anyone ship a power plug with a charger cord that is 16.5″ inches long!? This means the earpiece is going to have to lay on the floor, gathering dust, and perhaps being stepped on, or you've got to find an extension or surge strip that you can bring up to your desk for it. Most gadget folks may have this setup, but it's far too short for most uses. (To measure non-geek power setups, I only have to check my wife and daughters' desks. All power is on the floor level.) Were it a USB cable, it would be perfect for charging from a laptop, but it's AC.
OK, that's irritating, but not a deal-breaker, by a long shot. Pairing the unit is simple – hold down until the blue LED flashes, make phone discoverable, click to connect, enter "0000" when asked, and you're done. Same as the last few earpieces I've used. The sound, while not superb, is far better than some much more expensive earpieces I have used. If you keep your phone in your shirt pocket or somewhere as close, you'll probably not have any complaints from callers. If you put it in your knee pocket and use it while cycling, you're not going to have as good an experience. You don't actually lose the signal, but at that distance, the pedaling motion tends to cause issues with the Bluetooth connection. (I have seen this with other Bluetooth accessories, and have started to use it as a test.) Carrying it in a back pocket can also cause connection issues, due to interference with your body.
Be that as it may, this is quite a nice little unit for the bargain price. Even if you leave it in your car or on your desk and only use it once or twice a year, at $10, it's well worth the handsfree convenience when you need it.
Product Information
Price:
$9.95
Retailer:
WirelessGround
Requirements:

Phone with BlueTooth capability

Pros:

Inexpensive
Easy pairing
Did we mention cheap?

Cons:

Not the best unit out there for clarity
Short AC charging cable
Short range.