We use affiliate links. If you buy something through the links on this page, we may earn a commission at no cost to you. Learn more.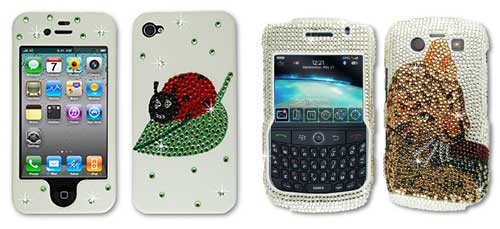 When it comes to your favorite gadgets, do you like to stand out or blend in? Do you spend more money on a fancy case for your phone than what the phone itself is worth? If you answered yes to these questions, you're going to go Lady Gaga over these Swarovski crystallized cases from Let's Crystal It. This company has provided handmade crystal studded cases for the iPhones, iPads and Blackberries of celebrities such as Rihanna, Nicole Britt, American Idol, Hungry Girl, and the stars of Glee. Now you can have one too. Prices range dramatically from $24 cases with just a smattering of sparkles, up to full on glittercide cases that will set you back over $470. Full press release after the jump.
Let's Crystal It Utilizes Genuine Swarovski Crystals for All Major Phone Devices and Dozens of Other Consumer Products
Custom Designs Used by Multiple Celebrities and Corporate Clients Including
Rihanna, Nicole Britt, American Idol, Hungry Girl, Glee, Samsung, and Sennheiser
Greenacres, FL – With 10 years of experience in the crystal accessory and customization industry, Florida-based Let's Crystal It provides handmade cell phones accessories crystallized with Swarovski elements to consumers and celebrities around the world.
The idea for the company began when the wife of founder Jayme Mortman began affixing crystals to flip-flop style sandals as a hobby. As the custom sandals became popular, the hobby turned into a business that generated substantial interest from customers. The company Let's Crystal It was born, and enjoyed years of organic growth through word of mouth and eye catching work for corporate clients. Mr. Mortman, President and Founder of Let's Crystal It said "Both my wife and I had backgrounds in the law industry, and neither of us envisioned running a successful business working in the cell phone industry. We showed initiative as the first to see market demand for crystal decorations and to go forward with fulfilling that demand by choosing only top-quality materials."
Let's Crystal It offers truly custom designs for hundreds of cell phones, devices, and other consumer products including office supplies, hair accessories, and books. It has produced hundreds of faceplate designs for owners of the most popular devices including iPhones, iPads, and BlackBerry. "Every product shown on our site is custom built," said Mr. Mortman.  We have nothing in stock except our supply of crystals, which allows us to duplicate a pattern based on a customer's photograph or description."
The company will work with customers to affix crystals to nearly any product imaginable. All of the production is done on site, allowing complete visibility of the process to ensure quality control. Let's Crystal It's skilled craftspeople have prior jewelry and art industry experience which allows them to produce stunning custom crystal artwork for customers.
All of Let's Crystal It's products utilize genuine Swarovski Elements crystals, sourced directly from Swarovski, the leading manufacturer of precision cut crystals and other luxury products. Special clear adhesives are used to ensure the crystals to withstand the rigors of daily repeated use. "What sets us apart from competitors is the quality of our materials and level of craftsmanship," said Jayme Mortman, "Using the best quality crystals in the world means our customers receive products that have unparalleled shine and durability. We offer an unmatched six-month workmanship guarantee for all of our products, and will replace broken crystals free of cost."
Let's Crystal It produces custom designs for a many celebrities in the music and entertainment industries including Rihanna, Vince Neil, Donna Summer, and Jennifer Love Hewitt. Corporate clients include luxury goods maker Coach, microphone company Sennheiser, and the American Idol television series.
More information, including photos of various custom products can be found at www.letscrystalit.com.
About Let's Crystal It:
A family business founded in 2000, Let's Crystal It specializes in custom-made cell phones and accessories covered in Swarovski crystals. The company produces unique designs for both consumers and business clients including the American Idol television series and multiple high-profile celebrities.