We use affiliate links. If you buy something through the links on this page, we may earn a commission at no cost to you. Learn more.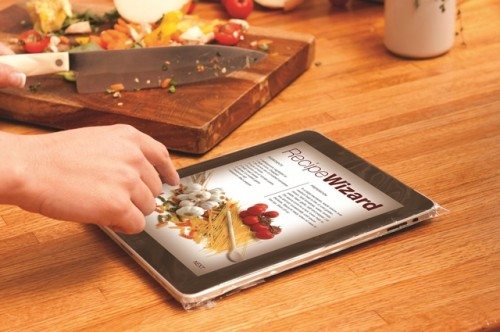 Even minimalists who prefer not to use a case with their favorite tablet and eReader devices needs extra protection at some point or another. Ever take your Kindle to the beach? Use your iPad to display recipes in the kitchen? You can see how those environments might not be the most friendly for your expensive gadget. www.CleverWraps.com are clear disposable sleeves with a zip closure that are available for the iPad, iPad2, Galaxy, Kindle 2, Kindle 3, nook, nook color and Sony Daily Edition. Slide your device into the sleeve, zip it up and it's now protected from sand, rain, dirt, grease, etc. Each package contains three sleeves and is priced at $14.99. My only question is… why not use a ziploc baggie instead? Full press release after the jump.
CleverWraps® Announces New Protective Sleeves for iPad 2, Tablet and eReader Models 
 
Clear, disposable sleeves protect electronic readers and tablet devices from life's mishaps
(SAN DIEGO– March 15, 2011) – CleverWraps® (www.CleverWraps.com), creators of disposable protection for electronic devices and makers of RingerWraps®, announces their new line of CleverWraps for eReaders and tablets—the first-ever disposable, protective sleeves for electronic reading devices and tablet devices.  Like the company's original line of mobile phone sleeves, the new series protects against incidental contact with water, sand, grease, dirt and other harmful materials. The size variants are designed to fit popular tablet and eReader models such as the iPad, iPad2, Galaxy, Kindle 2, Kindle 3, nook, nook color and Sony Daily Edition—with sizes to fit other devices coming soon.
 
CleverWraps are made of crystal clear, high-grade poly and feature a double channel zip closure and re-sealable tape for double protection and a custom fit. The translucent, lightweight but sturdy and protective material gives a precise fit and allows for full device functionality, including use of the power switch, keyboard, touch screen and speaker. 
 
CleverWraps protect devices from moisture in even the most extreme environments, can withstand quick submersion in water, are 100 percent recyclable, and made in the USA.
 
"Tablets and electronic reading devices have flooded the market over the past year, but CleverWraps is the only affordable, easy-to-use protective solution that does not interfere with device functionality, look, or feel," says Karen McElaney, Co-Founder of CleverWraps. "They're perfect for reading at the beach or by the pool, and they save electronics from those 'uh-oh' moments." 
 
Each package contains three sleeves and is priced at $14.99. CleverWraps for eReaders and tablets are now available for purchase on Amazon and www.CleverWraps.com. Versions for more eReader and tablet models will be unveiled soon.
 
About CleverWraps®
Affordable, custom fit, disposable protection for personal electronic devices like mobile phones, electronic readers, and tablet pc's; all susceptible to damage when subjected to water, sand, snow , rain, perspiration, grease and other damaging elements. All devices are completely functional while protected by CleverWraps. For more information or to purchase, visit www.CleverWraps.com or amazon.com.