We use affiliate links. If you buy something through the links on this page, we may earn a commission at no cost to you. Learn more.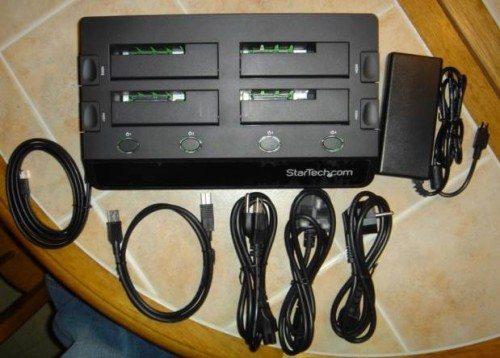 Have you ever needed a convenient way to clone several hard drives at once? Last weekend one of my computer hard drive started having a lot of problems, I contemplated buying a new computer, but I am in the process of building a sweet gaming computer and as we all know it takes time and money, money, money. So I opted to just get a new hard drive to get back into my World of Warcraft fix. I was offered the new StarTech.com 4U3E SATA Hard Drive Docking Station and I was literally impressed with the ease of setup and use of this sweet device.
What's included:
• 1 x 4-Bay SATA Docking Station (SATDOCK4U3E)
• 1 x USB 3.0 Cable
• 1 x eSATA Cable
• 1 x Universal Power Adapter
• 3 x Power Cord (NA/UK/EU)
• 1 x Instruction Manual
System Requirements:
• Available USB and/or eSATA port
• Microsoft Windows 2000/XP/Server 2003/Vista/Server 2008 R2/7 (32/64-bit) or Linux
Installation was a breeze, just connect the included external power adapter from the hard drive docking station to a AC power outlet, insert 2.5" or 3.5" hard drives into the top loading slots, connect the hard drive docking station to your computer with either the included USB cable or eSATA cable, the computer I used did not have a eSATA connection, press the power button on top of the hard drive docking station and your computer will install the necessary drivers to operate. No special drivers are necessary. Once all connected the hard drive docking station will be detected and show up as separate drives depending on how many drives you have in the device. The hard drive docking station features SuperSpeed USB 3.0 connectivity, which is also compatible with USB 2.0, which offers data transfer rates up to 5GBps (10x faster than USB 2.0) or eSATA with Port Multiplier connectivity up to 3GBps. Unfortunately I only have USB 2.0, need to figure out what I need to do to upgrade to USB 3.0, then I will test the speed on the hard drive docking station and let everyone know what the difference is.
The hard drive docking station is a well designed device, I like the fact that it has hinged slots on top that allow the use of 2.5" or 3.5" drives without having to use removable plates like most devices out there. If you are like me I will always end up losing the plates. The construction of the docking station fits nicely with other equipment, it is made of a durable plastic, it looks like Poly Propylene to me but I am not a plastic expert. It has all the connections you need on the back side of the device including Speed control for Fan 1, eSATA connector, USB 3.0 connector, DC power connector and the speed control for Fan 1. As you can see the device has some vents on the back side where the fans are located inside the docking station to cool off the docking station, but I never noticed any heat coming from the docking station at all. The only heat I encountered was the heat from the drives themselves. The top of the docking station has 4 bays to connect up to 4 drives, drive eject buttons and independent Power Button, Power/Activity LEDS for each drive bay.
Rear View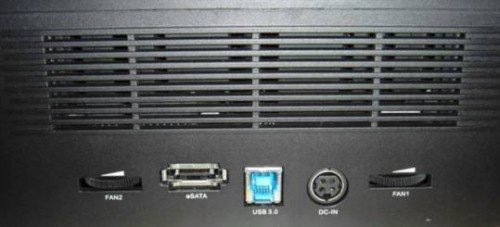 Top View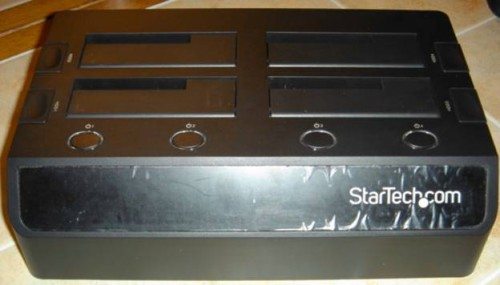 LED View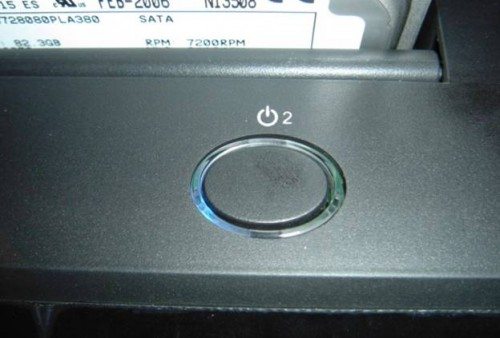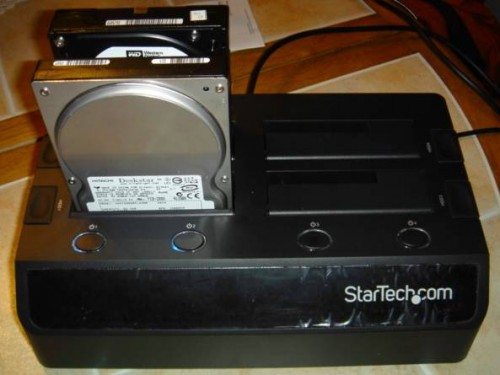 Now onto the testing, the computer I used for testing was a ACER ASPIRE 6920 (INTEL Core 2 DUO T5550 1.83 GHz, 320 GB HDD and 3 GB DDR2 ram), Hitachi Deskstar 82.3 GB HDS728080DLA380 HD, Western Digital WD1600JS Caviar SE 160 GB WD1600JS-22NCB1 HD and EASEUS Todo Backup Home 2.0 software.
All files used in my test were .mp4 movie files.
Acer computer to Hitachi Drive
253MB copied in 19s
699MB copied in 34s
Acer computer to Western Digital Drive
253MB copied in 15s
699MB copied in 35s
Acer computer to Hitachi Drive using multiple files
Acer computer to Western Digital Drive using multiple files
Hitachi to Western Digital using multiple files
Western Digital to Hitach using multiple files
Hitachi Drive to Acer Computer
Western Digital Drive to Acer Computer
The hard drive docking station works great and allows you to duplicate hard drives in no time, I was able to clone a 100GB drive in about 3 hours and had all my programs, operating system and important files on the new drive and back into my computer ready for me to start playing games again.  The only thing I noticed with this device was that the fans were a little loud, I could hear them running while I was conducting my tests and I even had my television going in the background.  I left the fans on the whole time but I am not sure if they have to be on, maybe if you have 4 drives in the device then they would come in handy.  Other than the fans being noisy I think the docking station does a pretty good job of transferring files and will keep even the most computer tech savvy happy.
Product Information
Price:
$189.99
Manufacturer:
StarTech
Pros:

Easy to setup and use
Accommodates up to 4 drives

Cons: