We use affiliate links. If you buy something through the links on this page, we may earn a commission at no cost to you. Learn more.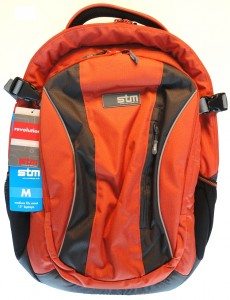 We Gadgeteers have a, shall we say…fondness.. for our gadgets, am I right?  Rhetorical question 'round these parts.  Some cling to a mere handy handful of essential EDC, others find a BSA-like array necessary for preparedness.  Some commute via public transportation through vast, sprawling urban metropoli for a day at the grind, others trek stoically across campus to hole up in the lab or library for a night of bleary-eyed study.  And, though everyone's ideal solution may vary, one thing we all have in common is a need to protect and organize our gadgets while transporting them.  I've been a laptop messenger bag dude for a while, but I'd been considering a laptop backpack.  Along came a chance to try out the Revolution Medium Laptop Backpack from STM, and here it is.
NOTE: All images in this review are clickably enlargeable for your viewing pleasure.

Backround
As mentioned above, I've been a laptop shoulder bag user for many years now.  More specifically, I've been using a Timbuk2 Commute messenger bag for about 3 years now, and I've loved it.  So in the interest of full disclosure, that's where I'm coming from.  However, I'd been thinking about trying out a laptop backpack.  So, let's get to it!
Specifications
Australia-based STM's Revolution line of laptop backpacks consists of two sizes, small (fits up to 13″ laptops) and medium (fits up to 15″ laptops), which is reviewed here.  Per STM, here are the specs on the Revolution Medium Laptop Backpack, which from this point forward I'm going to shorten to "Revolution M" for convenience and also because of the logo below (top) which is on the pack itself: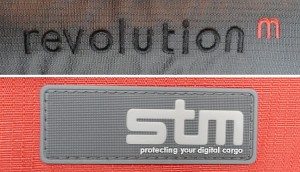 lining: 210D water resistant nylon
main fabric: 300D water resistant micro ripstop
lining: 210D water resistant nylon
laptop space: 14.8 x 9.8 x 1.6 in (37.5 x 25 x 4 cm)
external bag: 18.9 x 11.8 x 7.9 in (48 x 30 x 20 cm)
weight: 3.80 lbs (1.72 kg)
components: high density nylon webbing, duraflex buckles and clips, compressed EVA padding, high quality load bearing stitching
price: $99.00
Packaging
The Revolution M comes in biodegradable plastic bag, a nice touch for the enviro-conscious, which IMO we should all be in this day and age of earth friendliness.
First Impressions
The Revolution M is available in two color schemes, orange and carbon.  I selected orange for a bit of pizazz, something different from the droves of dutifully understated business neutral-colored (read: drab) packs on the market.  It did not disappoint.  This pack is big(ish), and it is orange.  I haven't tried it on a plane, but I suspect that it might be difficult to get it to fit under the seat when fully-loaded.  My very first thought was of its resemblance to one of my favorite yet obscure cartoon characters, "Gossamer," the hulking-yet-lovable orange furry monster who tangles with Bugs Bunny.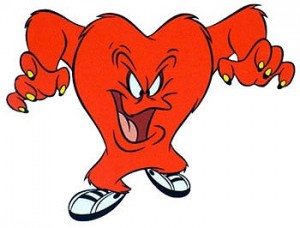 Back to the Revolution M, the color is not a bright hunter vest or hazard cone orange, yet almost a burnt orange in color with black and carbon gray accents, and I quite like it.  The material is tough-feeling nylon with a faint grid pattern, similar to ripstop fabric.  The other aspect I noticed about the pack immediately was the weight.  Even empty, the Revolution M is fairly heavy.  More on this later.
Features – External
The Revolution M is quite simply loaded with features.  Let's focus on the external first.
Quick-Access Zipper Pocket
Integrated into the front of the pack is a quick-access pocket with vertical zipper.  The location of this pocket seems to have been designed so that you can slip your arm out the left shoulder strap, sling the pack around front under your right arm, and get into the pocket easily.  Great design for righties like me, but for lefties, probably not so much.  The zipper is about 6 inches long with a slick zipper pull.  Regarding the zipper pulls, they are emblematic of the attention to detail in this pack's design.  Each of them is grey paracord-style cord with an over-molded, rubberized fobs that bears the STM logo.  Nice.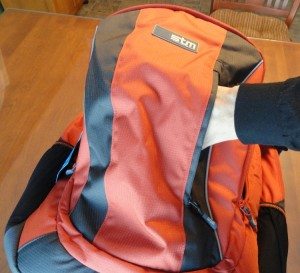 To protect whatever delicate contents you may place within the quick-access pocket, it is lined with baby-diaper soft fleece.  Super soft!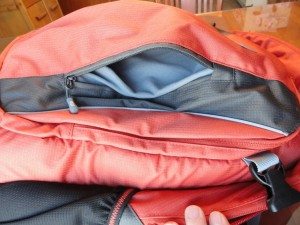 Also, the pocket is plenty large to house items up to possibly the size of a 7″ tablet, if you were so inclined to trust such an item of preciousness to a pocket on the outside of your pack.  It could possibly hold up to a 7″ Galaxy Tab or something similar.  In fact, my WoPad fits in there quite nicely.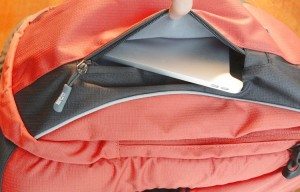 Side Pockets & Compression Straps

The sides of the pack each have quite deep elastic mesh pockets for water bottles, umbrellas, power bricks, newspapers, telescopes, bananas, loaves of French bread—I could go on and on, but you can probably come up with even more creative uses for them than I.  Also on either side is a compression strap with quick-release buckle.  Easy to tighten down if you find yourself with only a few items inside and would like to go a bit more low-profile, or to unhook if you've loaded it to the seams and need some extra space.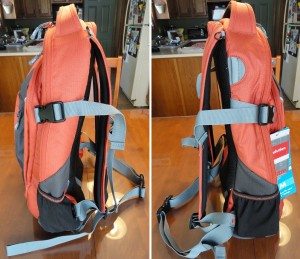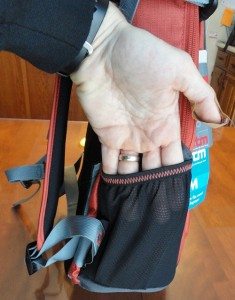 Carry Handle
The Revolution M's carry handle is one of the finest I've evaluated.  Thick and beefy, it is sewn securely and integrally into the top of the pack.  On top, the handle has the same ballistic nylon material as the pack, and a breathable mesh on the underside with padding sandwiched between.  The result is a very solid, comfortable-feeling grip, not so thin that it cuts into your hand when hauling it for extended (or even short) periods.  The only drawback I can see to this handle is that you are somewhat limited in how it can be used to hang the pack from something.  It should hang from a coat hook or door knob fine, but it doesn't do so well if you try to hang it from something like the post on the back of a chair.  Perhaps a minor point, but might be important to some, depending on how you use it.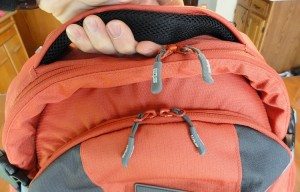 Suspension System

The Revolution M's suspension system, like the rest of the  pack, is well-designed and built.  For starters, the shoulder straps themselves are of a design that is becoming more common on packs of this type.  Instead of being attached to the pack separately, they are combined at the point where they are attached to the pack, forming a sort of "U"-shape.  This may be a minor point, but I think this makes the pack slightly more comfortable to wear, due to this curved inner "U" shape the contacts the body in the back of the neck region.  Maybe I'm making too much about nothing, but it does seem to feel a bit more comfortable to me with this feature.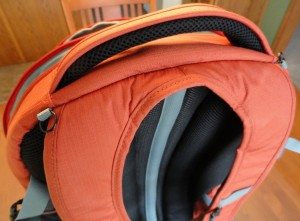 The main shoulder straps are thickly padded, which, like the  carry handle, helps prevent that feeling of the straps cutting into your shoulders when the pack is heavily loaded with wares.  The straps at the bottom also allow adjustment.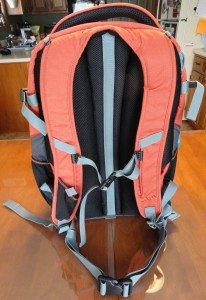 A word about the padding in the back of the pack.  That word is THICK.  The back of the pack is covered with the same breathable mesh material as on the underside of the carry handle.  Under this layer, inside the pack, are two thick foam pads that run the length of the pack, with a deep channel in between, presumably for ventilation.  The padding here is the thickest I've ever seen on any pack of this kind.  This combination of features is great for overall comfort if you've got this pack loaded for bear.  On a related note, as mentioned above, the Revolution M is quite heavy, even when empty.  Likely this is due to the materials used in the pack, which are heavyweight and high quality, and the amount of padding used throughout the pack, both for the suspension system and laptop protection.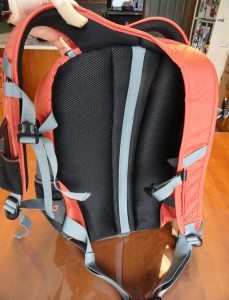 The shoulder straps system is well-designed and sturdy.  In addition to the shoulder straps themselves, there is a chest strap that secures with a quick-release buckle.  The chest strap is adjustable in two ways.  The length of the chest strap can be adjusted, and the height can be adjusted by sliding along a "rail" on either of the shoulder straps.  In addition, there is a small length of gray webbing on both sides for attaching carabiners or other items.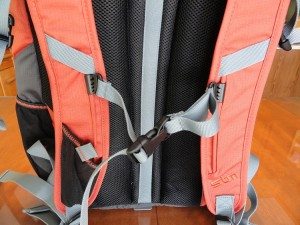 But that's not all.  There's also a waist strap that can be deployed then employed for additional support.  By that I mean this: near the bottom of the bag, just behind the foam back pads is a pocket on either side into which can be discretely tucked the two halves of a waist strap.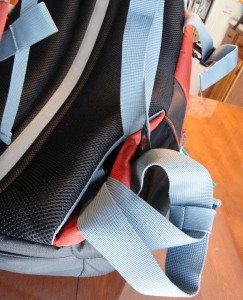 This waist strap is adjustable from both sides and has a very beefy quick-release buckle.  The straps themselves are wide enough for you to attach items like a knife, multitool, flashlight cargo pouch, or other necessities that you may want handy, but don't want to attach to the belt holding up yer breeches.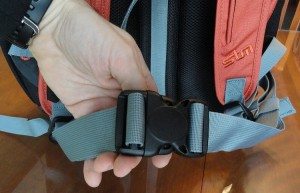 Below is a shot of the fully-deployed waist strap.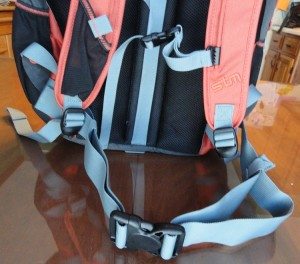 The right shoulder strap also contains an elastic mesh pocket designed to hold a phone, music player or other device you may want to have within easy reach and near your noggin.  It's shown below, and on the left with my wife's iPhone 3GS in Speck Candyshell case stuffed into it—a bit tight, but still fits fine.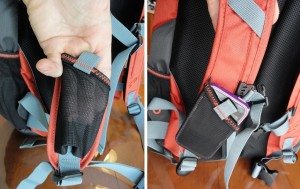 Features – Internal
Now, let's dive into the belly of this beast.  Once again, it's features o' plenty.
Front Compartment
Unzipping the front compartment reveals a multi-pocket organizer along with several other pockets for keeping gadgetry in its proper place.  To demonstrate, I've stocked it with several of my own daily office commute essentials: keys, pens, Microsoft Wireless Notebook Presenter Mouse 8000, and my Timbuk2 In Flight Case slid into the pocket in the front.  Two minor beefs I have with the setup here.  One is simply…needs more pockets.  I'm an unapologetic pocket-a-holic.  I like lotsa pockets for all my stuff, and I don't like to throw all of my small items into one or two large "bins" and let them rattle around while I'm out and about, only to find a jumbled mess when I open the pack.  Also, the wide pocket along the inside of the compartment's flap, though having a nice capacity for tossing in items, could use some improvement.  Although the location is OK, when opening the flap, items tend to slide out of it because there is no closure.  A zipper or strip or two of Velcro would have been good here.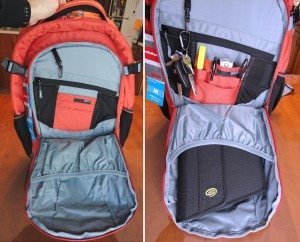 The zippered pocket in the organizer has a mesh panel at either end, providing a bit of visibility to the contents.  Another couple of shots below to show additional detail.  That's a standard-sized Moleskine notebook in the shot on the right, to give some scale.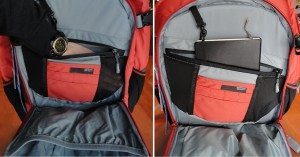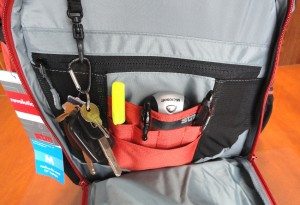 Main Compartment
As with the rest of the pack, there's quite a bit going on in the main compartment.  Unzipping to peer inside reveals the main compartment to actually be further subdivided into three  areas.  The first, shown below, is what I would call the main main compartment—an open space into which the user can either haphazardly toss or neatly stack lots of stuff, whatever may be your style or mood.  Show below left in the empty state and at right with a few items thrown in—my iGo power brick for my work laptop and my Timbuk2 In Flight Case.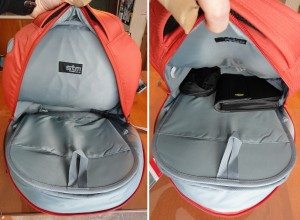 In addition to the wide-open main main compartment, the second area is a pocket that is intended to slip in an iPad or other tablet device.  Like the front-access zipper pocket, this pocket is lined with soft fleece to protect your tablet's screen.  STM bills this as a "unique fingerprint-removing brushed nylex."  I'm not so sure it would actually remove fingerprints without pressing on the tablet and rubbing vigorously, and even then it may not remove those pesky fingerprints.  Still, a nice touch.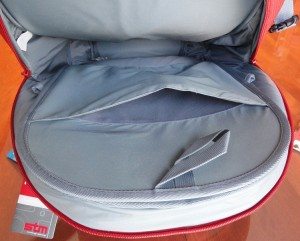 Pulling on the loop above the tablet pocket reveals the third area, another whole compartment which as been designed to hold your laptop safe and snug.  This compartment is fairly well concealed, but I'm not sure there is a point to concealing it when it is already inside the main compartment.  Concealment aside, I found it to be a fairly intriguing design.  One thing to note here is that, unlike most laptop backpacks designs that place the laptop up against the back of the pack, this laptop compartment is actually more towards the front of the pack.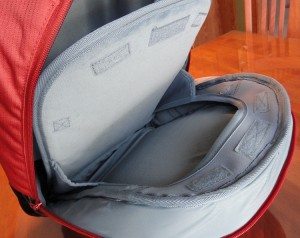 The laptop compartment has a 2-inch wide lip that covers and wraps around the edge of your laptop.  The lip is actually made from an elastic material, so it has some stretch, which makes it easier to insert your laptop down into it and capture it.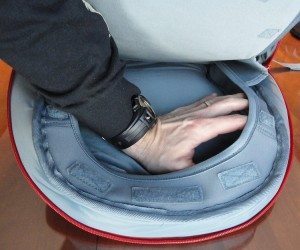 Closing and securing the flap via Velcro strips encases your laptop in a protective cocoon, the inside of which is lined with the same ubiquitous, fleecy material as the quick-access zipper pocket and the tablet pocket.  Look how snug my Big Black Brick Bulletstopper (my 15.4″ Lenovo T60p work-issued laptop) looks all tucked in there.  It's a pretty beefy laptop, and fits with just a bit of room to spare.  It could probably fit two or three MacBook Airs.  However, the Velco strips, while allowing quick access, don't really secure it all that well.  I found that I had to consciously and firmly press the Velcro pieces together to get them to attach, and even then it felt a bit weak.  Upon opening the pack, I frequently found that this flap had worked its way open.  Still, with the laptop compartment situated where it is, it may not really matter, because it seems quite secure.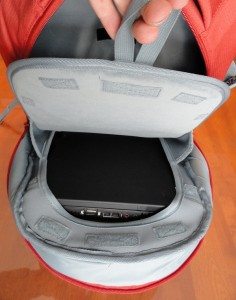 Here's a shot to illustrate how to access the laptop with other cargo.  In the main main compartment, I've stuffed the iGo, the Timbuk2 In Flight Case and a fleece pullover.  Still got some room to spare, and it's not that difficult to access the laptop compartment.  One thing to note here is that this pack is extremely front-heavy.  Even when loaded with a few items but without the laptop, it tends to fall forward, but insert the laptop and forget it—it does a faceplant every time.  I definitely prefer my packs to stand upright on their own if possible, but this guy is never going to do that.  You'll have to lean it against something.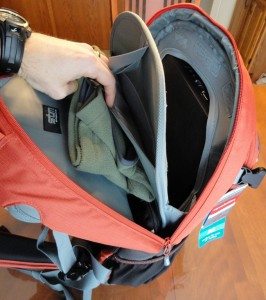 OK, here's a feature that baffles me a bit.  On one side of the pack is an elastic access port from the main main compartment to the outside.  At first, I thought it was almost certainly a headphone port.  Then, I thought it might be a drinking tube for a water bladder, as with a Camelbak.  But that doesn't seem too logical on a tech-type pack like this.  So, I guess you can use it for whatever purpose you like.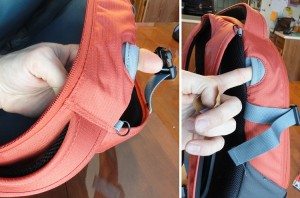 Rain Cover
The last feature to cover is well…the cover.  The tuck-away rain cover, to be exact.  This little baby is tucked into a hidden pouch in the bottom of the pack.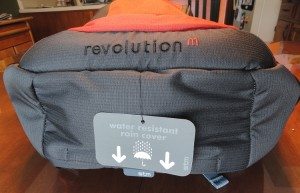 To deploy the cover, just open the pouch, which is secured closed with a little Velcro strip, and pull it out.  It stays attached to the pack via a small strap, presumably so it doesn't get lost if it should be blown loose while you trudge through gale-force winds or the like.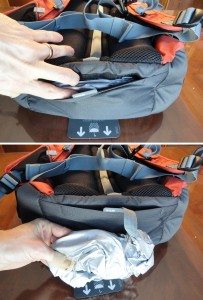 The cover is made from a material that certainly feels waterproof.  It fits over the pack and has some elastic around the edge to keep it in place.  One thought I had here was, why not just make the pack itself waterproof?  I suppose it is, to a point, but this cover seems like it would really protect your stuff in the event of getting caught in a pretty heavy downpour, and it doesn't take that long to deploy and get in place.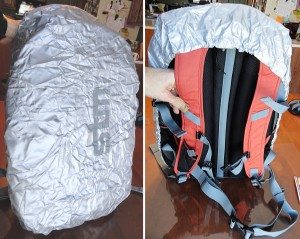 The cover also has an elastic strap with toggle that you can cinch down tight, to further secured it in place.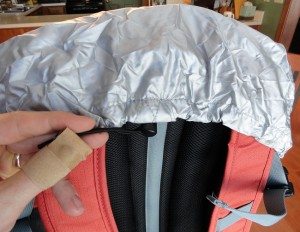 Here you can see the little strap that secures the cover to the bottom of the pack.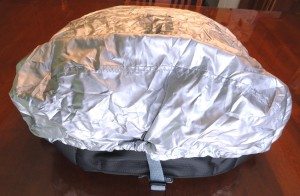 In Action
Below are a few shots of yours truly wearing the Revolution M.  On the left are the empty pack, on the right are the pack loaded with a good portion of my daily commute gear.  [Also not sure why I look like a bobble-head on the first shot.]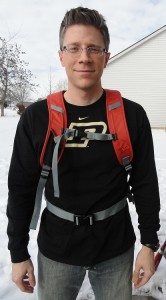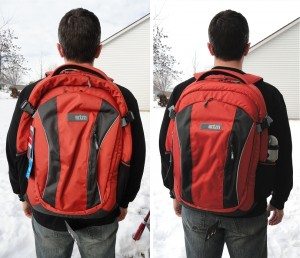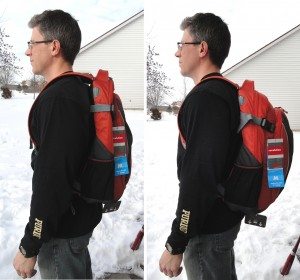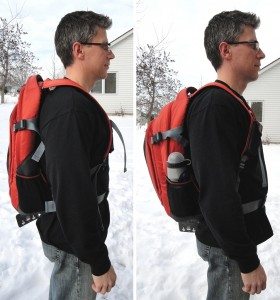 Final Thoughts
I've been giving the Revolution Medium Laptop Backpack a test drive  as my daily work pack for a while now.  Although, as stated above, I'm a laptop messenger bag fan, and will probably ultimately return to that style of gear-hauler, I do like the Revolution Medium.  It's extremely comfortable to wear, its design has great functionality and attention to detail, and the quality of materials and construction are top-notch.  And it looks cool and yet doesn't scream "HEY!  LAPTOP IN HERE!  STEAL ME!" as with some packs.  Considering all of these features and advantages, and comparing to other tech-type laptop backpacks, I actually think this pack is a steal for $99.00.  The only real nags I have are the weight of the pack and its front-heaviness; however, I think the benefits far outweigh these two relatively minor drawbacks.
Updates 03/13/15
I used this as my EDC computer bag for a while. It's a really nice pack with lots of nice features, but once I found the GORUCK GR1, I basically relegated the Revolution to my attic.
Source: The sample for this review was provided by STM. Please visit their site for more info.
Product Information
Price:
$99.99
Manufacturer:
STM
Retailer:
altrec.com, ebags.com, radtech.com
Pros:

+ Styling
+ Loaded with features
+ Lots of compartments for items
+ Well padded for protection
+ Comfortable suspension system

Cons:

- A bit heavy, even when empty
- Front-heavy, can't sit upright on its own